British member of Parliament sends new year greetings but with a flaw !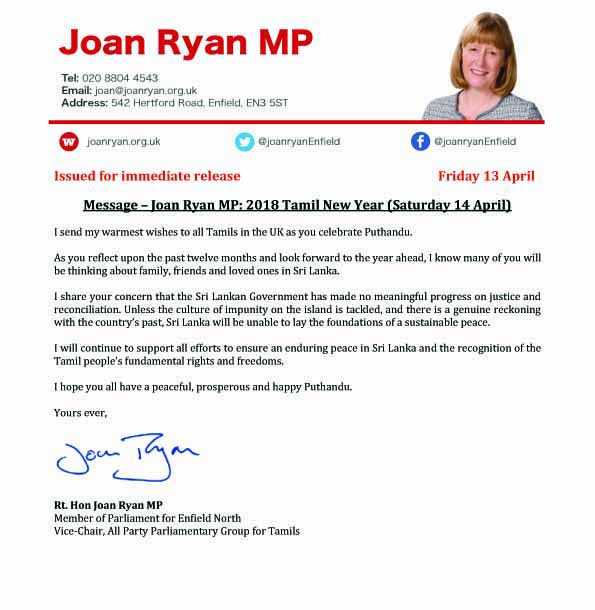 (Lanka-e-News- 15.April.2018, 8.15PM) Ms. Joan Ryan M.P. the Vice chairperson of all party parliamentary group for the Tamil people in British parliament had sent new year greetings to the Tamil residents in Britain.
Joan Ryan who sent warmest wishes to the Tamils in Britain has however regretted there had been no meaningful development on the side of the Sri Lankan government towards justice and reconciliation. If the culture of immunity enjoyed by the wrongdoers from punishment is not ended and honestly a stock taking is not done in regard to the past , a foundation cannot be established for sustainable peace , she has pointed out.
'I will continue to support all efforts to ensure an enduring peace in Sri Lanka and the recognition of the Tamil people's fundamental rights and freedoms.' She had asserted.
Nevertheless , her message contains a primary flaw . That is , she has reckoned the 'New Year' as one belonging to the Tamils only. She refers to it as "Tamil New Year' It must be mentioned , Joan Ryan by forgetting that the New Year alias 'Sinhala and Tamil New Year 'in Sri Lanka is celebrated by both communities and is part of the culture has committed a grave indiscretion. Hence by her failure to understand that this celebration should be used to build reconciliation between the races is an implication that she herself is giving a blow to the 'sustainable peace' in SL she is speaking about.
If this indiscretion was committed by her personally , it is no issue , but she as the Vice chairperson of the all party parliamentary group of the Tamils in Britain making such a statement will certainly hurt the feelings of the Sinhala people residing in Britain , and can only contribute to further division between the communities. Joan Ryan failing to understand this is most lamentable.
A copy of the message in English released by Joan Ryan , the representative of Labor party , Enfield in British parliament sent to Lanka e news is appended …
Message – Joan Ryan MP: 2018 Tamil New Year (Saturday 14 April)
I send my warmest wishes to all Tamils in the UK as you celebrate Puthandu.
As you reflect upon the past twelve months and look forward to the year ahead, I know many of you will be thinking about family, friends and loved ones in Sri Lanka.
I share your concern that the Sri Lankan Government has made no meaningful progress on justice and reconciliation. Unless the culture of impunity on the island is tackled, and there is a genuine reckoning with the country's past, Sri Lanka will be unable to lay the foundations of a sustainable peace.
I will continue to support all efforts to ensure an enduring peace in Sri Lanka and the recognition of the Tamil people's fundamental rights and freedoms.
I hope you all have a peaceful, prosperous and happy Puthandu.
Rt. Hon Joan Ryan MP
Member of Parliament for Enfield North
Vice-Chair, All Party Parliamentary Group for Tamils
t: 020 7219 2442 (Westminster) | t: 0208 804 4543 (Enfield North)
a: House of Commons, London, SW1A 0AA | 542 Hertford Road, Enfield, EN3 5ST
e: [email protected] | w: www.joanryan.org.uk
---------------------------
by (2018-04-15 15:12:23)
We are unable to continue LeN without your kind donation.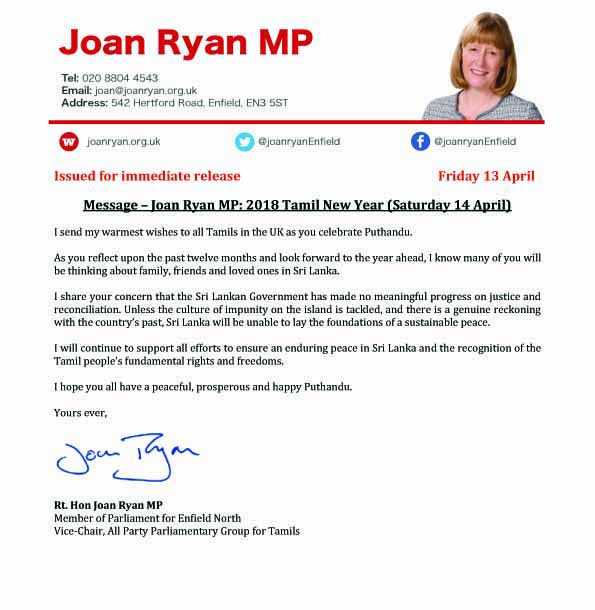 Leave a Reply