Comedy of Gamarala turns into tragedy ! Very few respond to his invitations ! Left in the lurch in London..!!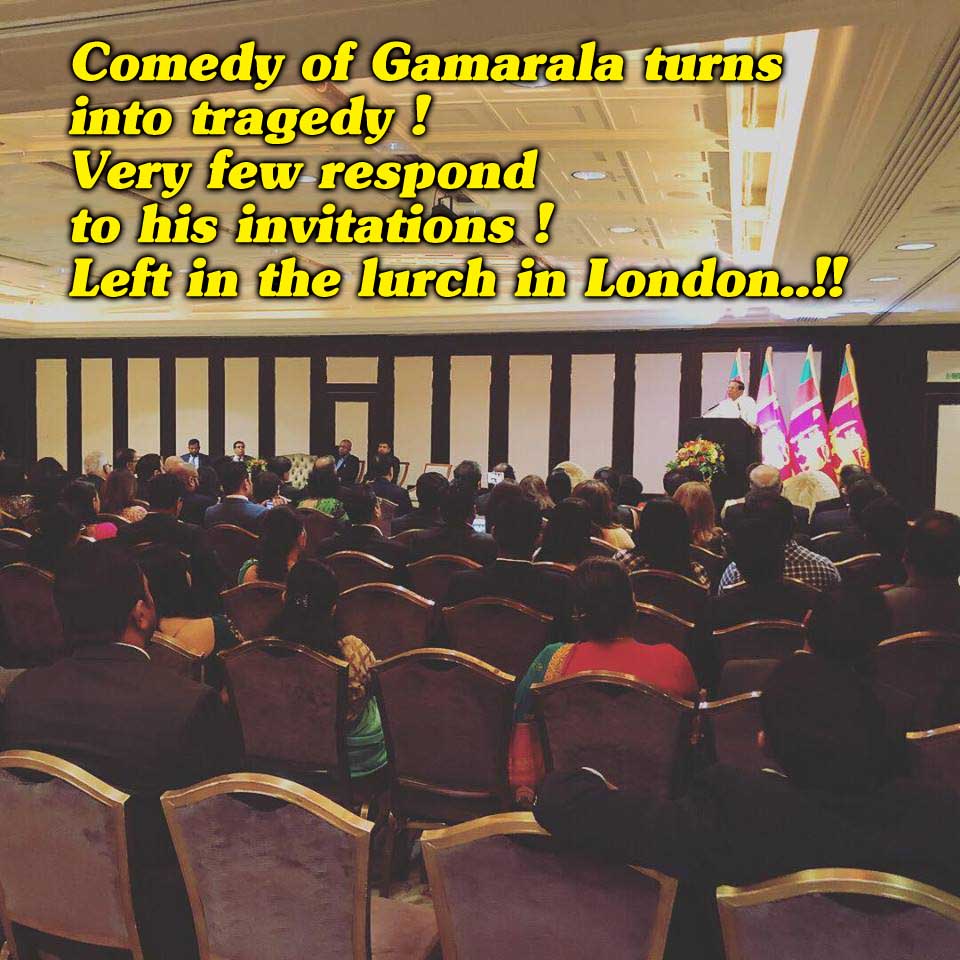 (Lanka-e-News - 19.April.2018, 4.45PM) Sri Lanka 's president 'Pallewatte Gamarala' who has currently tumbled down to a 4 % popularity base before the entire country ; whose parliamentary representation has dwindled from 225 to 16 ; and who brought a no confidence motion to bite the hand that fed him while also kicking the very ladder he used to reach the top , was plunged in a state of utter despair and despondency in London day before yesterday (17)
Gamarala who is in London these days to attend the Commonwealth state leaders' conference arranged a meeting on the 17 th with the Sri Lankans residing in Britain . But to his utter consternation , only a very few attended the meeting.
The SL High Commission(HC) in Britain that organized this cordial greeting and meeting for him left no stone unturned to get the maximum crowd. In fact they made an effort as never before to draw crowds for the gathering , yet the smallest crowd ever in the SL history at such meetings attended it. The H.C. went on desperately sending invitations again until yesterday noon ,and made urgent calls to urge the invitees to attend the meeting as the president was participating , but without avail.
All political parties in SL have branches in Britain , and even there are branches of student associations
Yet the branches in Britain of all the political parties which worked with commitment to propel Gamarala to the presidential throne in 2015 , boycotting his visit on this occasion was specially noteworthy .
When a High Commission office organizer had phoned the branch secretary of a Leftist party and urged him to attend , the latter had questioned, 'why should we meet this bloke ? There had not been a ruler even during the British period who profusely lied like him . Are you inviting us to come and listen to another lie of his?'
No high rung officers from UNP official branch office in Britain which put Gamarala on the presidential throne too had attended the meeting . However a handful of fake discarded UNPers rejected by UNP's Sri Kotha but who claim as UNPers had participated.

Not a single representative of the TNA which voted for Gamarala in 2015 too had attended poor embattled Gamarala's meeting . It is significant to note in 2015 , about 80 % of the TNA votes were cast in favor of Gamarala .
A majority of those in the SLFP branch in Britain are with the Rajapakses. They are more than a thousand whereas the number with Gamarala Sillysena is only a little more than a hundred, and only 133 have expressed their assent via the face book page . Though the branch secretary attended the meeting , only a very few members of that group had gone for the meeting.
Of course the usual small group of idlers who wear tie and coat , to eagerly and enthusiastically pose for photographs with any VIP while displaying their own un-brushed teeth in order to publicize themselves as 'bigwigs' were present at Gamarala's meeting. Yet the most shocking part was ,all these members of the groups put together did not exceed the number of members of Sillysena's group brought along by him from Colombo to London. That was the most tragic part of Gamarala's worst comedy show in London.
This poor show of Gamarala is in profound contrast to that when he visited London for the first time after his 2015 presidential victory in January . Even after Maithri's one and half hour long cordial meeting was over visitors were flocking to the venue . Such was the crowd which attended the meeting then.
However just three years later , the same Gamarala Sillysena has owing to his own ruthless , reckless , rudderless conduct and ungrateful , low bred , hypocritical and betraying traits demonstrated beyond any doubt what a venomous hopper gobbling untrustworthy ungrateful uncouth serpent he is, consequent upon which he has now incurred the displeasure and disgust of the whole nation. The fiasco he faced in London bore ample testimony to this when the Sri Lankans in Britain rejected their president insolently by boycotting his eagerly sought cordial meeting.
This unpopularity of Gamarala and the disgust shown towards him by Sri Lankans is not confined only to Britain . A cursory glance at the face book now which revealed there were 1.1 million in favor of Gamarala then will also confirm this stark truth about his present predicament . Only 118 have shared his face book page new year wishes.
Only 159 have shared his milk boiling photograph; 18 leaders have only shared his New year wishes; only 22 have shared Gamarala's London visit; only 18 have shared his oil anointing ceremony at the London Vihara( these are the numbers calculated based on Sri Lanka time 11.00 a.m.- 2018-04-18 ). Sadly , this is the present dire plight of Gamarala who has slid down precipitously having lost 1.1 million voters. By this it can be inferred how much his own relatives are disgusted of this stinking Gamarala dried fish because his number of relatives is more than the present number of individuals with him.
When Lanka e news inquired from senior stalwarts of the SLFP in London why they did not respond to Gamarala's anxious invitation to greet and meet with them? They had an interesting and intriguing tale to relate …
'The many assurances and undertakings we gave to others based on his promises and speeches have now been proved as false . We are unable to face those who are in England, hence we have no faith any more in him . He is not only a double crossing betrayer but even a vicious opportunist with chameleon traits .'
Chandra Pradeep from London
Translated by Jeff
---------------------------
by (2018-04-19 11:23:19)
We are unable to continue LeN without your kind donation.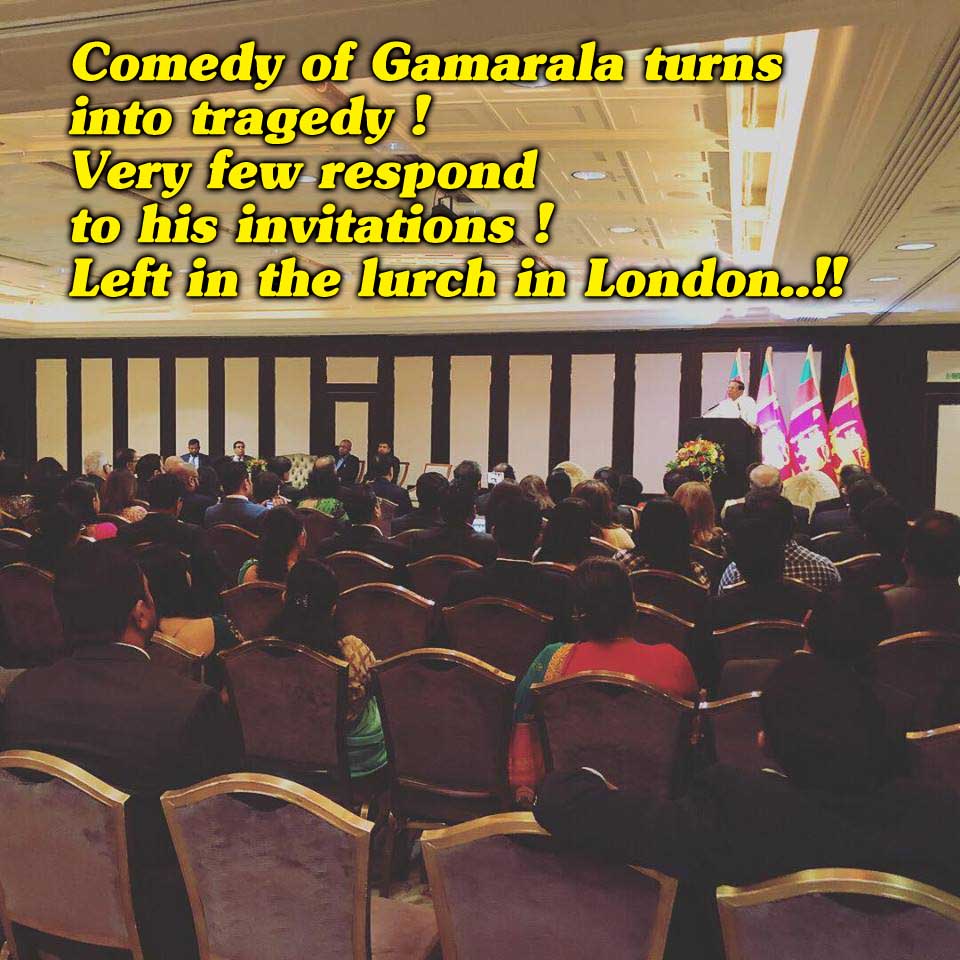 Leave a Reply