Two culprits "President's men" who collected huge bribes remanded ; isolated instance of corruption detected , but how many others are going undetected ?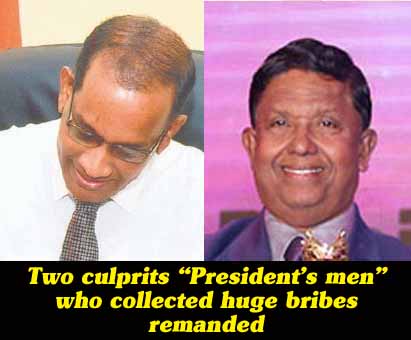 (Lanka-e-News - 04.May.2018, 10.30PM) President Pallewatte Gamarala's chief of staff Dr.Mahanama and State Timber Corporation chairman P.Dissanayake who were arrested when collecting a bribe of Rs. 20 million after demanding a sum of Rs. 100 million were remanded until the 9 th when produced before Colombo chief magistrate ( at his official residence). Originally a sum of Rs. 540 million was demanded as bribe by the culprits which has been reduced to Rs.100 million .
The chief of M.G. Sugar Lanka Pvt. Ltd. Co., Kottaha Ralahalli Kody Duppiya Nadaraja an Indian national residing at 27/9 , Rosmead place , Colombo 07 was the one who had lodged a complaint with the Bribery and corruption Commission.
Meanwhile , even before these two culprits of president Gamarala were produced before the courts on a B report after recording their statements , the presidential media unit which is full of Rip Van Winkles who are never awake and therefore never able to do their tasks duly had in an effort to camouflage the scenario issued a communique and said the two officers are interdicted, to show that though all of them are buddies of the same feather who rob together , these two culprits shall be prosecuted in a bid to save their own skin.
No matter what ,this must be construed as a victory for good governance – earlier , ex secretary (of former president) who was involved in corruption was sentenced to jail. Now, the incumbent president's chief of staff ,of all people is nabbed for taking bribes. How many more criminal presidential secretaries engaged in corruption but not detected yet is therefore anybody's guess. Whither Sri Lanka ?
---------------------------
by (2018-05-04 17:09:40)
We are unable to continue LeN without your kind donation.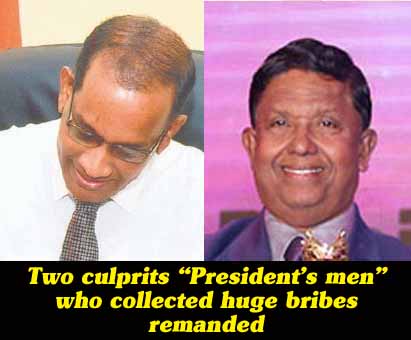 Leave a Reply