President's senior advisor and media unit turn turtle! 'Murder threat to president from RAW' media comedy drama turns into tragedy !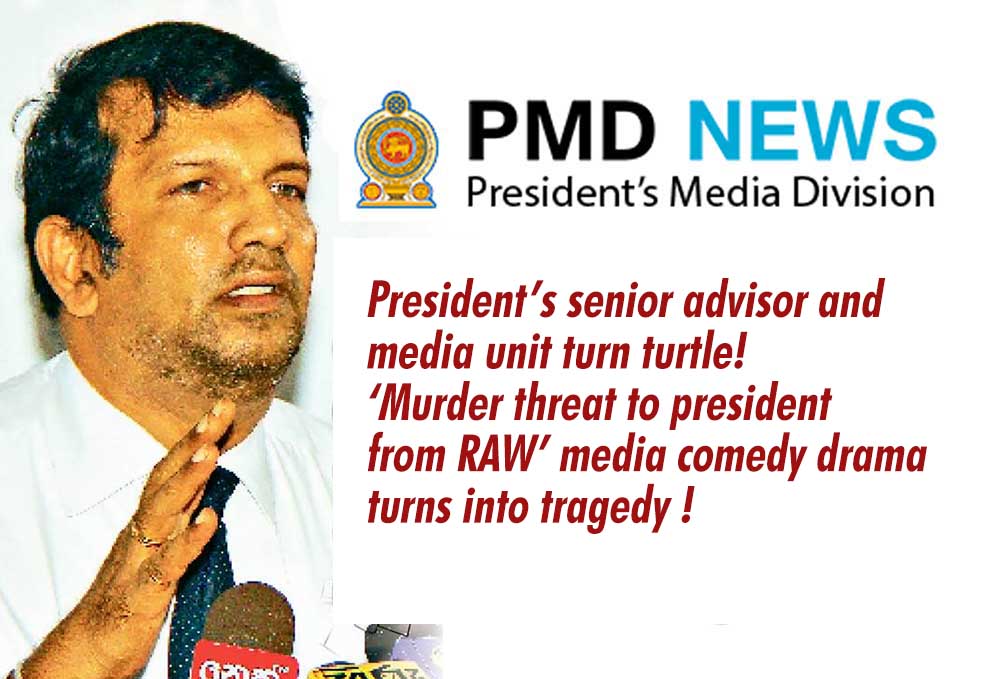 (Lanka e News 18.Oct.2018, 11.00PM) Even as the president was making a statement during the cabinet meeting on the 16 th that the Indian RAW intelligence service is conspiring to assassinate him , his senior presidential advisor (NGO crook) Shiral Lakthileke was making plans to give that revelation a mega boost via media publicity. Therefore he summoned the presidential media unit on the 16 th and told them to make this known to the entire country by making arrangements to convene a media briefing 16th evening itself.
When it was questioned ,through whom is this 'RAW murder threat' to be revealed , Lakthileke had told , that can be done through a popular lawyer.He had said , Since he is a senior presidential advisor cum presidential co ordinator he cannot perform that task , and therefore given instructions to enlist another lawyer for that .
Although a lot of efforts and energy were wasted towards that end, it had been impossible for the presidential media division to get a lawyer who would come before the media to blabber and bluff on behalf of Pallewatte Gamarala to relate a fairy tale against a friendly neighboring powerful country in the Asian region. It is a pity Lakthileke himself being a lawyer did not know every lawyer is not a black coated shark and liar like him who would stoop to any sordid level to even barter his soul for selfish gains.
Finally , Lakthileke has asked from another stooge of the president , Saratha Kongahage a lawyer ,whether he can undertake the task. Kongahage who is possessed of some amount of intelligence had bluntly refused it saying ' No , not for all the world . I am chairman of the Foundation Institute . Hence I cannot undertake this under any circumstances.'
Consequently , because there wasn't a single lawyer who was prepared to sacrifice his life on behalf of moron Palewatte Gamarala and could not be found until evening , the proposed media briefing or the 'Death threats from RAW' drama to propagate the comic news had to be cancelled. Of course there is no doubt, Lakthileke and presidential media unit will be leaving no stone unturned to once again give life to their corpse of a story . They having no horse sense to identify the dead from the living will do just that instead of burying the corpse.
-Lanka e News inside information division reporter
Connected report …
'RAW is trying to assassinate me.' 'Don't allow even Sirisena's wind to touch me' Indian P.M. has ordered , president accuses at cabinet meeting !
---------------------------
by (2018-10-19 19:37:53)
We are unable to continue LeN without your kind donation.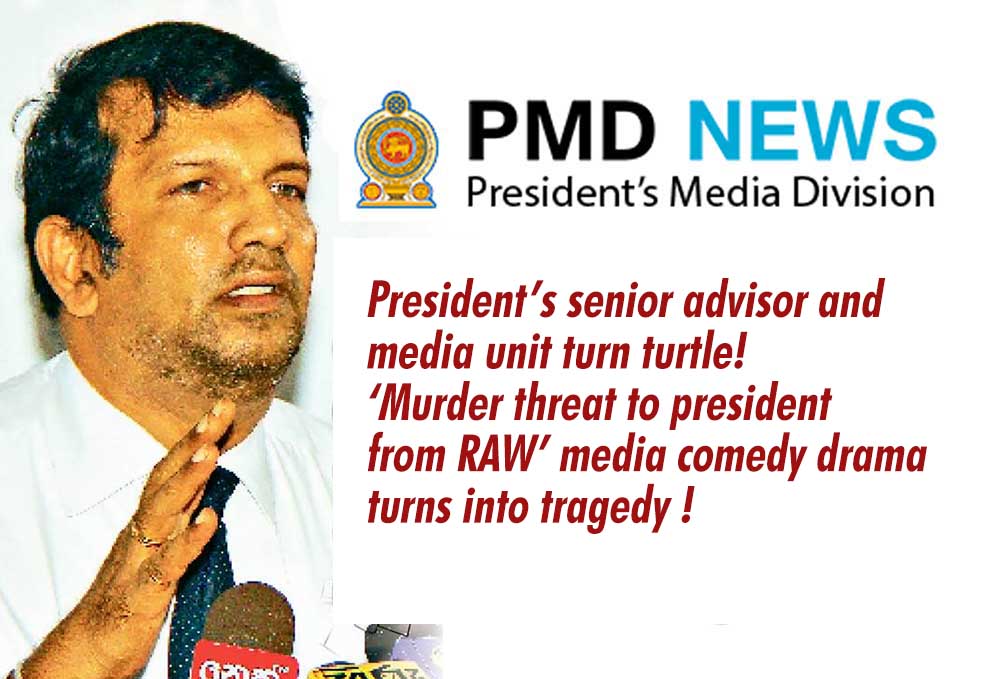 Leave a Reply