Sri Lanka faces adversity on Easter Sunday; explosions in nine places, More than 300 dead in churches and hotels in Colombo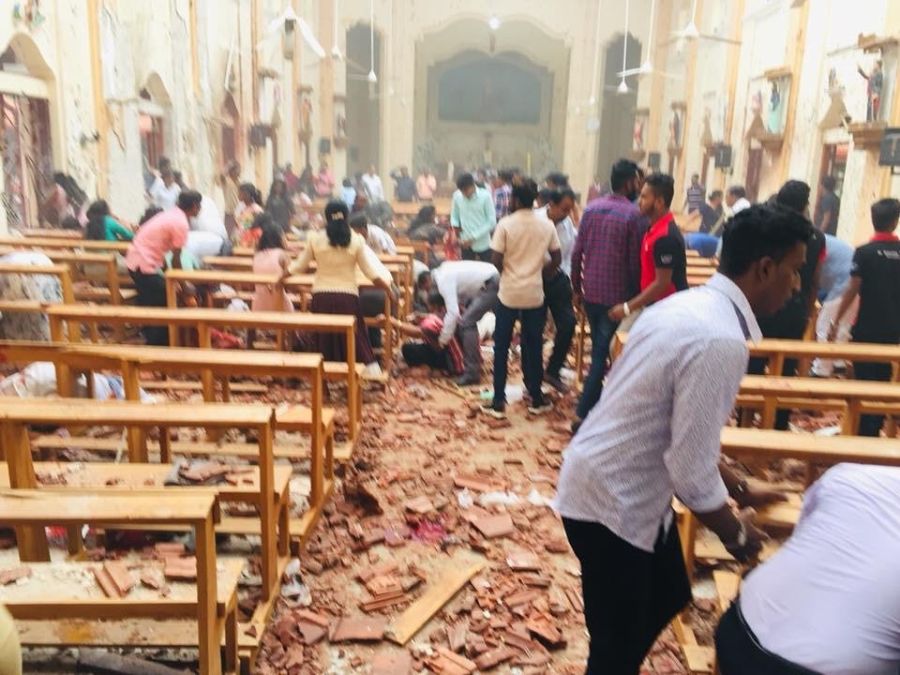 (Lanka e News - 21.April.2019, 11.30PM) Sri Lanka faces adversity on Easter Sunday; explosions in nine places, More than 300 dead in churches and hotels in Colombo, 560 injured, All attacks done by suicide killers, a foreign Muslim Islamic terrorist group suspected, defense minister president Maithripala not in the country
Nine bombs exploded in Sri Lanka today 21st morning targeting christian (Easter Sunday) churches and major hotels in Colombo and outside. 300 people have been died so far and 560 people have been injured from this attack. Government officially reported only 138 people has been killed
including 20 foreign nationals but eye witnesses say the death is more than
that.
Six bombs exploded at six different places at 8.45 am at St. Anthonys church Kochchikade Colombo 13, Katuwapitiya church in Negombo, Sevon church in Batticaloa, Shangrila Hotel, Kingsbury Hotel and Cinnamon Grand Hotel Colombo.
It was the first time a terror group exploded nine bombs in one day
Suicide Bombers
According to reports reaching Lanka e news a foreign Muslim terror organization is suspected for the explosions and all explosions are done by Muslim suicide bombers. Last week there was a major explosion occurred in the Kathankudy area in the eastern part of Sri Lanka but the security forces could not trace the whereabouts of the explosion. It is reported that this explosion in Battcaloa would have been an experiment before today's explosions.
According to CCTV camera footage two suicide bombers have exploded them in Hotel Shangrila. One suicide bomber who blew himself inside a restaurant at the hotel was wearing a back pack at the time of the explosion and the other suicide bomber has blown him from the ground floor.
An eyewitness at St. Anthonys church in Kochchikade was carrying a heavy bag just before the mass, an eye witness who escaped from the explosion said. At least 40 people have been killed at the Kochchikade church and 25 people has been killed at the church in Batticaloa. Around 300 people have been injured.
Unofficial reports confirm an un-exploded bomb has been found in a church in Kandana.
Is the police letter disseminated is a false one?
After the explosion an anonymous warning letter supposedly written by DIG Priyalal Dasanayake, dated on the 11th of April, is largely spreading across the social media stating a muslim organization is planning to carry out a suicide attack. The attorney general department has stated that it is a fake letter but the police media spokesperson has not denied. We are afraid how the Attorney general department can tell the letter circulated within the police was a fake letter
Hiru and Derana media shows their sordid behavior
The civilized people have condemned the media behavior of Hiru and Derana media which showed the dead peoples bodies provocating their anger. The former media minister Mangala Samaraweera requested both the media to stop this uncivilized media behavior at this unfortunate time. He further said this kind of media behavior is disrespect to the people died and it would help the terrorists.
The government announced not to get deceived to rumors
The government information department issued a statement and said the people have to act patiently and responsibly at this time. The letter further stated that the president and the Prime minister have urged this request from the people. A credible investigation has been started against this brutal attack and urged the people not to get deceived for false news and rumors but to act wisely.
Prime Minister who was conducting a tour on the southern of the country immediately headed to Colombo. An emergency Security Council meeting has been convened and an island wide curfew has been imposed after 6PM.
President was not in the country at the time of the incident and the responsibilities has not been rendered to the deputy defense minister Ruwan Wijewardane. President maithripala Sirisena who is in charge of three armed forces, police and intelligence is not in the country when this catastrophe happened. Following his Thiruppathi visit to India the president has visited Singapore for a personal invitation of a business friend. However he has issued a twitter statement. The major problem is that when the person in charge of defense has visited overseas, he has not handed over his responsibilities to his deputy minister. Before his visit to India pro President Media reported a major controversy would occur following his visit from Thirupathi. However the president should be responsible for not taking proper action following the information received about such an attack.
Translated by Robinhood
---------------------------
by (2019-04-22 21:27:20)
We are unable to continue LeN without your kind donation.
Leave a Reply