A Sniper attack targeting a prominent politician, Politician escapes point blank; Gamaralaya's 'Murder Drama' refreshed; Conspiracy to entangle premier, Sajith in partnership; Conspiracy with Kanjipani exposed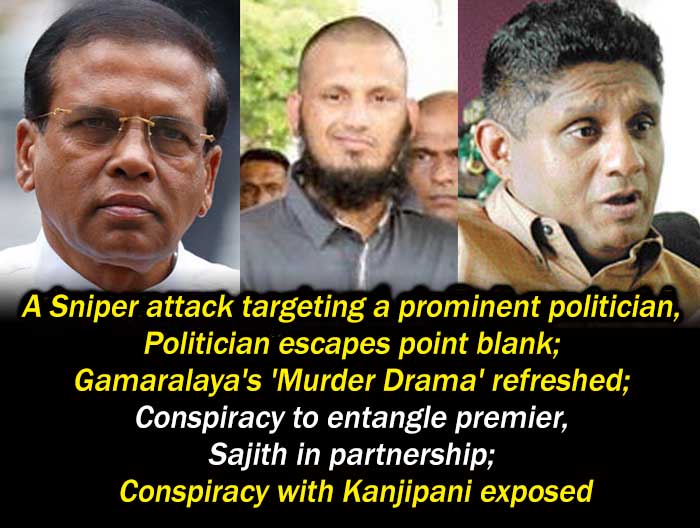 (Lanka-e-News - 21.July.2019, 3.45PM) Lanka e News internal information has received all information about a conspiracy of President Pallewatta Gamarala who is trying to renew his president murder drama II through another conspiracy trying to entangle premier Wicramasinghe in order to promote sajith. The secret agenda of this political conspiracy is to promote Saith As the presidential candidate with the help of president Gamarala and making Pallewatta Gamarala as the premier in the coming parliament election.
President Gamarala made a similar conspiracy with Gotabaya Rajapaksa before to become the presidential candidate with the help of Gotabaya. However following the Easter day bomb the agreement came to an end and there was a rift between Gotabaya and Gamarala when Gotabaya unilaterally declared that he was the presidential candidate.
The exorbitant proposal to Kanjipani Imran..
Lanka e News has all the evidence of this exorbitant conspiracy. The culprit who was used for this conspiracy by president Gamarala is the notorious Kanjipani Imran who is now detained and questioned by the CID following his arrest and deportation from Dubai.
Kanjipani Imran who is now under the custody of CCD was given a party on his birthday held on the 13th of July. According to reports Kanjipani Imran was brought to the CCD by Police SP Prasanna De Alwis. Along with him eight of senior police officers to has joined for the party. All those eight officers were pro Gotabaya associates who are now loyal to Gamarala.
Prasanna Alwis and those senior police officers has proposed something astounding to Kanjipani Imran, that is to become an eye witness urging him to give a statement that he saw minister John Amarathunga and TID DIG Nalaka Silva meeting Makandure Madush in Dubai. If he complies with this they could cancel the detention order from the president and get bailout. Meantime by now the CID has alienated Makandure Madush and Kanjipaani Imran.
The history of Prasanna Alwis..
When analyzing the history of Prasanna Alwis that he is an obedient stooge and servant of Gotabaya. It was Prasanna Alwis's name that was alleged in the voice clips stated that DIG Nalaka conspired a murder of president Gamarala. For 17 long years, from 1998 May 18th until 2015 June 30th Prasanna Alwis was serving attached to the TID and he was removed when the good governance came to power.
By now there is anarchy with the police department. CID is unbiased and carrying out its legitimate duties. CCD is totally working for the favour of Rajapaksa and Gamarala. Prasanna Alwis and senior police officers who gave a birthday party to Kanjipani Imran is not for free. That is to revive the Sirisena murder conspiracy and somehow entangle Premier Ranil Wickramasinghe into it and to politically destroy Ranil and to promote Sajith.
The sniper which was sent by Madush through sea..
2020 is a decisive year for elections. We can witness firearms and fireworks during this year. According to Indian intelligence service Madush has already sent a sniper weapon to Sri Lanka through sea. An atmosphere is crated that if any sniper weapon fires that would be defined as Madusha's weapon and credited to Johan amarathunga, Nalaka Silva and premier Ranils accounts.
It was a well known fact that when Rajapaksa came to power Muslim and Tamil businessmen were abducted and taken ransoms. Those businessmen were abducted by a special unit started by Karuna Ammans group. Army, air force, navy and police officers were involved for those abductions. Prasanna Alwis and SIS head Nilantha Jayawarna too were involved representing the police. Now these two has become coolies of Gamarala.
The secret agreement between Gamarala and Sajith..
It's not a secret anymore that Gamarala and Sajith are working on a secret agenda. Similar to Gamarala Sajith too has jumped the gun by saying that there is a conspiracy to murder him. The information exposed by the Indian intelligence is alarming. The objective of this conspiracy is a prominent politician would escape point blank following a sniper attack. The responsibility of the attack would be credited to Madush, John Amarathunga and Nalaka Silva and to name premier Ranil as the mastermind for this conspiracy. The proposal given to Kanjipaani is to create the required ground work for the conspiracy. One can realize how Gamarala's power hunger has reached its peak and how opportunist Sajith has become a victim of it. These days Sajith bypassing his party is forming many election organizing committees around the country. More than the UNP supporters there are more pro Sirisena factions attached to those. The party leadership has informed Sajith to stop the forming of those committees.
A special reporter attached to the Lanka e News inside information.
Translated by cupid
---------------------------
by (2019-07-21 10:27:05)
We are unable to continue LeN without your kind donation.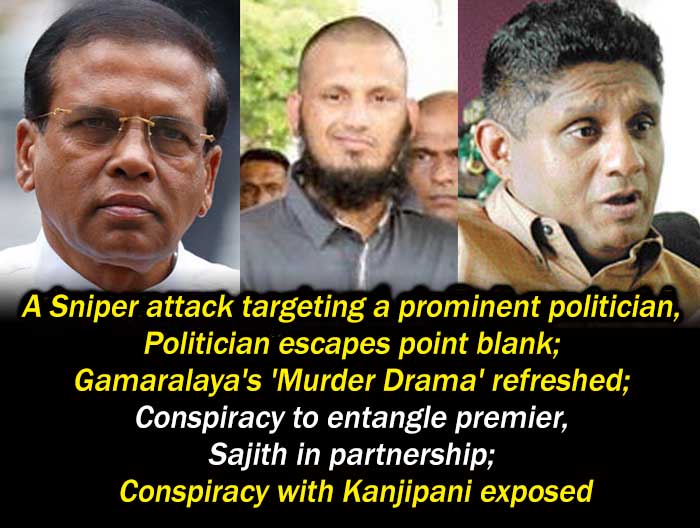 Leave a Reply