How Gota and Shavedra getting ready for a fake IS attack
By A former intelligence officer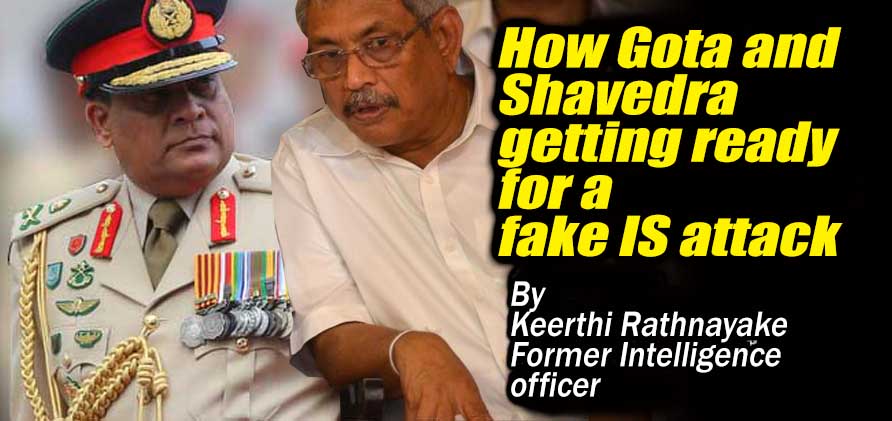 (Lanka-e-News -04.Sep.2019, 3.20PM) 2014 was a time when the election heat was at its peak. Uva provincial council election was held in middle of the year and presidential election later in the year. There was a news about a police officer was shot dead at Dharmapuram in Kilinochchi on March 13, 2014. Police spokesman Ajith Rohana said that he could not divulge more details about the police officer who was shot and injured. On March 14, 2014, strange posters were found in several parts of the North. The posters stated that an armed struggle should be started to build the Eelam. A few days after, a pro government media announced that the LTTE had appointed a new leader.
The drama which Gota and Shavendra jointly staged "Tigers revival with Gopi"..
It was said that the new leader of the LTTE is Ponniah Selvanayagam alias Gopi who was a friend of LTTE intelligence Pottu Amman. It was reported that a member of the LTTE Nediyavan who was in Europe had revived. At the same time, the government announced that it would award three million as a reward to a person who gives information to apprehend Gopi. On the eve of the 2014 Sinhala and Tamil New Year the government cancelled the holidays of few army camps in the Puliyankulam area and started a special operation. The army surrounded the jungle of Vidattaltivu with 2500 troops, 35 officers and 28 vehicles. On April 11th the Diamina newspaper headline announced "LTTE new leader Gopi was shot dead including his associates Theviyan and Appan. The news further added during the operation an army corporal too was dead. Although Dinamina reported the above news it was not true.
Four army intelligence officers were killed to compose Gotas drama..
The factual story is implausible. Gopi, Theviyan and Appan who were labeled as tigers were spies working for the army intelligence who were paid by the army. The corporal who was killed was not a Singhalese but a Tamil named Selvarajah Kamalarajah and his service number was 776927. They were all killed by the army. The army camouflaged a fake tiger revival. Four army spies and one corporal was killed by the military.
By 2014 there were signs of a power revolution. Not only Rajitha and champika but even Wimal Weerawansa was disappointed with the Rajapaksas. Rajapaksas used the military intelligence to secure their abating power. Using the army intelligence the Rajapaksas created fake tiger propaganda. In the midst of the emergency, a 2500 strong contingent was engaged in a fake operation. Four military spies were killed in order to secure power.
Who led the Tauhid Jamaat group to a so-called IS 'proxy'?..
It was Gotabhaya Rajapakse who gave the land to establish the headquarters of Sri Lanka's Tawheed Jamath, the home of the Saharan. It was Gotas intelligence paid wages to 26 spies of Thaawhid Jamath, including Mohammedu haasthun. It was a member of the Karuna group Sinnathamby who gave training to Saharans group. It was Gotabaya who led Saharan Tauhid Jamaat group to a so-called IS 'proxy'. It was not Gota's first staged drama at Piththala Hndiya and lastly staged drama of Gopi's fake LTTE. It was Gotabaya who was in charge of the Matale area during the period 88-89. It was at Shavendra's house that Gota had his meals. It was Shavendra who was the butcher of Gota. It was in Mathale that the largest mass grave was found. If Johnny walker whisky bottles which were found inside the mass grave could talk, it can reveal Gotas and Shavendras killing fields.
The new IS revival drama staged by Gota and Shavendra..
Now another era has come for us to see Gota and Shavendra's dramas. The country's army commander is shavendra and the presidential candidate is Gota. As Shavedra planted the Piththala junction bomb to boom Gota's image, Shavendra would do anything to make Gota the president. Gota killed four military intelligence members in order to revive the tigers with Gopi. This time Gota is planning a show of the reviving of the IS (Islamic state) drama. In order to stage this drama Shavendra's intelligence needs only one member. He can use a similar military spy as Gopi. The bomber knows that he would be arrested when he yells as "Allahu akbar" in a congested urban area, but a third person would detonate a bomb from a remote control. Then Gota and Shavendra would become the saviors of the country.
The return of the former key players of the Gotas sack race..
Shavendra makes changes to the army. He creates strange deals with the media in preparation for such a 'False Flag' operation. As a first step he removed army intelligence chief (DMI) Chula Kodithuwakku and appointed Anura Shantha Hewawitharana to the position. Further he appoints Heshan Silva as his military secretary. Heshan is a former close ally of Gota. (ADC -Aide De camp) He appointed brigadier Ranjan Lamahewa as his chief security officer. Both of them were former key players in Gotas sack race. During the period of 2005-2009 dramatic events such as the abduction, extortion, assassinations, bombing of the Pittala junction were carried out by thees high commanders and security guards of the army. It is very clear the objectives of Shavendra Silva now.
Shavendra is preparing to lead Gota's presidential battle with blood and iron...
Nishantha Gajanayake is a former support assistant of the air force commander. He was the main operator for the abductions, extortions and murders happened during 2005-2009. Navy Sampath alias Sampath Munasinghe (Lt Cmdr NPR 0945) and Chandana Prasad Hettiarachchi (Lt Cmdr NPR 1185) are two close security associates of the former Navy Comander Wasantha Karannagoda. These two killed TNA mp Raviraj for exposing the extortions in the parliament. Those two were the culprits who took extortions together with Karuna's group. Today, Shavendra's military secretary, Heshan Silva, was Gota's top aide, is the person behind the abductions and killings in Colombo. Shavendra manipulates Gota's presidential battle with blood and iron. At the end, this is going to be a major Hitler-style disaster.
Does the country want a Hitler-style Gota? Churchill style Karu? Or someone like Sajith who gives miserable entertainment more than Sirisena?..
By now hundreds of muslim youths are under detention. Most of the youths who were arrested were renegades from Zaharan. These detainees could be used for any purpose. It took ten years for Prabakaran to create suicide bombers. However within two years by instigating Aluthgama and Digana racial violence incidents Gota created suicide bombers. At a time when there is foreign interference and where the reconciliation is among communities damaged, the country needs a leader who can heal. Both Hitler and Churchill are military officers. Hitler's chauvinism was a cancer to the world. Churchill's charismatic politics was a medicine for the world. It was Churchill who saved the world from the bestial Hitler. People of Sri Lanka should decide whether the country needs Hitler-style Gota? Churchill style Karu or someone similar to Sajith who gives miserable entertainment than
Sirisena?
By Keerthi Rathnayake
Former Intelligence officer
Translated By Asghar
---------------------------
by (2019-09-04 09:58:24)
We are unable to continue LeN without your kind donation.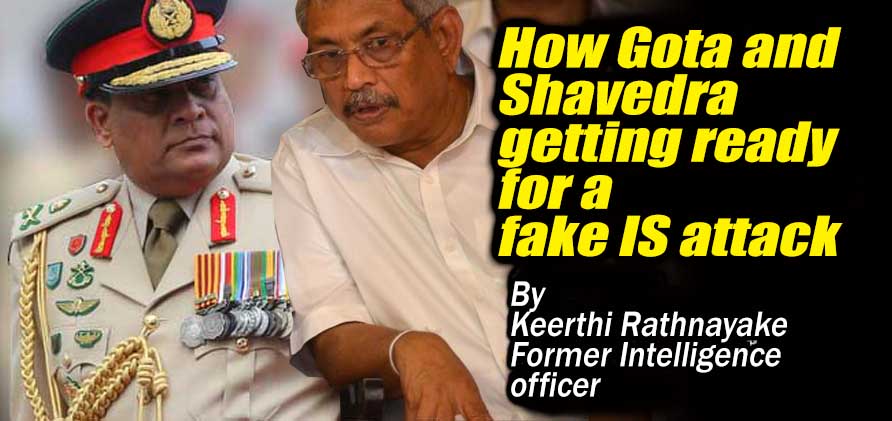 Leave a Reply