A new Prime Minister ..! New Competitive Political Culture ..! Sajith addresses the nation ..! (Video)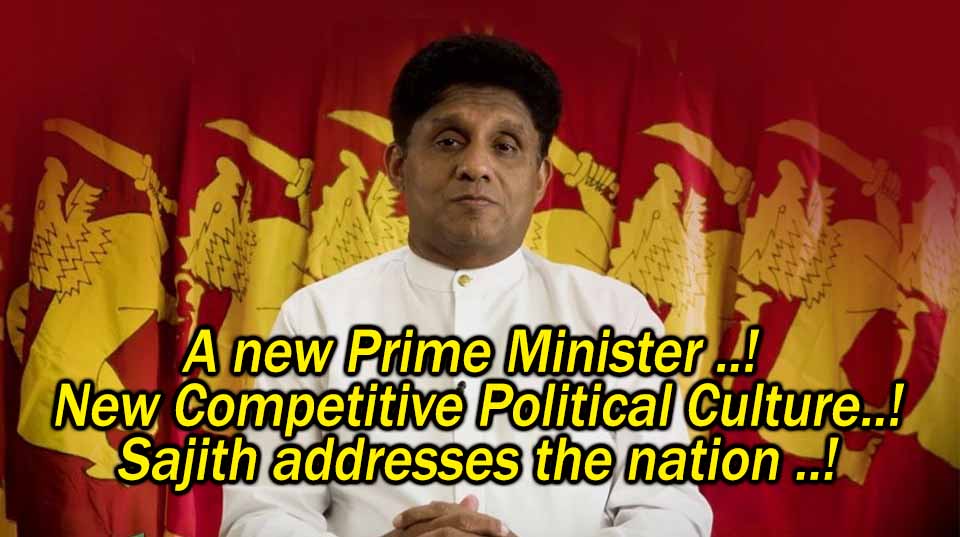 (Lanka-e-News- 07.Nov.2019, 11.45PM) Sajith Premadasa, who is contesting on the swan mark, says that after he becomes president, a new prime minister with a majority of parliament will be appointed. Sajith Premadasa made a special statement to the nation today (07) saying that no one who is accused of corruption will be inducted into his cabinet and a competent and new political culture will be created instead of the old corrupt political culture. Full text as follows
In the last month, I have travelled to almost every electorate and spoken to many of you. Nearly 125 rallies
and many forums later, it is clear to me that this election is not only about changing the country, but it is about
changing the character of our politics.
Everywhere I went, in every corner of the country, I met women and young people who asked me
"What do I have to offer?", "Will there be more jobs for us?", "Will there be more opportunities for our
families to grow?".
But one question, that was asked over and over was "How do we know that this time there will be
change? What is the guarantee that we won't be let down by 225 MP's again?"
In being asked that question many times, it was clear to me that there is only one way that
Sri Lanka's problems can be fixed and that is to clean up politics in this country, while not however sacrificing our cherished democracy and individual freedoms.
Just any candidate with just any policy cannot fix Sri Lanka's problems.
More schemes,
more money,
more promises, and
more committees will not solve Sri Lanka's problems.
To change this country, we have to clean up politics; we have to change who holds power and how
they hold and exercise power in this country.
While Sri Lankan citizens are on the brink of losing hope, stranded in a stagnant economy, and their
livelihoods threatened by climate change, the old politics continues while a dangerous new undemocratic or anti-democratic political option has arisen.
No minister, NGO, or opposition can change this. It is up to you. On November 16th go to the polling booth
no matter what and give Sri Lanka a fighting chance. Your vote is what will end the old politics in this
country and usher in a new, socially sensitive and citizen-centric politics.
Sri Lanka needs a clean-up and my mission is to get the job done. Every aspect of the political culture
has to be transformed for Sri Lanka to move forward, starting with how campaigns are funded and how
media agendas influence the political narrative and what is more dangerous, social polarization and civic conflict. Sri Lankan politics need to be more transparent, open and
welcoming to talented professionals who can bring the change we are seeking. But above all it must be citizen-centric.
The old politics must go, corruption must go, cronyism must go, nepotism must go, greed must
Go, and the Politics of Privilege must go.
One of the most serious ills of this country is the greed of the powerful to hold more power.
In the past, we Sri Lankans were asked to unite for peace, for equality and for prosperity. But today I am
asking that we unite not for peace but to fight the greatest evil of our times and that is injustice and greed. The injustice and greed
that are tearing this country apart.
Whether you are a Buddhist, Christian, Muslim or Hindu, our enemy is a common enemy and that is
the fusion of injustice and greed. Injustice towards the many and the greed of a few in this country are costing millions their dreams and a chance for a
better life.
The Buddha said that whether a nation is just and good depends on the conduct of the rulers.
"when the ruler of a country is just and good, the ministers become just and good. When the ministers
are just and good, the higher officials become just and good. When the higher officials become just and
good, the rank and file become just and good. And, when the rank and file become just and good, the
people become just and good."
It is said that even rains come in due season when the rulers are just and good.
No change is possible in this country unless we make our leaders fully accountable. We have to stop
attacking the rank and file who are merely following orders from higher up and make the leaders
responsible.
To that end I would like to share with the nation my zero-tolerance approach to rooting out social injustice and greed.
If elected president, I will ensure that,
No Minister will be allowed to hold positions where there is a conflict of interest.
No Minister will be allowed to appoint family members to positions of power.
All Government Ministers will be required to publish online asset Declarations.
A central database of Asset, Liability and Interest Disclosures under the Bribery Commission will be set
up.
Corrupt politicians will be dealt with the same way drug dealers and abusers of women and children will
be dealt with, swiftly and sternly, within the law, and with new laws if necessary.
I will withdraw luxury duty-free vehicle permits for all 225 MP's and put an end to VIP culture in Sri
Lanka.
It is time to go beyond conventional party politics, dirty politics, the politics of deals, of entitlement and greed, and to set an
agenda of positive development for Sri Lanka.
To assure you that I will achieve what I have set out to do, I want to clarify the conditions I have set for
my candidacy with you, so I don't leave any doubt in anyone's mind about my intention to change the
politics in this country.
Firstly,
Sri Lanka will have a new first-time PM, who will be endorsed by the majority.
Secondly,
No person who is accused for aiding corruption or directly involved in corruption will be given a
ministerial position.
Thirdly
National list ministerial positions will be filled by qualified professionals and a percentage of that will be
reserved for women to ensure gender and generational balance.
Lastly
No qualitative or macro change in the constitution will be made without broad national and social deliberation and a referendum
I would like to end by thanking the people who took the time to listen to what I had to say in the last month.
I will repay your trust a hundred times over.
Let's get rid of the old politics. Let's deepen our democracy; not sacrifice it. Let's root out social injustice and greed and take Sri Lanka forward together.
Full Video as follows
---------------------------
by (2019-11-08 00:45:01)
We are unable to continue LeN without your kind donation.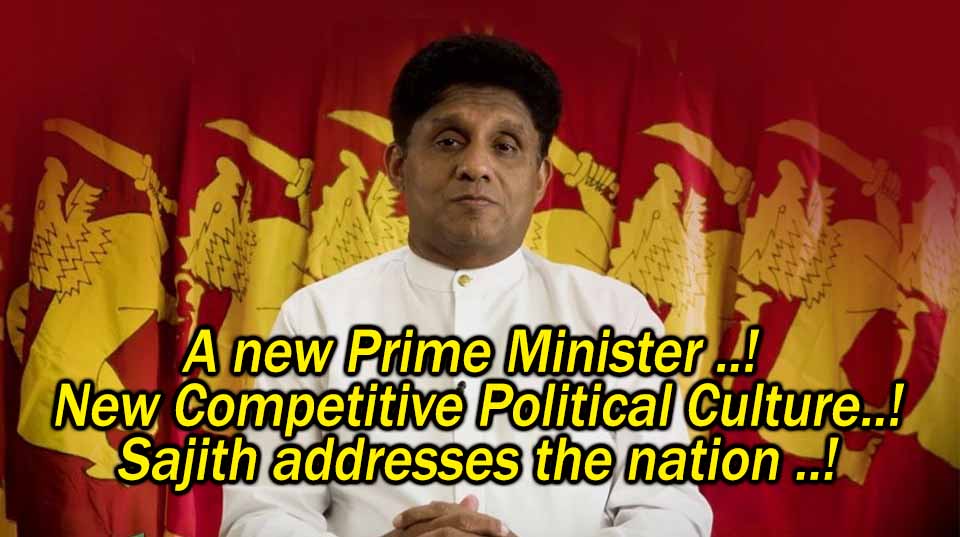 Leave a Reply