Notorious Ali Sabry is not a presidents counsel but a forged document creator . .! look at the evidence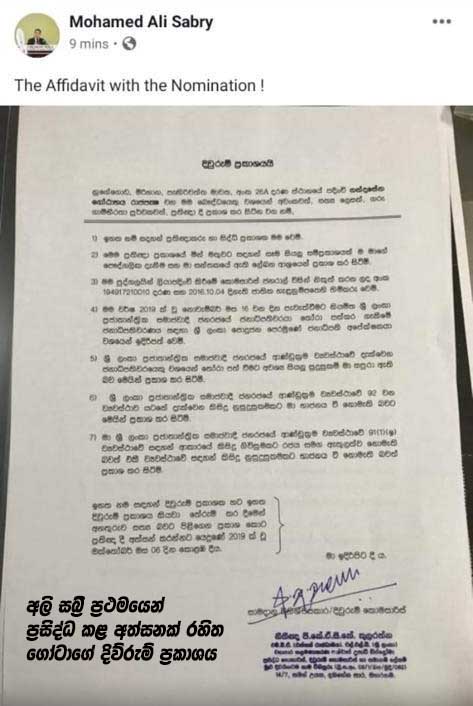 (Lanka-e-News- 13.Nov.2019, 10.45PM) Ali Sabri, who is supposed to be a notorious president's lawyer who bum suck Gotabaya's filthy lucre, has himself established that he is more a scammer than a thief. Few days ago, he posted an affidavit on his FB page filed along with the Gotabhaya Rajapaksa nomination for the forthcoming presidential election. The affidavit did not contain the sworn in signature. However the affidavit was certified by lawyer
named G.K.A.CK Kularathne. Before an affidavit is certified the swearing in person should signed the affidavit over a stamp before the lawyer which has not happened.
Following the post FB followers questioned the lawyer Ali Sabry where is Gota's signature. Notorious presidents counsel Ali Sabry immediately removed the affidavit post and posted another affidavit with Gota's signature over a stamp and certified by the same lawyer Kularathna. However the second signature of the affidavit did not match with the signature which Ali Sabry disseminated as Gotas signature in his passport photograph. It was very clear that those are two different signatures. Although somebody can say that those are Sinhala and English signatories but nobody signs two signatures for ny legal documents. Above events conform that notorious Ali Sabry is not a president's counsel but a lawyer who makes forged documents.
While Ali Sabri was performing these false documents over FB, followers had taken screenshots of these documents. The following is the testimony of Ali Sabri's forged documents.
Photograph 1 – the affidavit without a signature Ali Sabry posted at first
Photograph 2 – the affidavit with a false signature supposed to be of Gota posted secondly
Photograph 3 – Signature of Gota which Ali Sabri posted as on Gotas passport
---------------------------
by (2019-11-13 17:27:09)
We are unable to continue LeN without your kind donation.
Leave a Reply