Gota deceives India, threatens motherland from nuclear danger, gives Kachchativu Island to China for nuclear project, another 400 hectares to be filled and join with port city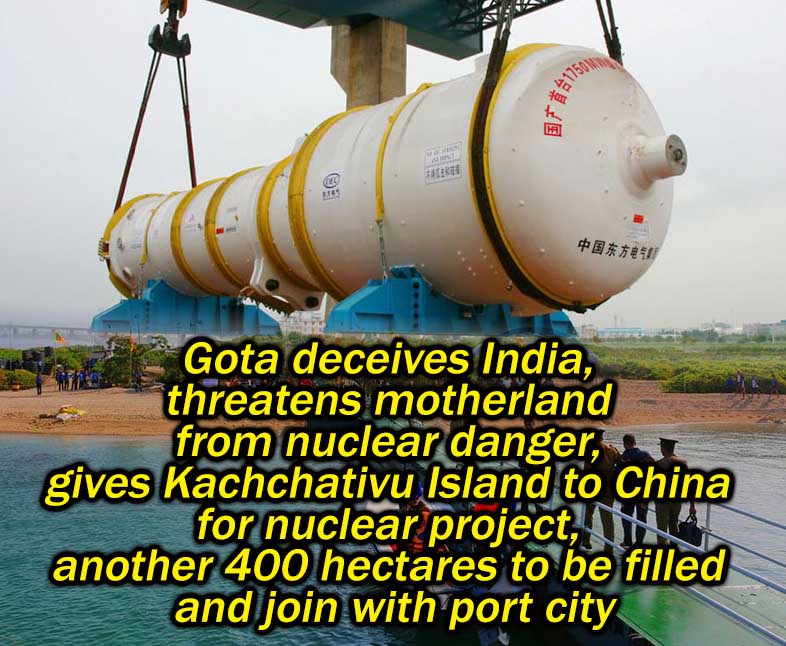 (Lanka-e-News- 30.Nov.2019, 11.00 PM) Lanka e news reveal with responsibility that Gotabaya Rajapaksas visit to India is to deceive India and to join hands with China and to put the country in an irreparable nuclear danger.
Gotabhaya has entered a confidentiality agreement with China to launch a non-commercial military nuclear power project on Sri Lanka's Kachchativu Island, which is adjacent to India. In addition to that Gotabaya is trying to fill up another 400 hectares from the southern sea, join with the current port city and sell out to China. This is the reason that the Chinese government lavishly spending to Gotabaya's election campaign. China has already started the work following Gota's swearing in ceremony held on the 18th.
Representatives of a Chinese nuclear power company, Dongfang Electric Corporation (DEC), the backbone of the Chinese central government, president secretary P.B Jayasundera and a group of Sri Lankan Navy officers has gone an observation tour to the Kachchativu Island in a helicopter on the 21st.
There is no people living in Kachchatheevu Island but people from India and Sri Lanka annually gather to the feast of St. Anthonys church situated. If a nuclear project constructed in Kachchatheevu people entering would be prohibited.
Following our revelation Gotabhaya government may declare that they are working with China in Kachchativu to generate electricity using nuclear power, but the story behind is different. This is the reason why this is carried out in secret.
To cover this story from Indian officials, Gotabaya an interview with an Indian journalist said that he is going to revive the Hambanthota port already given to China and pretended that he is a pro Indian.
The Chinese nuclear project at Kachchativu is certainly a serious threat to India and giving addition of another 400 hectares of land to port city in Colombo will strengthen China's power in the region. At the same time, the country becomes a ballpark of world powers that cannot be restored.
Although Gotabaya try to hide this to all but could not hide this from European intelligence services. Reports reaching Lanka e news confirm that this is one of the reasons that EU countries are not happy about Gotabays swearing in.
Staff reporter
---------------------------
by (2019-12-01 06:45:06)
We are unable to continue LeN without your kind donation.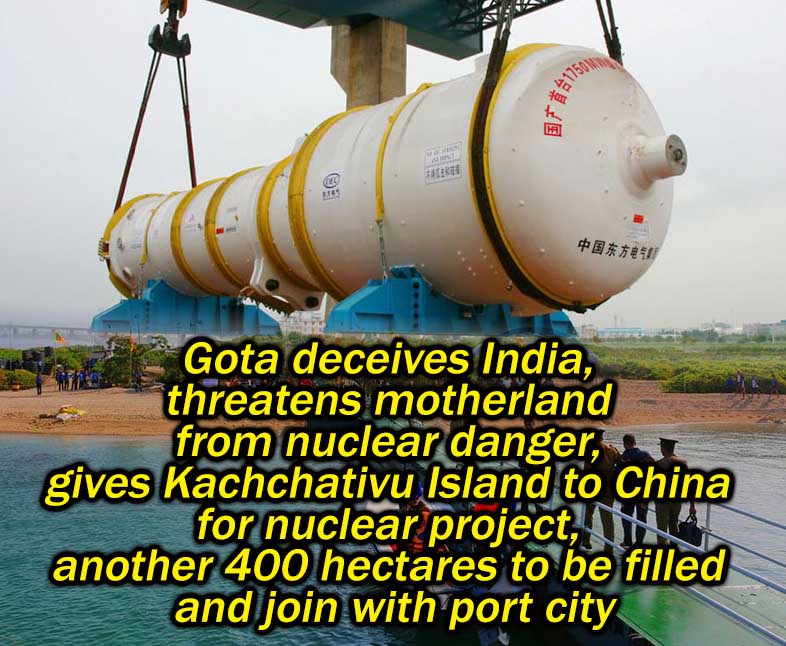 Leave a Reply