A special presidential commission consists of corrupt officials to investigate four institutions supposedly committed political revenge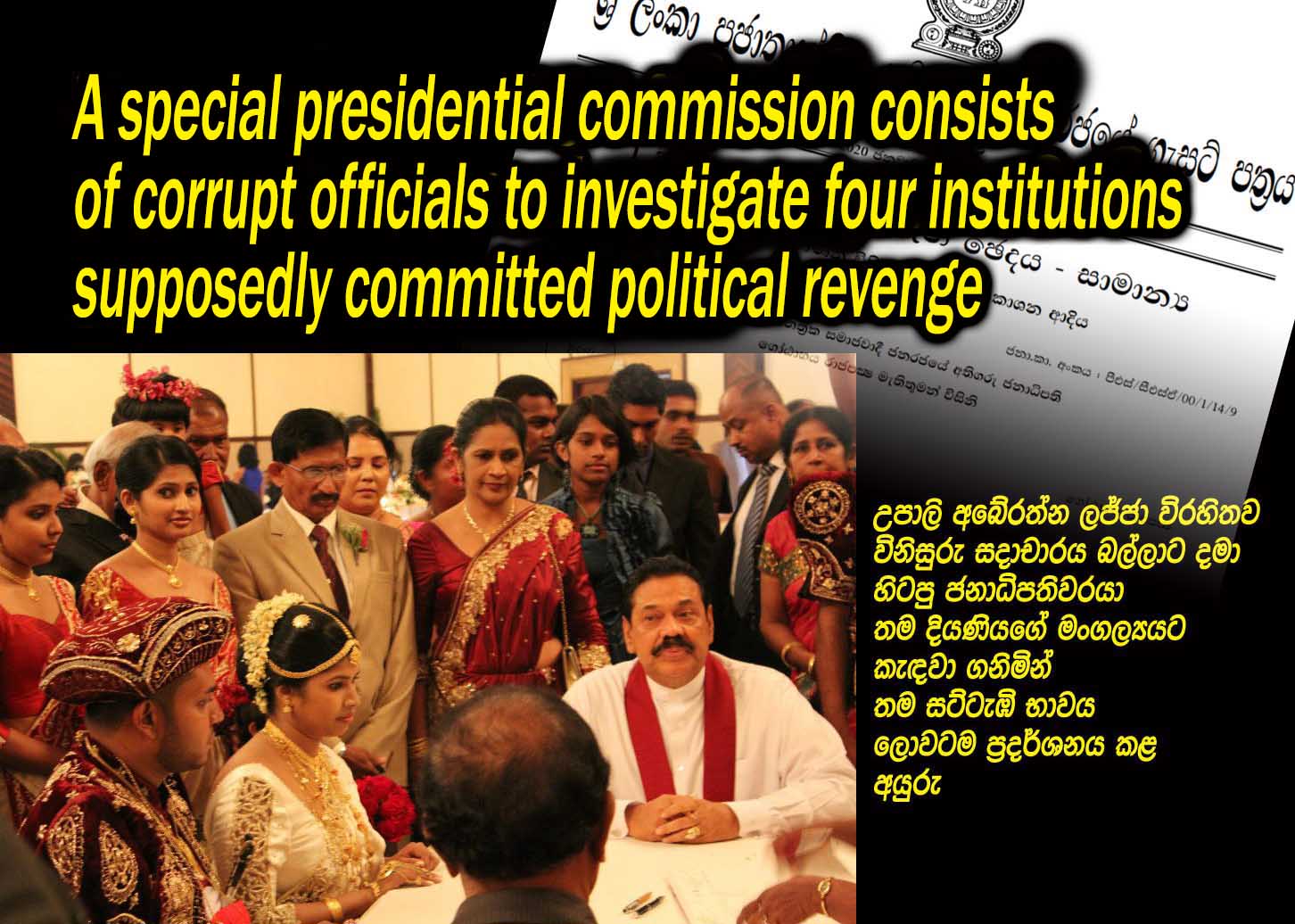 (Lanka-e-News- 10.Jan.2020, 11.45PM) President Nandasena Gotabaya has appointed a corrupt, three member special presidential commission yesterday to investigate any political revenge taken by the actions of the good governance, during the decade of Rajapaksa vandalism.
The presidential commission would investigate the actions and activities conducted by the anti corruption unit, commission to investigate bribery and corruption, FCID and police special investigation unit (SIU) under the former premier.
This new presidential commission would investigate those institutions above has victimized anybody? Taken any political revenge? Has anyone influenced these institutions and involved in any corruptions.
The gazette notification issued for this on the 9th is compiled on a preconceived notion about a political vengeance. It is stated "… has anybody abused, misused his powers or done any corruption or indulged in any fraudulent act or taken any political revenge when dispersing law and justice .. ." this implies and claims a political revenge is premeditated.
A world record from Nandasena Gotabaya
The real irony here is that president Nandasena on his own will has handed this to three notorious corrupt officials and appointed a presidential commission, to investigate Bribery and corruption commission approved by the parliament's Constitutional Council.
Nandasena Gotabaya has kept a world record by appointing a commission to investigate another commission.
The most special presidential commission of president Nandasena Gotabaya include retired Supreme court judge Upali Abeyarathne, (Chairman) retired court of appeal judge Chandrasiri Jayathilake and the former inspector general of police Chandra Fernando.
"Pissu poosa" - Mad cat
In the legal circle Upali Abeyarathne is known by the nick name "Pissu poosa". Upali Abeyarathne is a judge appointed by Mahinda Rajapaksa on December 17th 2014 on the verge of presidential election. It was illegal because, he was appointed as the 12th judge in the Supreme Court where as there is only 11 judges. Despite there were two senior judges before him,, Mahinda Rajapaksa appointed this junior Abeyarathne since he was pro Rajapaksa. It was as much as president Mahinda becoming a witness to Abeyarathn es daughter's wedding. Judges with moral integrity do not invite politicians to personal functions.
Bribe king
Chandrasiri Jayathilake is judge who got caught taking bribe while sitting on the bench. Although there was a complaint against him at the bribery and corruption commission for taking Rs. 2.5 million as a bribe, due to political influence he escaped from the charges. Even the courts registrar witnessed he was taking bribe. Further chandrasiri Jayathilake was a judge who got caught by indulging in illegal sex with a woman working in the courts. He was involved with a woman named Krishanthi worked in the courts and due to this her husband divorced her.
Another illegal member
The other notorious member of Nandasena Gotabaya is the former IGP Chandra Fernando. He was convicted for an abuse of power during a presidential commission appointed during Chandrika era. Chandra Fernando is a school mate of Mahinda Rajapaksa. It was during Chandra Fernando as IGP period the theory of encounter killing while showing firearms was introduced. Chandra Fernando was the godfather of a series of unlawful killings during the Nandasena Gotabaya defense secretary era.
One can understand the credibility of Nandasena Gotabaya's presidential commission by appointing someone who was found guilty by a presidential commission as a member to a new presidential commission.
---------------------------
by (2020-01-11 00:18:59)
We are unable to continue LeN without your kind donation.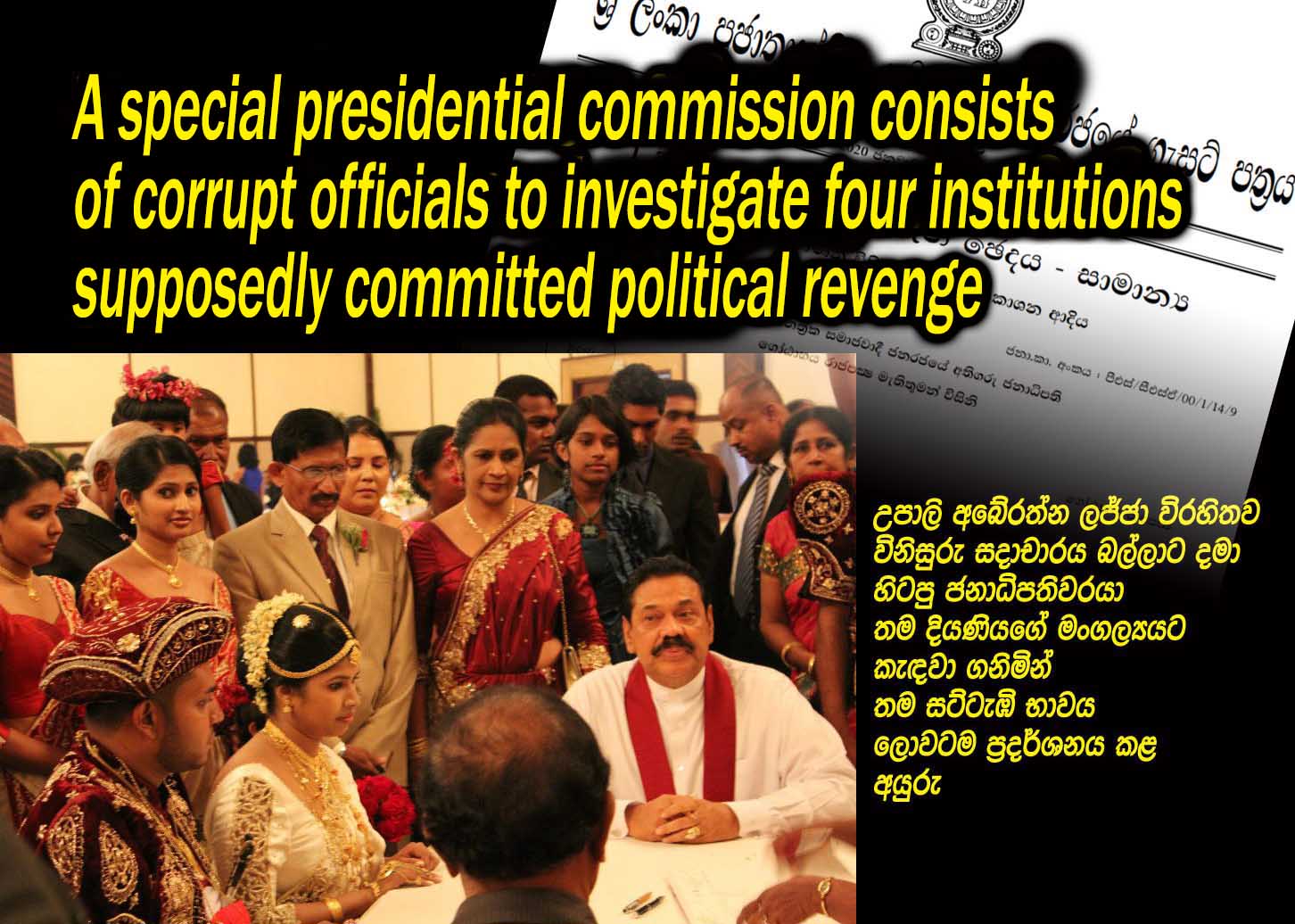 Leave a Reply