Ranjan arrested again an order by AG, party membership suspended, one year imprisonment, a possibility to cancel his Civic rights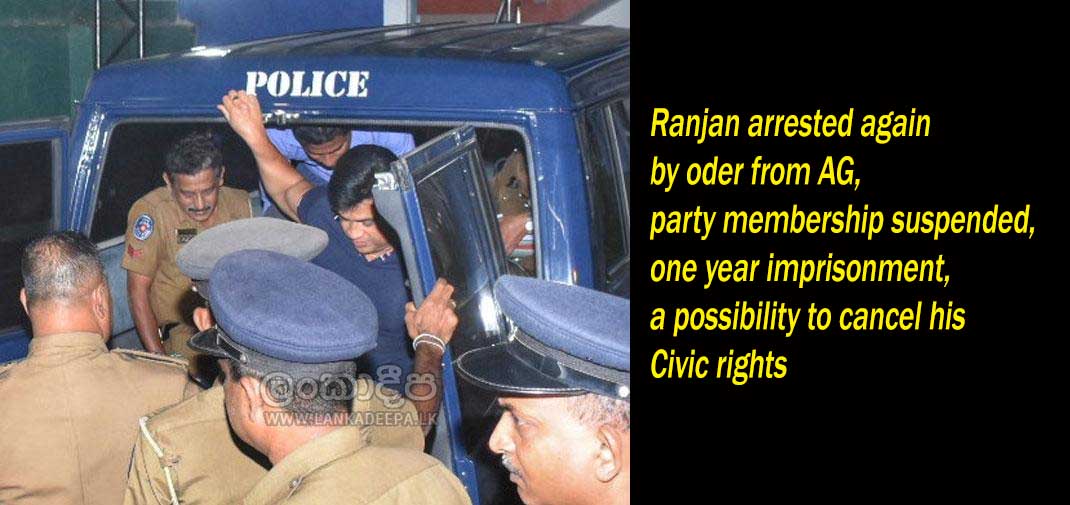 (Lanka-e-News- 14.Jan.2020, 11.45PM) The attorney general has ordered the director of Colombo crimes to immediately arrest Ranjan Ramanayake and produce him before the courts for recording telephone calls and exposing them without the notice of the other person.
Accordingly, Ranjan, who was arrested by the police, is to be produced in court tomorrow.
The attorney general has concluded that Ranjan had committed an offense under article 111 (c) of the constitution for illegally influencing the high court judges.
Section 111 c(2) states as follows
Every judge, presiding officer, public officer or other person entrusted by law with judicial powers or functions or with functions under this Chapter or with similar functions under any law enacted by Parliament shall exercise and perform such powers and functions without being subject to any direction or other interference proceeding from any other person except a superior court, tribunal, institution or other person entitled under law to direct or supervise such judge, presiding officer, public officer or such other person in the exercise or performance of such powers or functions.
Every person who, without legal authority, interferes or attempts to interfere with the exercise or performance of the judicial powers or functions of any judge, presiding officer, public officer or such other person as is referred to in paragraph (1) of this Article, shall be guilty of an offence punishable by the High Court on conviction after trial without a jury with imprisonment of either description for a term which may extend to a period of one year or with fine or with both such imprisonment and fine and may, in addition, be disqualified for a period not exceeding seven years from the date of such conviction from being an elector and from voting at a Referendum or at any election of the President of the Republic or at any election of a Member of Parliament or any local authority or from holding any public office and from being employed as a public officer.
Therefore Ranjan would be given a one year imprisonment and a possibility of losing his Civic rights for seven years.
The high court judges union too has requested the chief justice to conduct an investigation over Ranjan's tapes.
The united national party has decided to suspend his party membership. Therefore he will not get nomination for the coming elections.
Although some say that Ranjan Ramanayake did a good job, it is not. He has spoken about the independence of the judiciary and influenced the judges. When Padmini Ranawaka judge says no, he is influencing to send her to the president. By naming others as dealers he is coming forward to save Weerawansa's wife from her allegations.
Although Ranjan jabber about equality as soon he open his gaping mouth but another conversation has exposed, when associating he not only consider ones religion but his caste too.
It was Ranjan who allowed corrupt people like Mahindananda and Weerawansa to mudsling at the good governance which worked towards the independence of the judiciary. He was not assigned any responsibilities of the judiciary, law and order or any related subject in the good governance. Even though he says he fought alone against corruption, it is clearly a hoax. He has got involved to release corrupt people. If he wishes to do anti corruption he would have started an island wide organization with the help of his eights laks likes in the facebook. But even the best of people have gotten into trouble because of his ridiculous deeds done to improve his personal image.
---------------------------
by (2020-01-15 00:19:02)
We are unable to continue LeN without your kind donation.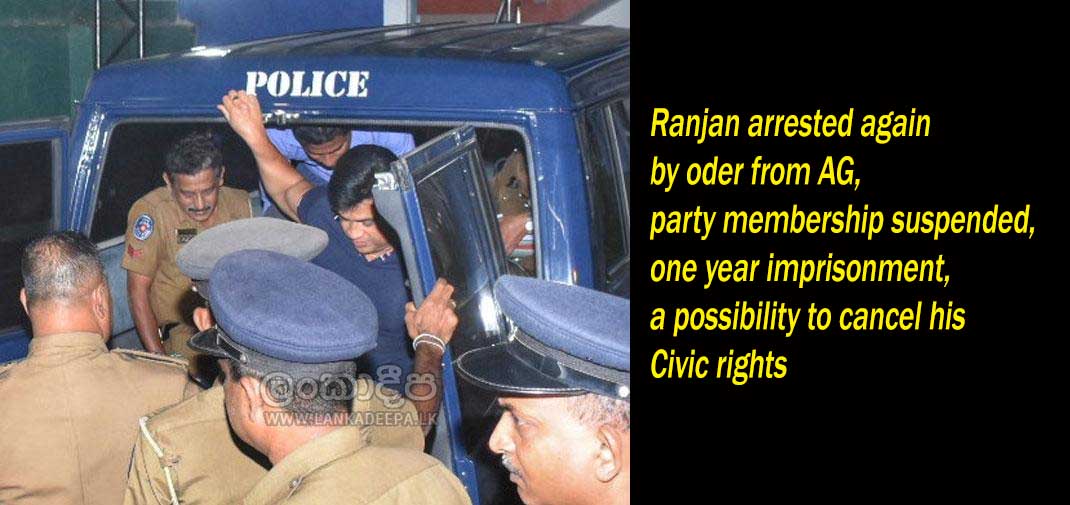 Leave a Reply