Why good bye, dearest Mano..?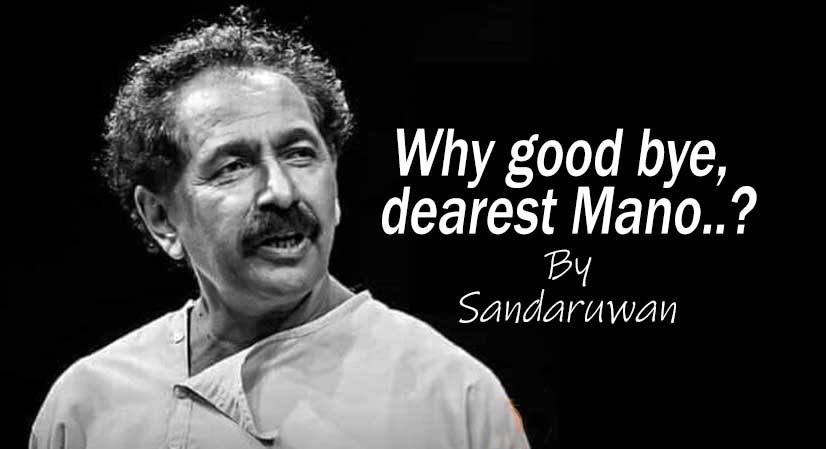 (Lanka-e-News - 15-Jan-2020, 7.30AM) Drama legend of the era and greatest artist, Natya Keerthi, Dr. Jayalath Manoratne alias Keselgaspe Manatunga Jayalath Manoratne alias 'Mano' passed away at his residence at Abeyratne Mawatha in Boralesgamuwa 12th morning. His death caused a cancerous tumor growth in the brain within a short time. It was surgically removed, but failed. He was 71 years old at the time of his death.
If someone asks me, is Gamini Fonseka the greatest actor in Sri Lanka, Joe Abeywickrema or Jayalath Manoratne?, my definite answer would be Jayalath Manoratne because all three of them excelled on stage, silver screen and small screen, there is no one who is good as Jayalath Manoratne who is a master of all arts. On the other hand Gamini and Joe came to politics and had a mud bath where as Mano did not do that foolish task. After his public service, during the Premadasa era when the Tower Hall Foundation was started Mano held a position for a short period but after that he did not take any political positions. We saw his broad political vision from his creations but not from his mouths.
Mano's stage..
The performances on the stage are incomparable. He performed in script writing of plays, direction of plays, acting in both acting methods of traditional and realistic, singing and dancing in the Sri Lankan drama field. When he died he was involved in a production of a drama written by him. (news confirm that he handed over the future production of the drama to Prasanna Vithanage) When Mano received his secondary education at Poramadulla Central College, the school's music teacher, Sunil Sriyananda, who saw Mano's singing and acting skills, referred him to it. He entered to the stage drams as a student and played the lead role in a school play called "Aspa Gudun". It reached the finals of the annual Inter-School Drama Competition that year.
Mano's stage plays which started there were so great that by the time he died, he had performed over 80 stage plays. Eight of those dramas were written and derected by him. That was composed by mahagama sekara's enlightenment poetry such as "Lokaya Thani Yayak, Sellam Nirindu, Thala Mala Pipila, Buruwa Mahattaya, Guru Tharuwa, Sudu Redi Horu, Andarela and Puthra Samagama". Scripts of Guru Tharuwa and Andarela were later published as books and both received state literary awards. 'Thalamala Pipila' drama script is an approved book for the GCE ordinary level examination. He cannot even remember the number of awards he won for best actor for state drama festival and various stage festivals.
While studying at the University of Peradeniya, Prof. Sarachchandra who opened the path for Sri Lankan drama traditions, Mano became a great gem and there was no escape to him from Sarachchandras. Mano made his professional debut in the drama from 'Sarathchandra's "Pamatho Jayayati Soko". The unique creations of Sarachchandras were Maname, Sinhabahu, Mahaasaara, and Elowa Gihin Melowa Awaa were some of the plays performed by Mano.
Then there were stage legends such as Dayananda Gunawardena, Sugathapala de Silva, Dr. Sunanda Mahendra, Ranjith Dharmakeerthi, Lucian Bulathsinghala, could not do without Mano. Later Mano became an essential member to Mano's contemporary dramatists like K.B. Herath, Kapila Kumara Kalinga and later generation, Nimal Ekanayake, Prasanna Vithanage and to Jayantha Chandrasiri.
Mano's Silver screen..
Mano acted in 42 movies. Mano's silver screen debut film was "Thilaka Saha Thilaka" (1976) which was directed by Amarnath Jayathilake from a novel written by T.B. Ilangarathna. He became popular for a small character he acted as a match announcer for a film by Titus Thotawatte's Handaya which was released in 1979. He then starred in "Siribo Ayya" as Malhami's character and established himself as a character actor in the silver screen. He received many awards for the recently acted "Hoo Gana Pokuna" film which he acted as the bus driver's role. In addition to the Best Supporting Actor Award at the State Film Awards, it has been recognized as the Best Supporting Actor in all the awards at the Cygnis awards, Derana awards, Hiru awards and other awards. Mano was selected for state and Sarasavi awards for his performance in Sudu Kaluwara, Berunda pakshiya and to the Hoo Gana Pokuna movie.
He has given life to 39 character in the silver screen from the role he acted in Thilaka Saha Thilaka movie as Thilaka's friend and the role of Hewanayake principal in the "Thaala" movie screened last year 2019. There are three more movies to be screened in the future.
Mano's small screen..
Apart from the silver screen, Mano contributed immensely to the Tele drama industry. He has acted in 37 Tele dramas and directed many. He is everlasting in tele drams such as In Doo Daruwo, Saki Sanda Eliyas, Roda Hathare Manamalaya, Kandegedara, Passé Gena Manamali and Gam Peraliya.
Mano who has appeared in two radio dramas. He has written an important research book named "Performing Arts Development in Sinhala Dramas". He is author of nine books.
Mano obtained first Degree from the University of Peradeniya and obtained his Masters degree from the Jayawardanapura university. He was awarded honorary Doctorate D. Litt Award by the University of Peradeniya in 2013 for his immense contribution to the field of drama in Sri Lanka.
The sickness which affected Mano and sickness which did not affect Mano..
One day Jayalath Manorathna suddenly feel a petrol smell. However there was no petrol found in the close vicinity. He became curious. As he could continuously smell petrol he consulted a doctor. He came to know there is tumor in his brain and that was the cause. It was surgically removed. Despite it became success to actress Swarna Mallawarachchi but unfortunately it didn't become success for Manorathne. Mano finally acted a father's role in a movie of Sivagurunadans, 'Deweni Yuddaya'. The father finally dies in the movie. It is fateful that Mano too who acted the dying part last, finally died.
The Sri Lankan artists are talented but I have come across they are affected with some diseases. One of the major ailments is to think that he is an artist and that everyone else should keep everything to a side and to treat him. By thinking as such they become culprits in transactions. Another ailment is the beggarly mentality of lamenting that the government does not care for them. Another disease is that they think only their creations are the best and without telling that unfairly criticizing others creations. During my last years in Sri Lanka, I had been closely associated with Jayalath Manorathana for about a decade. That is my contribution to the publicity of his work. It was a great privilege for me. Jayalath Manoharthana had not suffered from any diseases which some of the artists of Sri Lanka suffered stated earlier. The companionship I received to my heart is truly golden for my mind.
Though he died physically, he is sure to live in the hearts of all Sri Lankans because of his creations. His genuine good manners and simple lifestyle will also be the reason.
A Special condolence from Lanka e news to Mano's wife Jayanthi, daughter Indivari and son Banuka.
Why good bye, dearest Mano..?
Sandaruwan Senadheera
Translated by Azgar
---------------------------
by (2020-01-15 09:01:44)
We are unable to continue LeN without your kind donation.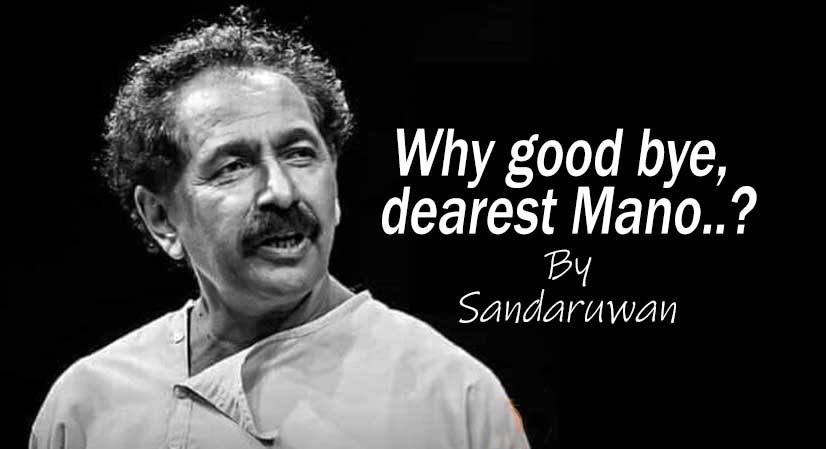 Leave a Reply