Maithripala Sirisena rescues Saharan twice.! Here's the proof.! Arrest Sirisena responsible for the Easter massacre.!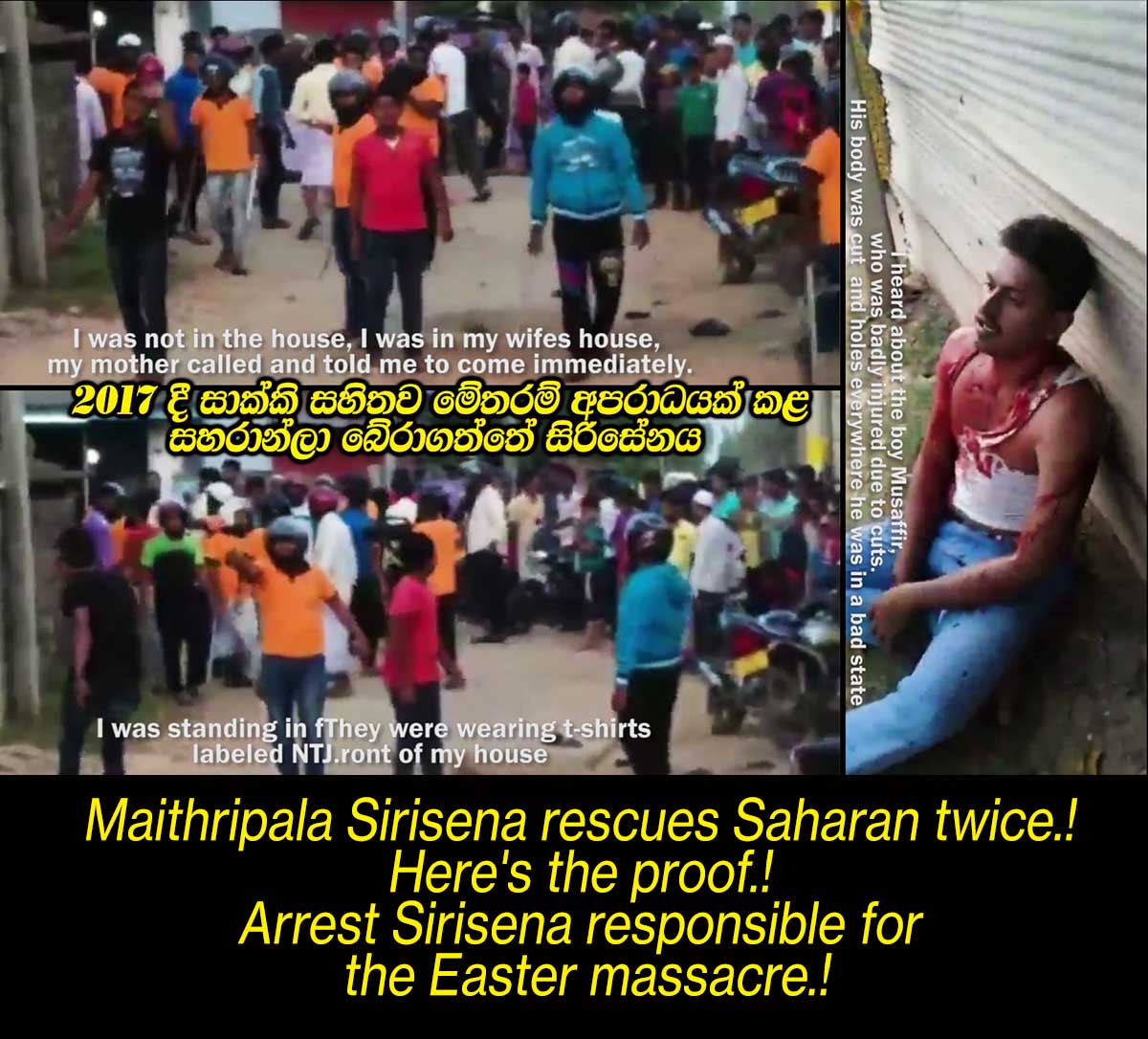 (Lanka-e-News -07.Feb.2020, 7.20PM) Reports reaching Lanka e news confirms that it was the former president Pallewatta Gamarala who has twice rescued the mastermind of the Easter attack Saharan. One happened in 2017 and the other happened in 2018.
How Sirisena rescued Saharan in 2017..
In 2017 Saharan together with his brother Rilwan and his associates Sajahan, Auto Niyas, Anver and Zaini has convened a wahabi meeting at a place a Sufi majority area. Saharan had taken swords, petrol bombs and attacked the neighbors' houses wreaked their properties and made havoc on them. People have been cut with swords. "That's why we sliced you today, if anybody oppose us everyone will be cut" Saharan has threatened everyone with the sword. The photographs of the incident are shown here and there is a video taken with a phone by one of them. Nine people were remanded after being arrested and produced to the courts after a complaint was lodged with the police. However Saharan and his brother Rilwan absconded the police and kept hiding.
Maithri Gunarathne who advised maithri..
It was Maithri Gunarathne, Sirisena's most distinguished presidential advisor who bailed out the nine accused who got arrested. He had gone from Colombo to Batticaloa. According to reports reaching Lanka-e-News, Maithree Gunaratne was instructed by President Sirisena.
It is a petite matter for the Saharan group to get a Muslim lawyer from Colombo. Saharans had money. He could have got either Faizer Musthafa or Ali Sabry but due to president Sirisena's advice Maithri Gunarathne went from Colombo to Batticaloa to bail out the nine accuses.
Following Maithri Gunaratne's appearance the nine suspects were released on bail. Due to this police could not capture Saharan and Rilwan. Many others, including Saharan and Rilwan, were killed along with the Easter attack. Sirisena later gave Maithri Gunaratne a governor post for his sordid contribution.
How Sirisena rescued Saharan in 2018..
Many people know how Sirisena rescued Saharan in 2018. That was when there was an open warrant issued on Saharan by the TID when the TID director DIG Nalaka Silva got arrested on false allegations. This was all conspired by President Sirisena. Siriena fabricated this conspiracy through a liar named Namal Kumara planning to kill him and Gotabaya Rajapaksa.
Now it is proven well. Namal Kumara who said that Nalaka Silva conspired this killing through Makandure Madush who is now is in Sri Lanka under remand custody. Nobody knows that Makandure Madush was questioned about this. If makandure Madush has disclosed anything as such they would not stay doing nothing. That is Sirisena made this conspiracy and lie through Namal Kumara. That is none other than to save Saharan from getting arrested.
Take Sirisena into custody immediately..
We should urge who calls himself the working hero of the country who got the consent of 6.9 million people Nandasena Gotabaya to immediately arrest Maithripala Sirisena and enforce the law against him who is responsible for the death of 300 catholic devotees, the foreigners and tourists who came to spend their holidays for the Easter.
If President Nandasena Gotabaya fails to do that there should be a conspiracy behind that too. If he fails we would expose the reason behind it in the future.
Chandrapradeep
Translated by Robinhood
The video of Saharan's Kattankudy attack is below
---------------------------
by (2020-02-07 13:58:31)
We are unable to continue LeN without your kind donation.
Leave a Reply