While Sirisena responsible for the Easter attack is free, judge Pilapitiya who did not do any crimes acquitted..! -Lawyers protest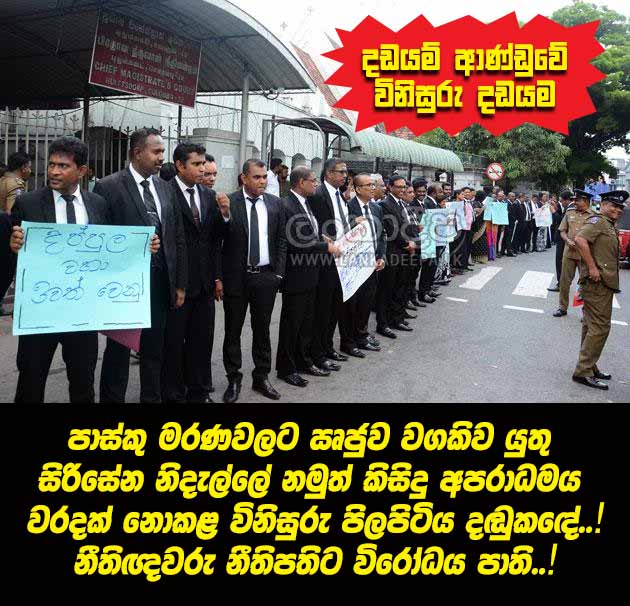 (Lanka-e-News -12.Feb.2020, 11.30PM) Lawyers in Colombo staged a protest for the second time against Attorney General Dappula De Livera who has forgotten to prosecute Maithripala Sirisena who is directly responsible for the deaths of over 300 people who died on the Easter day has given an order to arrest judge Gehan Pilapitiya who has not committed any criminal offence.
Sirisena who did not summon the Prime Minister, the defense minister and the IGP to the Security Council but summoned puny opposition politicos, despite knowing that a series of bomb explosions going to happen but escaped from the country without taking any single measure to prevent the explosion.
A large number of district court attorneys and magistrate Court lawyers were present at the protest march in front of the Hulftsdorp Magistrate's Court in Colombo. Lawyers protested bawling "liberate judiciary from the Attorneys influence" "Is Dappula the attorney or the IGP" "Attorney general twist the law", "Dappula is raging", "attorneys disciples who is responsible for the Easter attack are free", "Dappula's law is in the coffin", "Law against Gehan but no law for Dilrukshi"and "Dappula quit immediately" were few slogan tablets carrying in their hands.
A lawyer who spoke to Lanka e news said at a time when credibility of Ranjan's voice clip used to stalk Gehan Pilapitiya has not been substantiated, not only the arrests but the suspension of duties from Shani to Pilapitiya all are illegal. The first thing to do is to ascertain the authentication of the audio recordings. It should be done by the police department and not by the Attorney General. The accusations leveled against Gihan Pilapitiya are not criminal offenses but issues of discipline. It should be the Judicial Service Commission which should act upon not the Attorney General's Department. In spite of this, Attorney General Dappula's whipping is a misuse of power. Speaking to Lanka-e-News, Attorney-at-Law added that Parliament should respond immediately to the Attorney General's lawlessness.
When Dilrukshi Dias was the Director General of the Bribery Commission, several former Commanders of the Armed Forces, including Gotabhaya Rajapaksa, was summoned in the court. During a hearing judge Gihan Pilapitiya granted bail to Gotabhaya Rajapaksa but he was kept in the court cell until he paid the bail money. It was then that Sirisena said a cyanide story that the war heroes are led to the judiciary. The opinion of the judicial circle is what is happening today that is Gota's revenge on Gihan Pilapitiya.
Photograph from Lankadeepa
---------------------------
by (2020-02-13 02:08:43)
We are unable to continue LeN without your kind donation.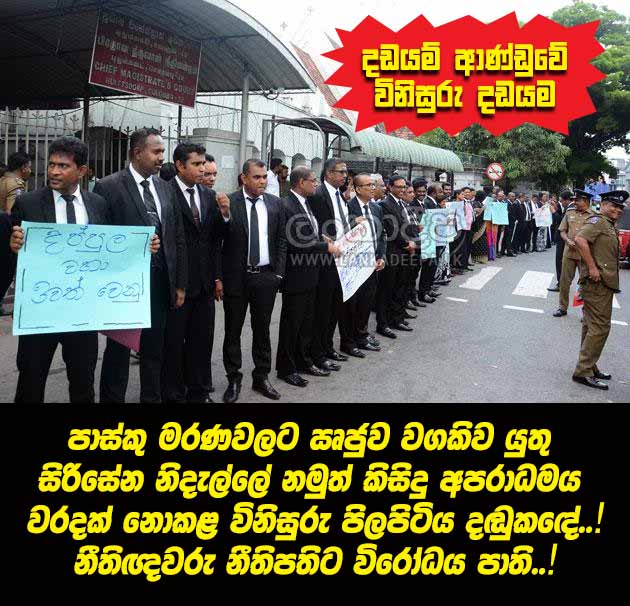 Leave a Reply