Media freedom fighter and Senior journalist Saman Wagarachchi passed away..!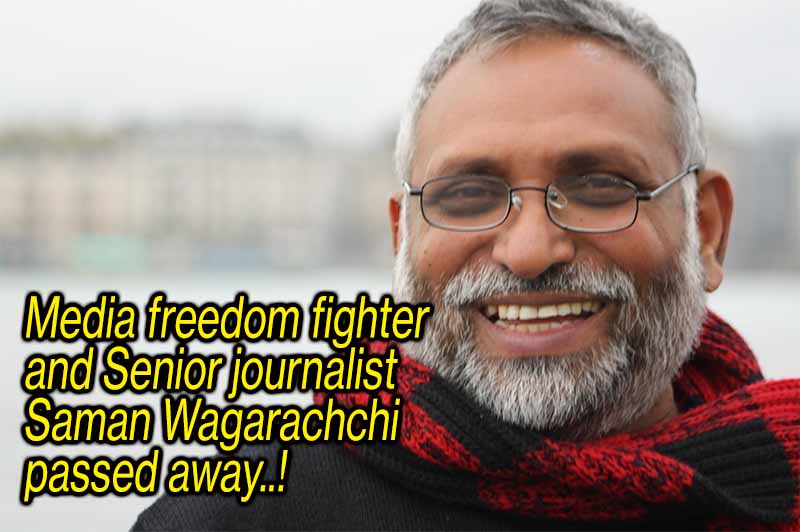 (Lanka-e-News -15.March.2020, 10.30 pm) Saman Wagaarachchi, a veteran journalist and Media freedom fighter came from the left movements, passed away this morning.
Diagnosed with leukemia recently and passed away today at the Hope Hospital, Maharagama at the age of 63.
In early 80s, he was a full-time member of the JVP. At that time he was the secretory of the Socialist Art Association of the JVP and he organized the JVP's famous liberation musical show, "Vimukthi Gee" across the country. Subsequently he withdrew from the JVP politics and initiated the 'People's Art Association'. He led another liberation musical show "Kalaye Ravaya" with Gunadasa Kapuge and Nandana Marasinghe. Later, Saman Wagaarachchi launched another art circle named "Nirmana Sanwada Kulakaya". It created dialogue on various subjects related to art and culture. "Nirmana Sanwada Kulakaya" hosted a series of seminars across the country. At the beginning of "Free Media Movement", which struggled against brutal media repression of the R. Premadasa rule, Saman was appointed the the co-convener.
Saman Wagarachchi worked as an art critic for the old Lankadeepa daily newspaper in the mid 80's under the guidance of late Gamini Wijetunga. He also published a columned newspaper, "Blade". Then he joined the Yukthiya newspaper and became it's featured editor. At the time Lakbima newspaper was launched, he was appointed as the featured editor of it. Saman subsequently became the chief editor of the Dinamina newspaper published by the Lake House.
Thereafter, Saman Wagarachchi, who lived in California, USA, returned to Sri Lanka and took up the position of Editor of Lakbima newspaper. He was subsequently appointed to the Director of the Editorial Board of the all publications of Lake House.
Saman was also the founder of the Journalists' Organization for Democracy.
At one time he contested from the UNP for the Central Provincial Council but lost.
Saman, who led a distinguished media career and a media activist, was honored for his contribution to media and media freedom in Sri Lanka. Many media and arts organizations established by him, could not exist for a long time due to some weaknesses of Saman.
It is unfortunate that he eventually succumbs to leukemia, which is rare in people of old age. But for sure that he was in a position to be pleased that he had performed his personal and social duties for the citizens of his country.
We convey our heartfelt condolences to his wife, son and daughter and his colleagues on the death of our longtime friend, Saman Wagarachchi.
So, machan Saman come back...
Lanka e News Editorial Board
---------------------------
by (2020-03-15 19:40:50)
We are unable to continue LeN without your kind donation.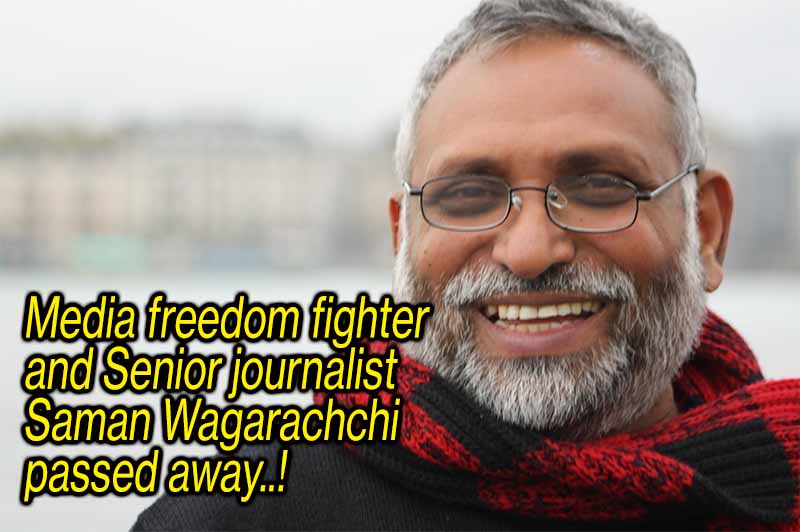 Leave a Reply