CID director planning to kill Kosgoda Tharaka, shocking conspiracy exposed
An exposure by keerthi Rathayake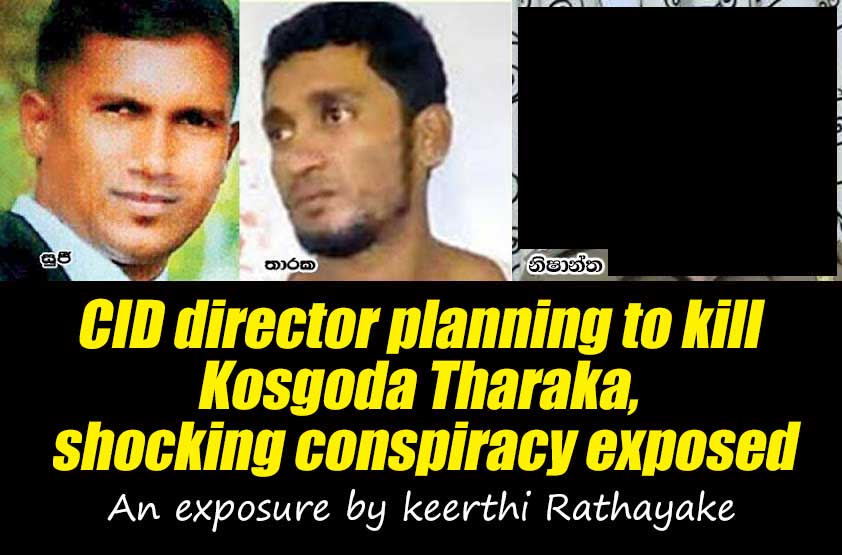 (Lanka-e-News - 06.Jan.2021, 11.00PM) "One country, one law" was an attractive slogan in Gotabaya's election campaign. But like other election promises made by Gotabaya, the 'One Country, One Law' pledge was blown away. There is no ruler in recent history who broked promises as recklessly as Gotabaya. Gotabaya boasted one law and deprived people of their basic right to life. He once again brought fore the murders committed by violation the existing law.
Death to Madush but South Asian drug lord freed..
Mohamed Siddique is the flagship giant of the drug trade network in Asia. Wele Suda and Siddique were arrested in Pakistan when the Rajapakse government was on the verge of collapse. During the rule of good governance, the two were brought to Sri Lanka and interrogated under the provisions of the law. Surprising but true, Siddique who was arrested by the Interpol in Pakistan and handed over to Sri Lanka, was released three months after Gotabaya becoming the President.
Makandure Madush was arrested by the Dubai Police and was handed over to the Sri Lankan security forces through Interpol. Madush, who was handed over to Sri Lanka for further investigation by the Interpol, was shot dead. Gota government buried all investigations connected to the drug network related to local and foreign individuals.
Inside story of Madush murder..
Very few people know the truth about the operation that killed Madush by the Gota regime. Gota regime fraudulently used Madush's money for their parliamentary election campaign. Madush sought sanctuary and spent all his possessions on Pohottuwa during the parliamentary elections. The transaction was coordinated by 'Karuna Kodithuwakku' or 'Shirt Karuna', the Pohottu organizer of the Akuressa electorate. Gota regime fraudulently looted Madush's assets and killed Madush through two notorious executioners, Deshabandu and Rangajeewa. Gota regime deployed two gangs as one group to loot Madush's property and another group to kill him. None of them knew the real story. Only the Rajapaksas knew the conspiracy.
Carbon copy of Madush assassination, Kosgoda Tharaka assassination plot..
Gota regime is planning to kill Kosgoda Tharaka today or tomorrow in the same manner which Madush was killed in violation of the law. During Duminda Silva's imprisonment, most of his illegal contracts were fulfilled by Kosgoda Tharaka. Kosgoda Tharaka and Duminda Silva had a special caste based bond. Everything is ready for the release of Duminda Silva now. Accordingly, Duminda will be released as a Bo plant in a few days and Kosgoda Tharaka, who knows Duminda's profile, is a threat to him.
The Kosgoda Tharaka assassination plot is a shocking one. The current CID director is Nishantha de Zoysa. He is a notorious garbage bin. He joined the police as a RSI (reserve sub inspector) and his journey to the post of CID director is a story to be written separately. Nishantha de Zoysa is a relative of Kosgoda Suji, the arch rival of Kosgoda Tharaka. Accordingly, Kosgoda Sujee and Nishantha de Zoysa would be involved in the murder of Kosgoda Tharaka. Apparently Duminda is not involved. But the mastermind of the operation is Duminda and his godfather.
Why former Navy Commander became enmity with Gota?
During the election season, Gota regims anti narcotic operations were screened at the box office. But now it has been proven they are all gimmicks. People who eat staple grains have come to know that Gota's anti drug operation is a fraud. During the previous government a packet of heroin was Rs. 1500 and now it has reduced to Rs. 500. If narcotics are caught this cannot happen so.
With the release of Siddique, piles of narcotic ships arrived in Sri Lanka as never before in history. During the 30 days between February and March 2020 the Navy seized four narcotic ships. At the same time Navy Commander Piyal Silva became enmity with Gota and we have reported this news earlier. The security forces suspected that these ships contained transit narcotics belonging to Derana Dilith Jayaweera. Hiru Media Network released an audio clip of Dilith Jayaweera implicated to this drug trade.
Who is Uzni Eraz ?
About two months ago, six Sri Lankans were arrested by the South Indian security forces with drugs and firearms. Indian security forces have identified this group are associators of 'Uzni Eras'. 'Usni Iras' is a drug kinngpin arrested in Malaysia and handed over to Sri Lanka by the Interpol. He is currently operating the drug racket from a comfortable room within the Negombo Prison. Uzni Eras is from Negombo and he is being protected by parliamentarian Nimal Lansa.
Gotabaya, who came to power with the slogan 'One country, one law', is brutally violating that promise. When the Interpol handed over the narcotic suspects to Sri Lanka for further investigation, Gota regime either killed them to bury the evidences or started to trade with them. This is what all rulers who came to power from then to now did more or less. For 70 years after independence, the country was ruled by four aristocratic families. Kosgoda Sujee and Kosgoda Tharaka should not kill each other but rally to oust the corrupt political elite that has plagued the country for 70 years. Also to oust executioners like Deshabandula, Nishantha de Zoysa and Rangajeewa who are enslaving corrupt rulers.
By Keerthi Rathnayake
Former army intelligence officer
Translated by Robinhood
---------------------------
by (2021-01-06 22:31:02)
We are unable to continue LeN without your kind donation.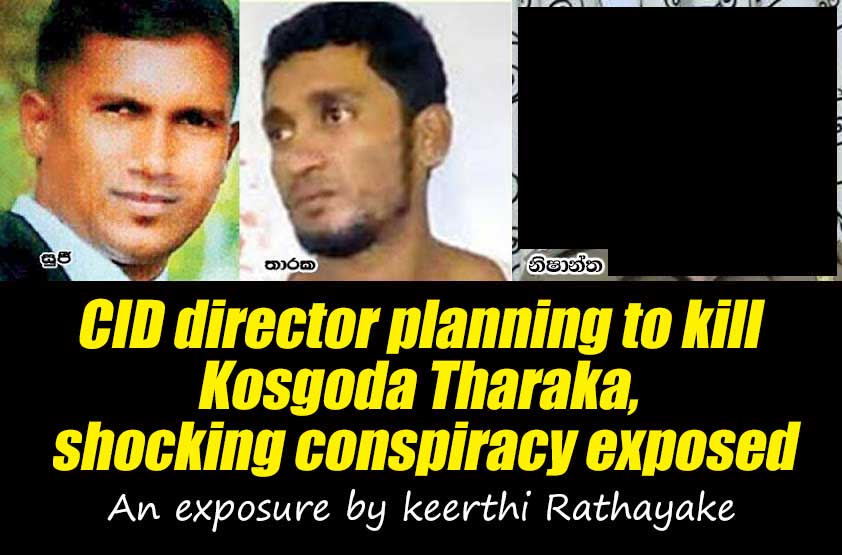 Leave a Reply