Robber-judge Thilina Gamage the most wanted Elephant rogue tramples the laws and flees! -Wherever you see him apprehend and hand over to CID !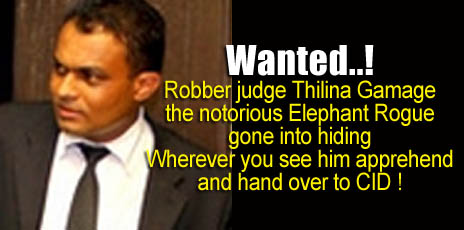 (Lanka-e-News -27.May.2017, 11.45PM) The robber judge Thilina Vincent Sulochana Gamage alias Thilina Gamage the Elephant rogue who despite being the Colombo chief magistrate has kicked the laws aside and fled from his home . He is now in hiding based on reports reaching LeN inside information division.
This elephant rogue judge was issued an order by the court to visit the CID on 25th morning and make a statement in connection with the robbery of the Elephant . The CID too summoned him on that day. By then , on the 20 th he was sent on compulsory leave by the Judicial Service Comission (JSC)
Thilina without appearing at the CID on the 25 h has left his residence on the 24 th night and gone into hiding . His whereabouts are unknown. On the 24 th night several of his friends had visited his home in vehicles to meet him , but Thilina in a vehicle of one of them without the notice of others has fled away.
He has nursing the belief that he would be arrested by the CID on the 25 th , fled away. As a government officer conducting himself in this manner ignoring a court order is an offence that renders him liable to losing his magisterial post.
Thilina Gamage the rogue, if and when he is arrested under the Public property Act , shall be produced before the Gangodawila magistrate court based on his area of residence .The chief judge there is Kanishka Wijeratne before whom Thilina must be produced is a bosom pal of Thilina.
On the 25 th a conference on intellectual property was held at the Judiciary Institute . Kanishka Wijeratne who attended the conference had openly stated what action should be taken in relation to Thilina. Anyone arrested under the intellectual property Act is not eligible for bail , and therefore has to be remanded. However , under special circumstances , bail can be considered , Kanishka had explained. He had publicly elaborated that like how the Elephant rogue Uduwe Dhammaloka Thera got bail citing the grounds that he had to attend the funeral of Ven. Asgiriya Mahanayake , Thilina too could ask for bail.
The spokespersons for the magistrates' association told Lanka e News , based on these announcements alone of Kanishka the bosom pal of Thilina the Elephant rogue , after the arrest of Thilina , his bosom pal Kanishka should stay out of the case . If the right procedure is followed Kanishka himself should volunteer to stay clear of the case. In any case ,apparently , Kanishka does not have that ethical background , the spokespersons lamented.
Meanwhile , according to reports reaching LeN inside information division yesterday night (26) , the Elephant rogue Thilina who had brazenly and blatantly acted in violation of the laws and has fled , is being kept hidden with the knowledge , support and protection of an infamous co ordinating secretary of the president . By the way this co ordinating secretary is a lawyer who has the rare inglorious distinction of having not spoken in any legal case or having won any.
Though he is an ex NGO pillar he is better known as a culprit who robs his own NGO. He is a most opportunistic politician with a most putrid antecedence .He is always behind rogues and scoundrels not to apprehend them but to encourage them in their crimes. It is little wonder he was responsible to get bail for the Elephant rogue Uduwe Dhammaloka Thera . Lanka e news which unwaveringly espouses the cause of truth and unhesitatingly exposes such scoundrels and rascals is keeping a watch over this wolf in human clothing who is a pest to decent and lawful society.
Lanka e news hereby urges all law abiding pro good governance citizens to apprehend the robber-judge Thilina Gamage the most wanted Elephant rogue wherever they see him , who is evading arrest and most wanted !
---------------------------
by (2016-05-27 23:44:54)
We are unable to continue LeN without your kind donation.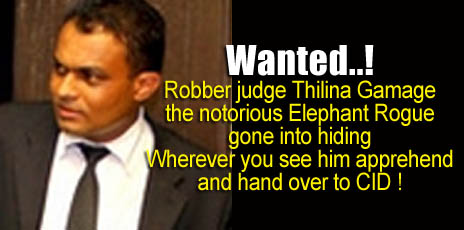 Leave a Reply