More evidence in proof of murder committed by Nandikadal Kamal Gunaratne when he was Dep. Ambassador !
- Victim was abandoned on the road after the attack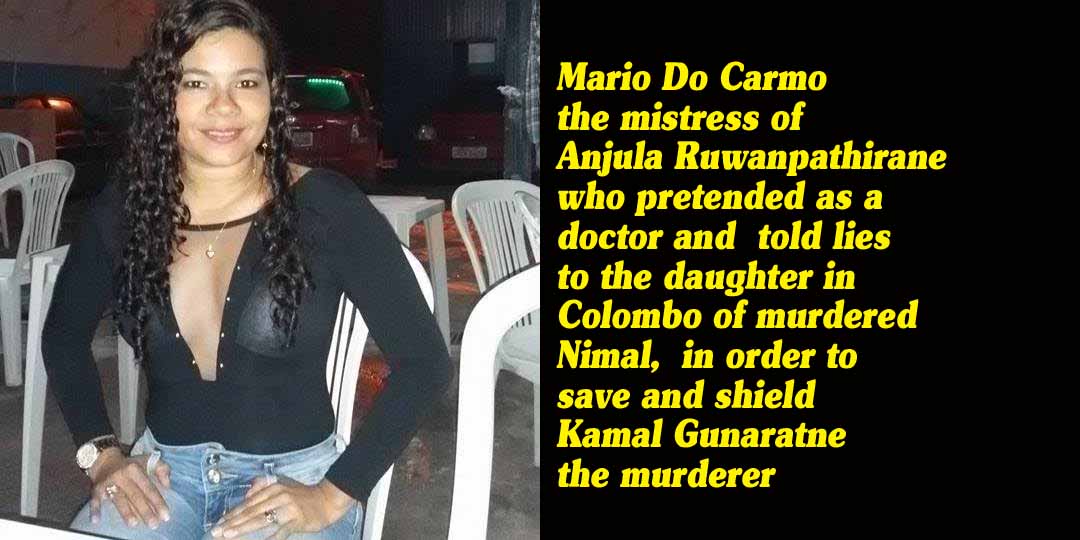 (Lanka-e-News -22.April.2017, 11.55PM) Copious evidence including photographs in connection with the cold blooded murder of I.D. Nimal Rupasinghe committed by retired major general Kamal Gunaratne when he was the deputy ambassador in the Sri Lankan Embassy in Brazil are now in the possession of Lanka a news . Rupasinghe who was employed at the Sri Lankan Embassy in Brazil was killed by launching a fierce attack to his head with a blunt weapon .
For the first time Lanka e news revealed this gruesome murder on April 3 rd under the caption 'Damning Expose`: SL Dep. Ambassador Kamal Gunaratne brutally murdered his worker in Brazil..! Murder suppressed jointly with Gota the dark minister of the graveyard..!
Based on the latest evidence , the murder took place on 3 rd November 2013 night .Two others , namely Anjula Ruwanpathirane and Sarath Ediriweera Liyanage have assisted in the crime. Subsequently in order to suppress the murder the two accomplices were dispatched to America by Kamal and Raja Edirisuriya , SL ambassador to Brazil at that time who is also an American citizen, based on reports .

The SL embassy was located in a building bearing the address : QI 13 . CONJUNTO 13 , CASA 1 , LOGO SUL , BRASILA , BRAZIL . The residence of Kamal Gunaratne was about half a meter away from the Embassy. On the night of the murder , Kamal has arrived at the Embassy from his home , that is at about 10.00 in the night (2013-11-03). Anjula and Sarath were also there . When Nimal Rupasinghe too arrived , an altercation has erupted between the latter and Kamal.
The victim's head was attacked with a part of a gold mining machine
The owner of the building where the embassy was located owned a gold pit. This gold mining pit was abandoned about five years ago , and its equipments and machines were kept in a garage beside the building , and the quarrel took place near the garage. Kamal who took a part of the machine in the garage has attacked Nimal ' s head fiercely with that equipment , whereupon Nimal has fallen down.
Kamal who thought Nimal has died , along with Anjula and Sarath have dragged Nimal to the road away from the embassy , and dressed the scene to look an accident; and that Nimal had died due to a road accident , while pretending none of them knew anything about it. It is a group of Brazilian nationals who had taken Nimal to a hospital .
These bestial heartless rascals Kamal , Anjula and Sarath have not taken any action to admit Nimal whom they presumed dead, even to a hospital. That is they have not shown any concern or sympathy towards him as a citizen of their own country , a colleague or a relative.

The victim was admitted to St. Maria hospital which is about 120 kilometers away from the embassy. Why was the victim admitted to a hospital that far away is an issue. Anyway Nimal was admitted to No. 2 Intensive Care unit of the hospital and his bed No. was 7. Based on hospital records he was admitted on 2013-11-04 at 4.15, in the early hours of the morning. After his Embassy identity card was found from the pocket of Nimal by the hospital , the Embassy was informed.

(If anybody wishes to garner more information in this regard , he /she can contact St. Maria hospital at phone No. 00556133926714 )
Maria who transformed into Dr. Loria …
From that point of time , the SL embassy in Brazil had been profusely lying to the only daughter I.D. Thejika Sandamalie Rupasinghe who was in Sri Lanka
In our earlier report in this connection , we revealed details of the information passed to us by Thejika. It was Anjula Ruwanpathirane also involved in the murder of Nimal who told lies toThejika that Nimal was attacked by a horse on 2013-11-04 , that he was critical and was being treated in the ICU .
'Dr. Loria' who was introduced as a hospital doctor to Thejika in SL by Ruwanpathirane was none other than the latter's mistress , Maria Do Carmo Magalhaes a Brazilin national girl with whom Ruwanpathirane was having an illicit sexual relationship. ( Herein are several photographs) . Maria in fact is not a doctor and her living place is Brasília, Brazil.
Nimal Rupasinghe passed away on 2014-03-10 in the hospital without regaining consciousness from his coma commencing 2013-11-04 until his time of death.
Anjula-Sarath -Ajith - witnesses in Nimal's death.
The ambassador Raja Edirisooriya and deputy ambassador Kamal Gunaratne moved heaven and earth to suppress this most ghastly ruthless murder . Even before the official terms of service of Anjula Ruwanpathirane and Sarath Ediriweera Liyanage (both directly involved in the murder) were over in the embassy , they were dispatched to the US.
Raja Edirisooriya 's American citizenship facilitated this maneuver. Anjula is now residing in California , and is working in Medtronic Co. (Herein is a photograph of Sarath and Anjula together taken in America).
There is another witness to this murder . He is Ajith Weerasinghe. Though all of them were sent from SL to the foreign service by the foreign ministry , it is significant to note none of them have returned to the Island. Ajith now works in Brazil embassy as a driver. A photograph of his is herein.
Kamal Gunaratne the uncouth uncivilized slave driver…
It is an unequivocal fact that retired major general Kamal Gunaratne , a lackey and lickspittle of ex defense secretary Gotabaya Rajapakse ( by now a byword for murder and mayhem ) exploiting his 'war hero' label brutally murdered I.D. Nimal Rupasinghe , a citizen of his own country .On 2013-11-02 Nimal speaking to his only daughter in SL , has told over the phone that Kamal is treating him like a slave ,and he is therefore taking a ticket , and returning to SL. Nimal in order to purchase the air ticket has collected money from various individuals promising to return the money. If the reader of this article learns what was the menial jobs of a slave Nimal was forced to do by Kamal , he / she would be so rudely shocked that he/she will conclude even skinning that murderous rascal Kamal alive is not enough as a punishment !
Following a complaint recently made by Nimal's daughter several years after this most ruthless cold blooded murder ,to the CID , the latter has launched an investigation .
Connected report :
Damning Expose`: SL Dep. Ambassador Kamal Gunaratne brutally murdered his worker in Brazil..!
Murder suppressed jointly with Gota the dark minister of the graveyard..!
By Wimal Dheerasekera
Translated by Jeff
---------------------------
by (2017-04-22 22:06:19)
We are unable to continue LeN without your kind donation.
Leave a Reply