World record ! Subordinates complain against IGP (Imbecile General of Police) – two charges leveled including sexual harassment !!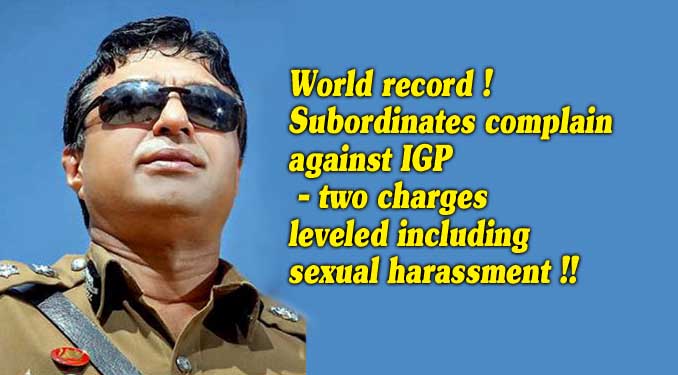 (Lanka-e-News -24.April.2017, 6.30PM) In an unprecedented turn of events , for the first time in Sri Lanka's history , a subordinate police officer (female ) and an employee of the police force have made complaints based on two criminal charges to two DIGs of the police itself against notorious IGP Poojitha Jayasundara alias police Koloma (Police eccentric) .
This is a sequel to the exposures made by Lanka e news recently regarding the conduct or rather misconduct of the IGP who is barging into every section of the police headquarters to check whether his stupid obnoxious order that every police officer should do meditation between 8.30 and 8.45 in the morning is being carried out .
On the 11 th this notorious IGP by now dubbed as the Imbecile General of Police went berserk scolding and screaming at the officers, using raw filth . Based on this crude and criminal behavior of this mentally deranged IGP , the above complaints have been made .
The IGP Koloma went on a rampage on the 11 th like a mad dog whose testicles have been soaked in petrol . On that day the eccentric IGP had barged into the 3 rd , 4 th , 5 th and 6 th floors , and furiously berated those who were not meditating, in the most filthy and foul language. He had also caught the collar of a civil employee M. Samarakoon Banda , the lift operator , squeezed his neck and assaulted him most fiercely . Mind you Banda is an old person on the verge of retirement – he is to go on retirement in August. When an IGP is behaving worse than a rowdy , how can discipline be maintained in the police force , and law enforcement in the country be carried out ?

It was on that same day the OIC of anti narcotics bureau , Ludowyke , an orthodox Christian was also taken to task for not following the IGP's meditation directive. Ludowyke was scolded in raw filth in public , which led to latter's hospitalization consequent upon his blood pressure shooting up because he could not endure the humiliation .

The meditation maniac Poojitha had then gone to the 6 th floor on that same day and furiously berated the reception officer (female) in most foul and filthy language for not meditating. Poojitha had screamed ' look , I will screw you' . That is , he threatened , he will f….k her .
Banda has lodged a complaint against Poojitha the IGP (Imbecile General of Police) based on charges of 'torturing' while the reception officer has complained based on charges of ' sexual harassment ' .
The laws to protect women from sexual harassment are very strong since the period of former president Chandrika Bandaranaike. Even making advances or signals to kiss a woman can constitute sexual harassment liable to punishment.

Moreover, even if the victim does not complain , if somebody who witnesses the harassment makes a complaint , that will suffice to arrest that wrongdoer, because law views sexual harassment so much seriously . Therefore the sex starved shameful behavior of Poojitha and use of the word 'screwing' (f……king) while scolding in filth in public , as well as the CCTV camera testimony are enough ,and no more evidence is necessary to prove Poojitha's guilt.
Under the right to information Act , anyone can request for the video footage , and the police too are bound to release it . In the circumstances , doubtless, this video footage will be released by the media .
The IGP may be the highest in the hierarchy of the police but he is obliged to abide by the laws , irrespective of whether he is a barbarian , criminal brute or a sex starved two legged animal by birth without any sense of shame. Besides , being the chief in charge of law enforcement he must obey the laws all the more and set an example to the citizens . Let it be made clear although this IGP eccentric(koloma) may not be aware , the abbreviation IGP stands for Inspector General of Police , and no changes can be permitted even if Poojitha moves heaven and earth to prove through his eccentric conduct he is an incorrigible 'Imbecile General of Police'.
Connected report ..
IGP Koloma (eccentric) goes berserk ! scolds OIC in raw filth ; assaults lift operator with fists and feet ; police discipline crashes to zero level !!
---------------------------
by (2017-04-24 15:12:40)
We are unable to continue LeN without your kind donation.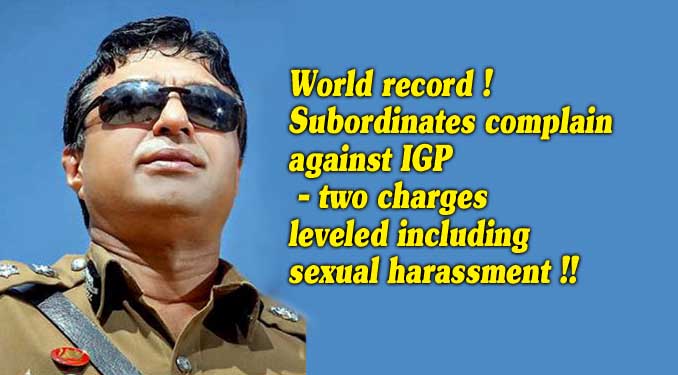 Leave a Reply