Senior DIG Lalith Jayasinghe arrested on gang rape and murder of school girl ! Justice arrives two years too late !!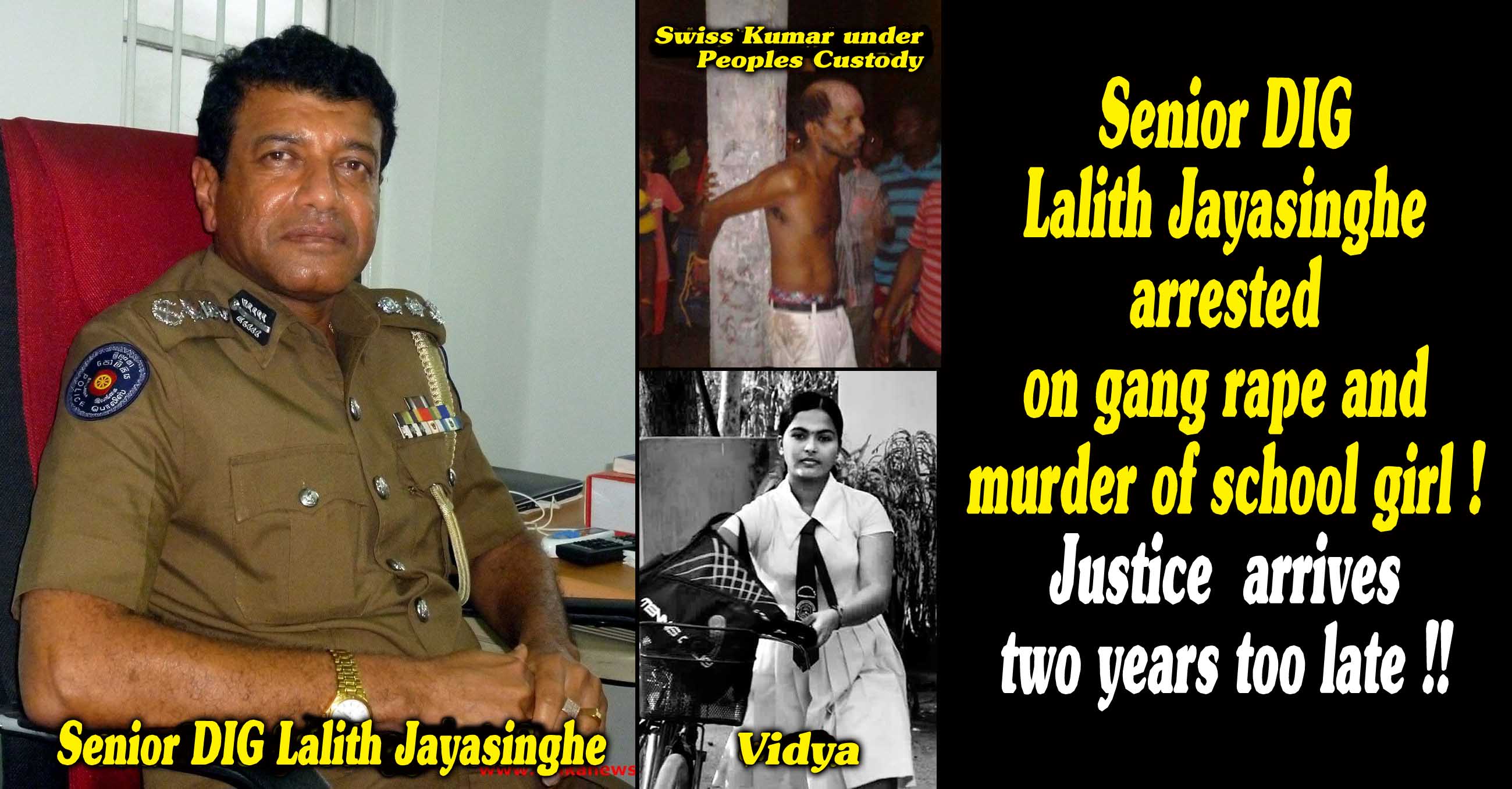 (Lanka-e-News - 16.July.2017, 1.30PM) Senior DIG Lalith Jayasinghe who was as free as a bird for the last two years after committing a heinous crime ( the latest in a series of crimes) which sent a wave of rude shock among law abiding citizens ,and who were disillusioned and disappointed over the weakness of the law enforcement in the country , was finally arrested yesterday by the CID. (He is the first senior DIG who was so arrested while on duty .)
Lalith Jayasinghe was arrested for releasing the prime suspect Mahalingam Sivakumar alias Swiss Kumar involved in the murder and gang rape committed on a Poongudutheevu school girl. Mind you this criminal DIG allowed the prime suspect in this most heinous crime to escape even after the people helped the DIG by apprehending this suspect and producing him to the police.

The senior DIG was arrested under section 209 of the Penal code which says ' It is an offence to harbor or hide or assist or maintain a suspect with the intention to protect him/her from being punished under the law with knowledge he/she has committed a crime or having reasons to believe so.'
Accordingly , Lalith Jayasinghe is liable to a jail term of five years rigorous imprisonment and a fine for releasing Swiss Kumar who committed a most heinous crime punishable with death sentence. However the opinion of the public is the punishment must be two fold more as regards Jayasinghe because he is a high ranking law enforcing officer and not an ordinary citizen. That is, the punishment must be exemplary and serve as a deterrent to the other law enforcing officers.
This ghastly ruthless crime was committed on 2015-05-13 over which there was a huge public outcry so much so that even the police and courts were targeted for attack. Lanka e news as always , championing the cause of justice and truth come what may published a report on 2015-05-21 captioned "Poonguditheevu school girl gang rape and subsequent public uproar is part of a plot hatched within police" whereby we exposed that the public were gravely provoked because the prime suspect Swiss Kumar was allowed to escape by senior DIG Lalith Jayasinghe who provided the necessary support.
It is a well known fact Lalith Jayasinghe is a most infamous stooge of equally or more criminal deposed and presently people discarded Rajapakses . It was Jayasinghe who was kept back in charge of the South to carry out all the criminal and ruthless activities of Rajapakses.
On May 18 ,19 when the people of North were commemorating the dead who died in the war , it was this same senior DIG who released the rapist and murderer brought and handed over by the public, in order to provoke them after knowing very well those are the days when the feelings of the people in the North were running irrationally high. Thereafter 125 people who lost their control were arrested and punished. In other words the people had to face punishment because of Jayasinghe the criminal in Khaki dress.
The CID which conducted the investigation collected copious evidence to testify to the criminal intention and involvement of Jayasinghe . They therefore requested the advice of the AG to arrest him. For two long years they did not get AG's permission.
During the recent hearings in the Jaffna high court before a three judges panel when the case was heard continuously , it was revealed many times that Lalith Jayasinghe provided the escape route for rapist and murderer Swiss Kumar. Even some media raised questions on this. It is only in these compelling circumstances , the AG gave permission to arrest Lalith Jayasinghe . Accordingly , Lalith was asked to come to the CID . He was arrested after recording his statement . He was to be produced before the Kayts Majestrate court .
At the time of his arrest he was senior DIG , Central province and acting senior DIG , Uva province. Because of his rascally and illegal activities , many police officers left the service. The police officers of Central and Uva provinces who suffered persecution under Lalith the criminal senior DIG , upon hearing of his arrest are readying to celebrate based on reports reaching Lanka e news . There is also an on going investigation against Jayasinghe when he was in charge of the northern province based on charges of illicit sand mining .Again when he was at the supplies division he faced charges for his involvement in the corrupt coconut shell spoon deals. These inquiries went under ground. Until last week he was bragging that in 2020 the government of Rajapakses (being buddies of the same feather committing crimes together) is going to appoint him as the IGP .
Post scriptum..
We will be failing in our duty if we do not make mention specially of honest officers of integrity like IP Nishantha Silva of the CID , in order to highlight the profound contrast between him and rascals and scoundrels like khaki uniformed Lalith Jayasinghe who aid and abet criminals and rapists, and even help them to escape.
On the first day when this schoolgirl gang rape and murder case was taken up for hearing , State counsel Dappula Livera revealed in court that IP Nishantha Silva aforementioned was offered a bribe of Rs. 2 million to rescue the criminals , yet he rejected it , and produced them in courts.
Today , it was this same honest police officer IP Nishantha Silva who took senior DIG Lalith Jayasinghe into custody .
If only there are more police officers of integrity and rectitude like Nishantha Silva and fewer rascals and rogues like Lalith Jayasinghe in the police force , Sri Lanka will be a paradise for the law abiding citizens who are right now denied the justice they are longing for. Every police officer should emulate the sterling qualities of Nishantha Silva . Certainly the people's blessings are with this exemplary police officer.
Related News
Poonguditheevu school girl gang rape and subsequent public uproar is part of a plot hatched within police
---------------------------
by (2017-07-16 08:25:27)
We are unable to continue LeN without your kind donation.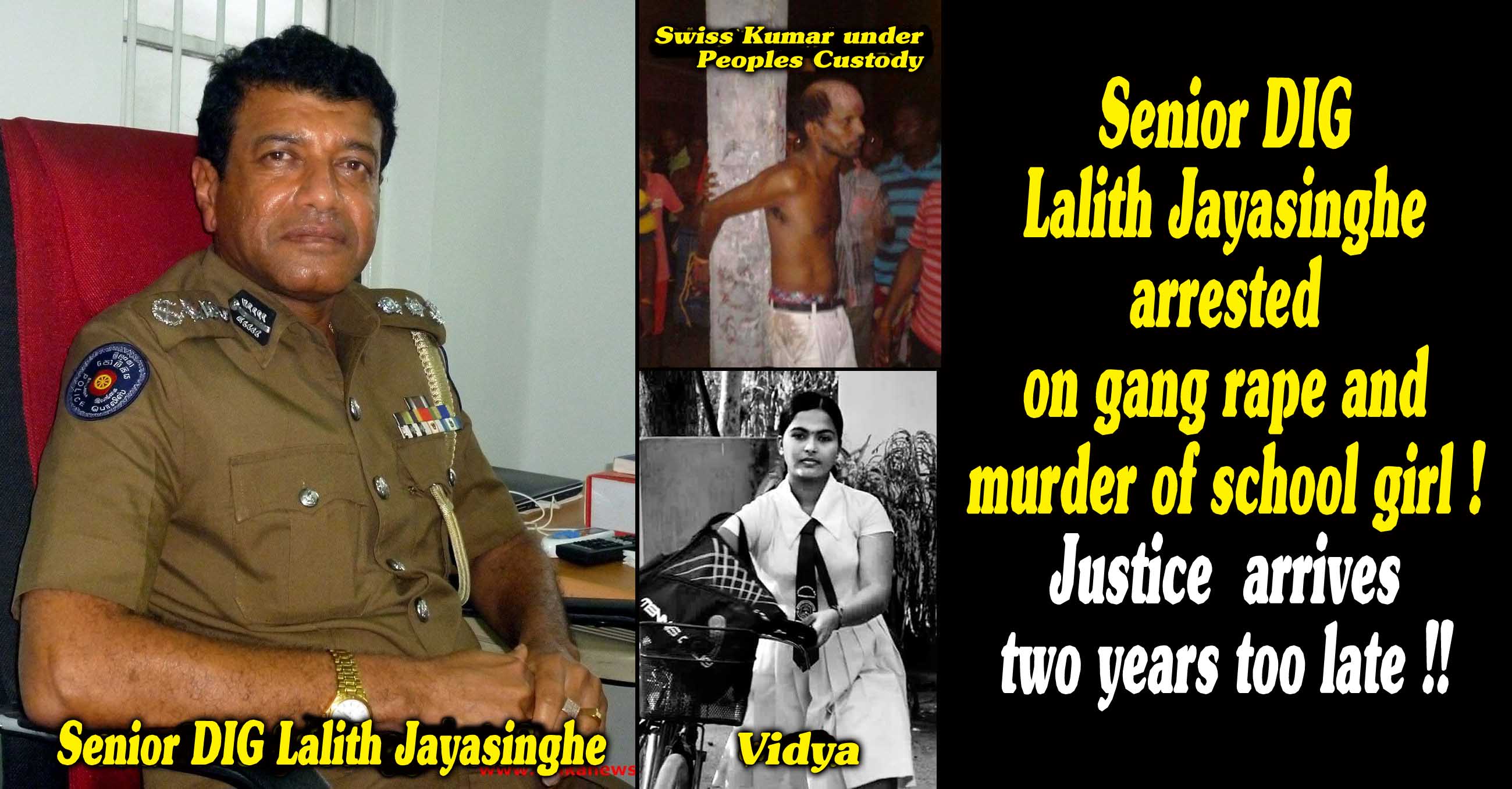 Leave a Reply