Who is Dr. Champika providing 'Royal' comforts to Kudu Duminda in prison?
Kickbacks collected exceed billions of rupees !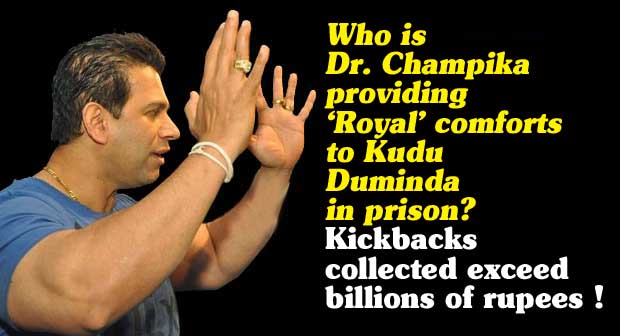 (Lanka-e-News - 10.Oct.2017, 11.00PM) Even after the minister of health Rajitha Senaratne fastened the blame on the prison officials and took action against providing 'Royal comfort' to prisoners in the prison's 'blackened rest house' (prison hospital) run by some unscrupulous doctors, yet again owing to the lure of filthy lucre amounting to millions , these low bred doctors after diagnosing notorious murderer Duminda Silva as having a serious eye ailment , have allowed him to continue enjoying his 'Royal comforts and luxuries ' in the prison hospital.
Following Lanka e news report on the 6 th captioned "Expose` -Criminals Duminda Silva , Major Tissa, Vaas and Sarana still enjoying 'Royal' comforts in prison – Rule of law is impotent !!" the minister whose attention was drawn to this exposure , has phoned the new chief medical officer Dr. Jagath Malwatte who was appointed to the prison hospital , and found fault with him. Rajitha who roundly berated him had said ' now you all have also resumed the same activities of the former group' . The minister has then via another group of doctors collected the actual data and health condition of these special pampered prisoners , when it was discovered that the 'special prisoner' , Arumadura Lorenz Romelo Duminda Silva alias 'Kudu Dumiya' who is now in the death row in connection with the murder of Baratha Lakshman and four others is not suffering from any illness whatsoever .
Hereunder is a recap of the recent incidents pertaining to prison 's 'blackened rest house'
After the appointment of the new doctors on the 28 th of September , Kudu Duminda was discharged from prison hospital because he had no sicknesses ,and placed in the prison cell. However after a sister of Duminda arrived at the prison and negotiated an illicit 'deal' , that same night on the grounds that Duminda was experiencing breathing difficulties and having a headache was transferred back to prison hospital.
Yet what was prescribed for him was just paracetamol tablets .Duminda who was taking paracetamol tabs for 3 days while eating 'buriyani ' from home and enjoying luxurious comforts in the prison hospital was again discharged from prison hospital and placed in prison cell on Oct .2 nd following a discussion among doctors with regard to Kudu Dumiya.

However , the newly appointed chief medical officer Jagath Malwatte had suddenly arrived and said, Duminda's eye sight is impaired and written a prescription. But what was prescribed was diclofenac sodium . That is a drug that can be obtained from any pharmacy , and is similar to paracetomol . It is an analgesic for ordinary pains .
Unbelievably , until the 7 th when the minister found fault over these prison hospital rackets , Dumiya was enjoying 'Royal comforts ' in the prison 's 'blackened rest house' for pampered prisoners , and was only taking the simple drug noted in the previous paragraph, and no other medication.
Strangely , on the 6 th when the routine eye clinic was conducted at the prison hospital , Duminda did not attend the clinic citing the ground the eye ailment is cured.
After the doctors came under heavy fire of the minister on the 7 th, the group of three doctors who examined Duminda decided the latter has no ailments. Based on that Duminda was again discharged from the hospital , and transferred to his cell.
At the same time another doctor had arrived . Her name is Champika , a bosom pal of NirmaliThenuwara a most notorious ex medical chief of the prison hospital . Dr. Champika is a close friend of Duminda's family too as well as a distant relative.
After the three doctors had confirmed Duminda has no illnesses ,Champika after making a new bed report stated Duminda 's eyesight is weak , and he shall be sent to Colombo eye hospital on the 9 th .
Based on that ,Duminda has been admitted in the interim to prison hospital – the blackened rest house .
Bribes to doctors exceedRs. 10 million each !
When Lanka e news probed into why these doctors are tumbling over each other to help Dumindawhile resorting to all the subterfuges , it was discovered each doctor was paid a bribe of over Rs. I million on account of Duminda's latest eye disease bluff.
Not only one or two new doctors of the prison hospital , even a doctor of the eye hospital has now been roped in , and it is learnt that the Colombo eye hospital doctor is earnestly looking forward to Duminda Silva's visit . All preparations have now been made to provide indoor treatment at the Colombo eye hospital .
Lanka e news however wishes to assert , these exposures are being made by it not because we have no human feelings and are against medical treatment being provided to patients. On the contrary ,these exposures are being made in the best interests of the country because a most cruel robust convict ( not just a suspect) who committed daylight murder killing 'Lucky aiya ' in the ruthless multiple murder ( four others too died on the spot ) is being provided with all the comforts and luxuries unfairly , unjustly and unlawfully within prison under the pretext that he is suffering from sicknesses with the connivance and collusion of some rascally doctors whose gaze are fixed solely and wholly on filthy lucre.

It seems owing to this corrupt and venal mafia, one health minister is not adequate to root out these pariahs who are showing sympathy to criminals driven by the inordinate love for illicit earnings - over many millions of rupees received by them as kickbacks to help a ruthless murderer who rendered destitute five families on account of the multiple murder crime for which he is convicted and in the death row. Seemingly , one face, two eyes and two hands of the minister are insufficient to drive out these devil incarnates posing as doctors .
It is a pertinent question whether it was only the multi armed deities who could cleanse this Island of these pariahs .
Connected report ..
"Expose` -Criminals DumindaSilva , Major Tissa, Vaas and Sarana still enjoying 'Royal'comforts in prison – Rule of law is impotent !!"
---------------------------
by (2017-10-10 18:23:59)
We are unable to continue LeN without your kind donation.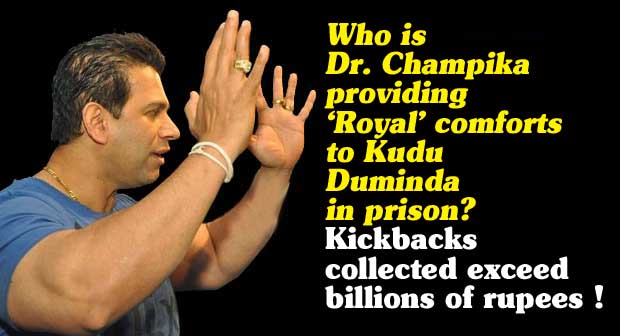 Leave a Reply