Mahinda's ' I can again' baila to buoy up his baiyyas ; everything turning turtle for him ! (Video)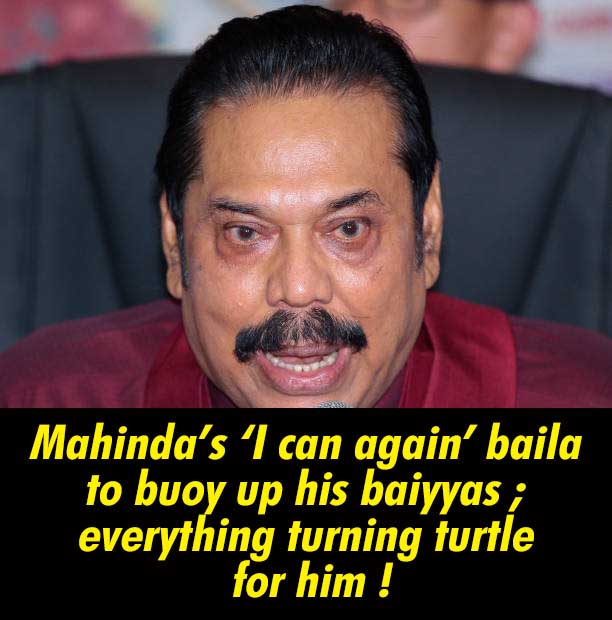 (Lanka e News -20.Aug.2018, 11.00PM) It is by now a well known fact that the Rajapakses truly haven't a presidential candidate. While the Medamulana walauwe baiyyans (lackeys and lickspittles) think the presidential candidate should be a Rajapakse and none other.
The court verdict delivered in the case against Geetha Kumarasinghe M.P. clearly stated a dual citizen cannot be a parliamentarian.
Among the eligibility requirements to be a presidential candidate in Sri Lanka (SL) , he/she must have the qualifications to be a parliamentarian. Hence neither Gotabaya nor Basil with dual citizenship can be a presidential candidate and if they want to contest they must divest themselves of the dual citizenship. Basil of course has said , he will not give up his dual citizenship.
Gotabaya on the other hand said , he has made an application in that regard , but later retracted to say he will be making such an application to the US authorities in the future ( in keeping with the characteristic 'double tongued' nature of the Rajapakses). However the US has still not revealed his application was received , and the dual citizenship will be withdrawn .
The overriding fact of the matter is , there are two cases filed by two Human rights organizations in the US in two courts against Gotabaya . Until those cases are concluded , the dual citizenship cannot be rescinded.
When Gotabaya is even uncertain he will be able to get presidential candidature certainly here , he is certainly not going to divest himself of the assets in the US nor the dual citizenship to become presidential candidate.
The other Rajapakse brother is Chamal Rajapakse. But because his son Sashindra Rajapakse has the rajayogaya( prospects to become a 'king') , Mahinda –Shiranthi is in fear and the naaki (old) couple despite having outlived their utility on earth will not make Chamal the presidential candidate. Their hope is to hold on until Namal reaches the right age.
It is certain if Chamal becomes the president , promoting and propelling Sashindra to the fore is inevitable while the deep rift between the Gota group and Basil group is further deepening.
It is well to recall Basil openly in Weligama said , it is because of the military activities of Gotabaya their government was defeated. With the revelation of the Hitler story of 'Asgiriya monk' ,Gotabaya was 'annihilated' in much the same way as Tsunami lashing him and dragging him away with all the force. Moreover , if the cases of massive corruption in the high courts against Basil , on whom indictments have already been served are heard continuously , it is likely Basil will be meted out punishment before the next presidential elections. Anybody who had been sentenced by court cannot be a presidential candidate.
In the circumstances , the Rajapakses are driven into a deep quandary without a suitable presidential candidate . Finding kalunika ( medicine for immortality ) to them is a less difficult task therefore than selecting a presidential candidate .
Mahinda well known for his cunning and crookedness realizing the dire situation , and if this becomes known among his lackeys and cronies , it will demoralize them resorted to another crafty tactic- forbade his team from announcing who is the presidential candidate for some time. Notorious Machiavellian MR having no option has now done a complete turnabout and devised a clever subterfuge to boost the spirits of his cronies and lackeys, that is , the 19 th amendment is relevant only to the future and not to the past . 'Hence, I can again contest the presidential elections' he had said. He has also started uttering all the most despicable and disgraceful lies such as , he will seek Supreme court opinion in that regard, and so forth to defend his stance, with a view to instill that in the minds of the people to prop his FL (Fools listen) 'theory'. Mahinda who knows well and truly he cannot again be a presidential candidate is resorting to this FL theory tactic solely and wholly to buoy up the flagging spirit of his lackeys and cronies .
19 th amendment article 4(2) in no uncertain terms stipulates in Sinhala …
'An individual who has been elected by the people to the post of president twice is not eligible to be elected again for the same post '
Hence , there is no necessity at all to ask for another clarification from the SC as to whether that refers only to the future and not to the past . Mahinda by all these machinations and maneuvers to fool the people had only made a display of his own imbecility and idiocy.
Moreover , every son of every bitch cannot seek opinion of the SC as and when they want. There are 3 instances where that can be made….
The incumbent president can request the opinion of the SC to resolve an issue.
Second instance : The speaker of parliament can inquire regarding a statute .
The third instance : inquire about any laws pertaining to the district court or a higher court .
Accordingly , Mahinda Rajapakse is not entitled to inquire from the SC whether he can again become the president no matter how inordinate his greed is for power based on his maniacal power craze . If he has really a need , a baiyya (crony , lackey or lickspittle ) of his/her by virtue of his/her right to vote can file a petition in the district court inquiring whether MR can be made president again.
Of course if the DC does not dismiss the inquiry saying ' read the 19 th amendment you idiot,' then the DC might seek SC opinion .
In those circumstances it is clear a weeping and wailing ' I can become president again' Mahinda's story will become the subject of a long drawn litigation.
Dr. Wijedasa Rajapakse addressing a media briefing on the 20 th , elucidating this position said, before the presidential election the prospective candidate must submit a sworn affidavit that he/she is eligible to be a presidential candidate . If by any chance a false affidavit had been forwarded , the candidate is liable to punishment of 3 years in jail under Penal code section 190 ,if proved guilty.
This liability therefore applies irrespective of who is the culprit, MR not excluded.
Hence , MR's attempts are not truly to be presidential candidate any day ( knowing very well he cannot) but to camouflage the deep quandary the Rajapakses are plunged in pertaining to the presidential candidature, as well as to pep up his blindly following lackeys , cronies and lickspittles . The camouflage is so obvious that even a Kindergarten class child will need no help to understand MR's duplicitous and deceitful moves.
Mahinda who is facing fiascos after fiascos , lost the battle he fought until the 19 th to secure the opposition leader post. Now by trying to wear the trunk long before the presidential elections is sure to lose that too ( but this time to his delight?).
Mendacious MR to whom lying is his favorite pastime by uttering all the falsehoods to his lackeys , lickspittles and cronies that he is going to be the next presidential candidate is certainly going to drive those depending on him into a worse quagmire than they are already in. Not that MR is not aware of the old maxim ' you can fool some people all the time , all the people some time but not all the people all the time' , it is simply that after having successfully fooled all the people all the time during his tenure of office as president , it is now his belief he can succeed through mendacity and Machiavellianism even in the future. Sadly , this time he is duping his own group .
Video footage of speech of Wijedasa Rajapakse hereunder
---------------------------
by (2018-08-20 18:19:37)
We are unable to continue LeN without your kind donation.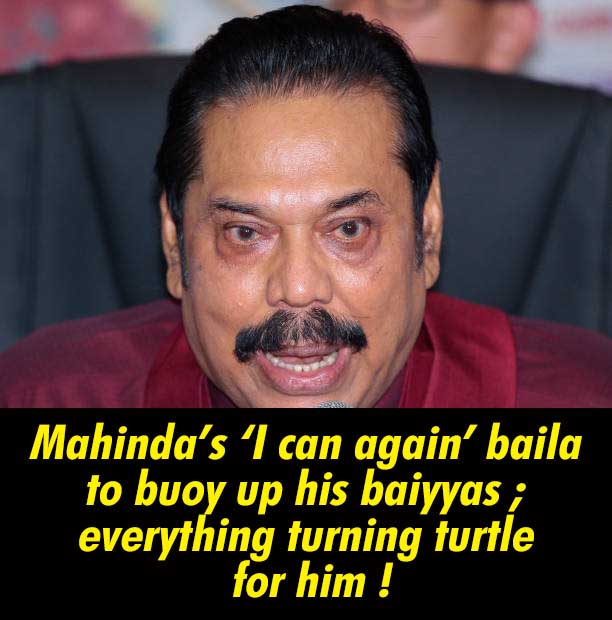 Leave a Reply