Ex Navy chief Ravindra fearing CID interrogation in his multiple murder involvement flees country with Gamarala's help !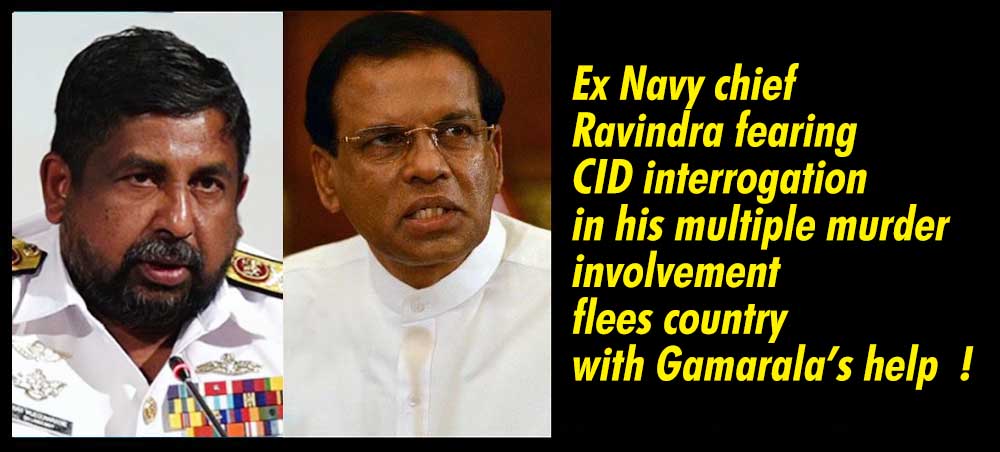 (Lanka e News – 10.Sep.2018, 10.15PM) Former Navy commander and present chief of staff Ravindra Wijegunaratne who is incriminated in the ghastly murder of 11 innocent individuals including students after extorting payments had fled the country on the sly in the early hours ( 3.00 a.m.) of the morning today (10) .
There is cogent and copious evidence that Ravindra hid the prime suspect Navy Sampath alias Prasad Chandana Hettiarachi in this ghastly multiple murder , and helped him to flee the country after giving him Rs. 500, 000.00 .
Ravindra had fled the country at 3.00 a.m. today (10) when the Criminal Investigation Division of Police (CID) had asked him to be present at the CID at 10.00 a.m. today to record his statement in connection with the gruesome multiple murders.
It is no less a person than president Gamarala who has by now earned the notoriety as the only president in the whole wide world who openly shields and safeguards criminals and crooks had aided and abetted Ravindra to flee the country.
According to a spokesman of the defense ministry , Ravindra left the country on an invitation from Mexico. What is most shocking is , Ravindra has obtained the air ticket at 6.00 p.m. yesterday and flee the country 3.00 a.m. early morning today .If truly an invitation is received from a foreign government , that is always received several months ahead , and there does not arise the necessity to reserve the air ticket in such a sudden haste .
According to reports reaching Lanka e news , this stupid scoundrel has firstly left via a plane to Qatar. Ravindra who arrived at the airport early morning had walked direct to the plane through the VIP channel.
It is learnt his passport had a four year American visa , and probably he will finally end up hiding in the states.
There is a court order banning foreign travel of Ravindra. Yet that order was not sent to the Immigration and Emigration controller by the secretary to the ministry of internal affairs , P. Swarnapala . The latter had kept that order with him for two weeks , sources say. Swarnapala was a an ace crook cum high rung state officer during the last regime and a batch mate of Gamini Senarath , the former chief of staff of the secretariat of the former president .
None can say these were orchestrated without the knowledge and consent of president Gamarala.
The multiple murders were committed during the Rajapakse corrupt criminal era . Even Gotabaya despite his notoriety as a murderer had not come to the open to protect these murderers of the 11 individuals which included students . He had told the CID to conduct the investigations , and he does not want to get himself involved in it. Yet it is Pallewatte Gamarala who became president swearing with all his might day and night at every meeting that he would flush out all the criminals and crooks , and mete out punishment who is shamelessly and disgracefully moving heaven and earth to shield and safeguard the brutal criminals
Gamarala who would stoop to any lowliest level if only it will serve his selfish ends , during the period when Ravindra was the navy commander got the approval for the Russian warship corruption tainted deal. As a reciprocal gesture Gamarala extended Ravindra's service and later made him the chief of staff .
In much the same way as Raveendra got caught aiding and abetting Navy Sampath to flee the country , in the not too distant future , those who aided and abetted Raveendra to flee the country too are sure to get trapped.
Connected reports …
Navy Chiefs Karannagoda and Wijegunawardena distort 'Navy Sampath's' name to disentangle themselves from mass murder -president protects them !
President openly and brazenly shields criminals ! President liable to impeachment motion and contempt of court charges – legal luminaries pinpoint
---------------------------
by (2018-09-10 16:59:18)
We are unable to continue LeN without your kind donation.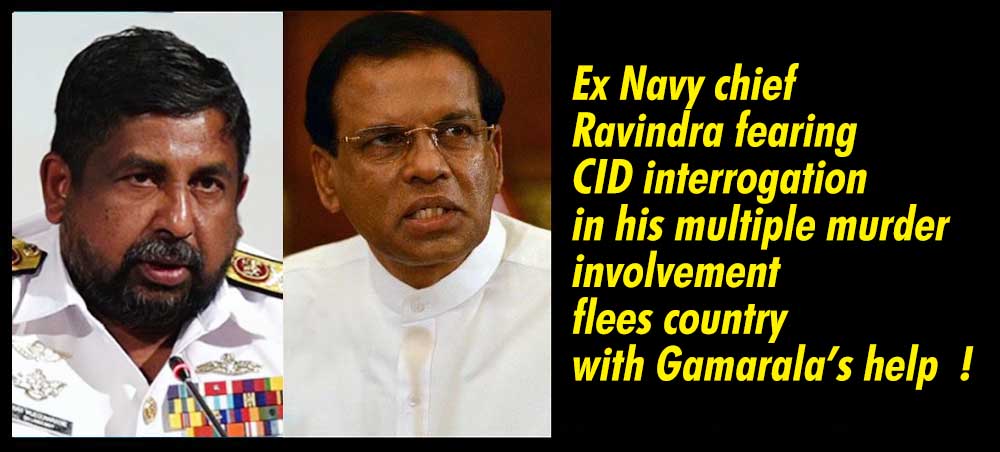 Leave a Reply