LEN news becomes a fact, editor of Alles's Mawbima who transported weapons to the underworld apprehended by the police
An exposure by Jailor Podda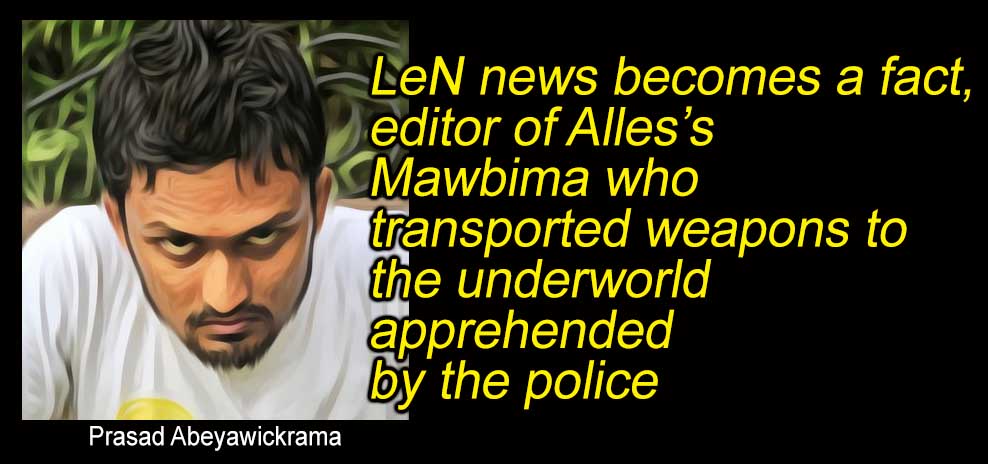 (Lanka-e-News -19.Aug.2020, 8.00PM) On the 17th of this month CID Chief Inspector Sagara Nilantha Karasingharachchi arrested the chief editor of Tiran Alles's Mawbima newspaper Prasad Abeywickrama following the exposure made by Jailor Podda of Lanka e News under the caption "Duminda's 'Catboy Cartel' in prisons, drugs belong to the underworld hidden at Gnanasara's temples, writers receive bribes ..!
Prasad Abeywickrema of Mawbima is accused of surreptitiously transporting a largest cache of weapons from Dambulla to Colombo belong to the underworld which was recently taken into custody by an operation conducted by the STF when it was hidden at a furniture shop at Pitipana Homagama.
Now it has been revealed that this illegal stock of weapons belong to Kosgoda Tharaka, the underworld thug of prisons Catboy cartel of drug kingpin Duminda Silva was illegally snatched by a group of war heroes from an army camp in Dambulla area and sold to another underworld group.
A group of soldiers involved to this incident are currently taken into custody by the CID. In addition to that the editor of Mawbima Prasad Abeywickrama has taken a sum of Rs. 300,000 from Kosgoda Tharaka for transporting this stock of weapons from Dambulla to Homagama by misusing his media identity and the law college identity under the corona curfew. According to Prasad Abeywickrama it was Dilith Jayaweera's Aruna newspaper editor Ravindra Perera who has introduced Kosgoda Tharaka to him.
In addition Kosgoda Tharaka has paid another sum of Rs. Two million to Tissa of Aruna newspaper and Prasad Abeywickrama of Mawbima for illegally deport a brother of Kosgoda Tharaka out of the island.
Media owners and editors on dire straight to save their disciples Mawbima owner Tiran Alles, Mawbima Editor-in-Chief Sisira Paranathanthri and Aruna newspaper owner Dilith Jayaweera and its chief editor Mahinda Illepruma in order to save their disciples are using all contacts from defense secretary Kamal Gune to the premier up to the president.
Since all these sordid alleged composers are washing the dirty linens of the Rajapaksas and despite they are the disciples of of Diliths's Derana and the owner of Mawbima who recently bought a parliamentary seat of Pohottuwa for money it is very likely that the investigations would continue. Sometimes the investigations would backfire against the investigating officers. As a first step, they have managed to hide this incident from the local media, but Lanka e news would expose the insights early dawn.
Lanka e news disclosed this racket conspired by the editors of Aruna and Mawbima communicating and taking bribes from underworld heads with names, facts and figures. Today all those we revealed has come true.
Jailor Podda
Translated by Robinhood
Connected News
Duminda's 'Catboy Cartel' in prisons; Gnanasara's temples where the underworld drugs are hidden..! Journalists receiving bribes..!
---------------------------
by (2020-08-19 14:46:28)
We are unable to continue LeN without your kind donation.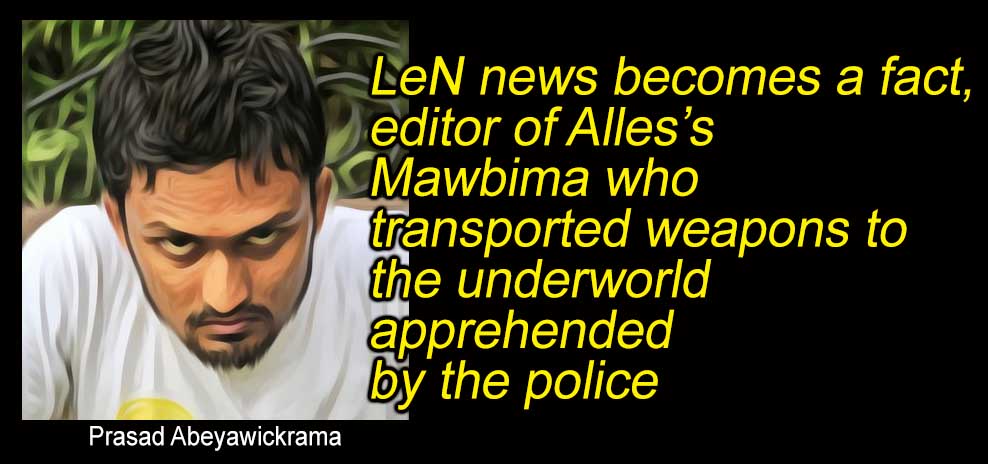 Leave a Reply