Maithripala Sirisena has taken $ one million to facilitate the Easter bomb blasts..! Hidden money exposed..!
An exposure by Chandrapradeep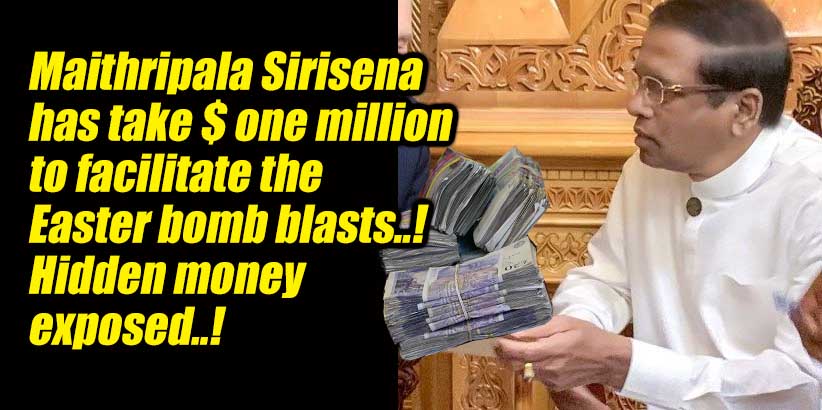 (Lanka-e-News - 25.Dec.2020, 9.15 AM) Reports reaching Lanka e news confirms the then head of state, Pallewatta Gamaralage Maithripala Yapa Sirisena has received USD one million (Rs. 190 million) by a foreign force to facilitate the detonation of the Easter bombings and to conceal information about the real culprits behind it.
It is further reported that the final transaction of this amount was made in full in Singapore on the day of the bombing and that Maithripala Sirisena's delay in arriving in Sri Lanka from Singapore on that day was due to the fact that it was essential to stay in Singapore until the conclusion of the this transaction.
It is reported that Thilina Suranjith, the official husband of Chathurika Sirisena, the son - in - law of Sirisena who mediated this deal, had made the final deal on a luxury cruise ship anchored in the Singapore seas.
The present Rajapaksa government, instead of seeking true information about those responsible for the Easter attacks, is hiding it from a 'Crime Purification Commission' as those who know the real information are giving factual information to the Lanka e News internal information service. It is our responsibility to expose to the public the truth about this heinous crime.
If the present Rajapaksa government genuinely wants to find the truth about this we are ready to help. That is by exposing with whom Sirisena hid the money.
With whom Sirisena hid the money..
One of the main person who hid the bribe money obtained by Maithripala Sirisena for facilitating the Easter bombing and hiding its real godfathers and various other corruptions is in the accounts of a man named 'Indika Samarasinghe alias Japan Indika'.
Indika Samarasinghe alias Japan Indika lives in Sri Lanka in a house located at the Royal Park luxury apartment complex in Rajagiriya.
Friendship of Maithripala Sirisena and Japan Indika develops into a great trusted friendship when Japan Indika supply mistresses to president Sirisena at Japan Indika's Royal Park safe house. The luxury bed mattress in Indika's bedroom would testify how many times Sirisena's mistress 'Anuradha Jayawickrema' came to this house. In addition, Indika has been involved in the pimp work of supplying Japanese women.
Sirisena, who develops friendships through fraudulent activities, has given Indika Samarasinghe alias Japan Indika, peoples electronic frequencies worth millions of rupees, as if owned by his parent's. Japan's Indika has sold those free electronic frequencies to Rajapaksa's sons for more than Rs. 2000 millions. This is what is known as 'Supreme TV' today.
On April 6, 2018, the rest of the UNP cabinet ministers met Maithripala Sirisena in a fit of rage, demanding that the six SLFP ministers who were already in the cabinet and voted against the government for the defeated no-confidence motion against Ranil Wickremesinghe's government be removed from the cabinet. It is important to recall the furious statement made by Maithripala Sirisena.
"If I am to go I shall set fire to everything before that" Maithripala said at the time. Didn't he do as he said?
If Sirisena says he did not take one million dollars for the Easter bombing, then it should be checked from whom Indika Samarasinghe received one million dollars to his accout on that day. What is more important not who received moey but who paid it.
The country is in danger until we find who the masterminds are..
We make these exposures as an aid for anyone who needs to find the truth about the masterminds behind the bombing, because the important statement given by then head of the National Intelligence Service A. N. Sisira Medis who testified before the Easter Bomb Commission. He said the country was in danger until the masterminds behind the Easter bombing were identified. In fact, it is not Saharan who should be sought today, but the masterminds who led this bombing because it is easy for them to do such a horrible catastrophe tomorrow.
Lanka e News has received very sensitive information about the masterminds of the Easter bombing. We are analyzing them with our expert analysis. If the official investigators are doing their job properly, we will continue to reveal the information they need to investigate and the truth that the public needs to know.
Whoever doesn't like we are in need of a peaceful country for our children.
Chadrapradeep
Translated by Robinhood
Related news
1. Easter Commission is a 'Crime Sanctification Commission'..! A need of an international inquiry is essential ..!
2. Reveal the truth..! Commission investigating Easter attack has 13 most important questions to answer..!
3. Gamarala gone mad..! 'If I am to go I shall set fire to everything before that' president screams in a fit of rage and insanity..!
---------------------------
by (2020-12-25 03:59:53)
We are unable to continue LeN without your kind donation.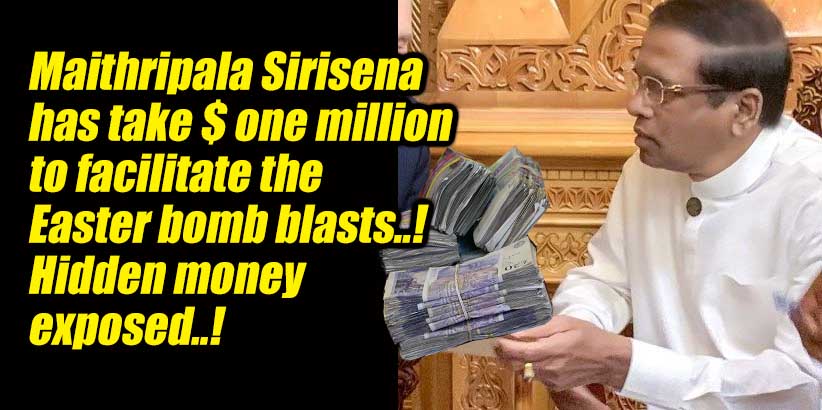 Leave a Reply