'Cannabis Diana' is a fake citizen of Sri Lanka! She has appeared in three names ..! She has a fake birth certificate, fake identity and two fake passports..! CID tells the court..!
By Chandrapradeep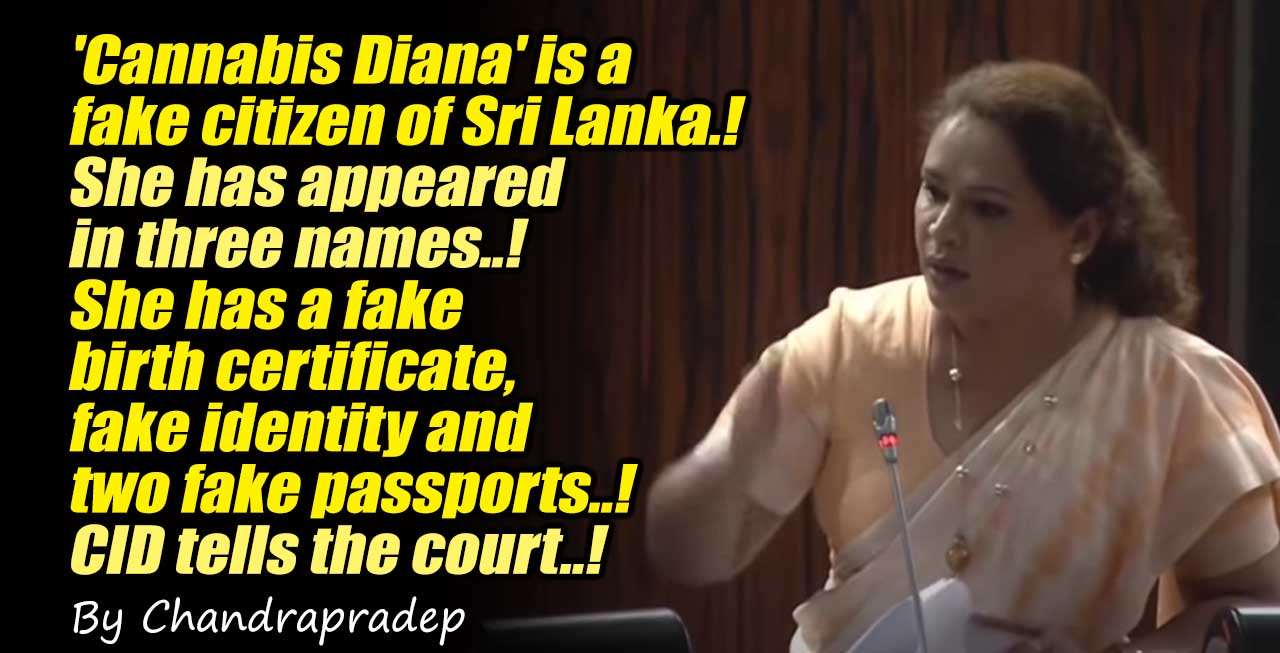 (Lanka-e-News -29.April.2021, 6.00 PM) The criminal investigation department has informed the courts that SJB national list parliamentarian Dayana Gamage alais 'Cannabis Diana' has only British Citizenship, that she don't have dual citizenship and she has not only obtained Sri Lankan passport by producing a fake identity card and a fake birth certificate but she has appeared in three different names. It was this writer who revealed that Diana is a British Citizen for the first time in October 2020 through Lankaenews. (Please read https://www.lankaenews.com/news/3280/en )
The CID started an investigation into a complaint lodged by Oshala Herath, a well-known social activist. He complained to the CID that Diana Gamage is a British citizen that she concealed this and obtained two passports one diplomatic passport and an ordinary passport, from the Sri Lankan Department of Immigration and Emigration and she was living in Sri Lanka illegally. The CID conducted an investigation into the complaint and reported the matter to the Colombo Chief Magistrate's Court bearing a B Report No. B48037/01/2021.
Nayana Samanmalee, Dayana Natasha and Dayana Gamage..
Accordingly, Diana Gamage has appeared under three names on various occasions. Her first name is 'Nayana Samanmalee'. The name has been changed to 'Diana Natasha Kekanadurra' for the second time. Later it was changed to 'Diana Gamage' again. She has done all this to conceal her British citizenship and to show a fake Sri Lankan citizenship.
A fake birth certificate..
She has prepared a fake birth certificate at first. The Additional District Registrar of the Thimbirigasyaya Divisional Secretariat has confirmed to the CID that the registration 6553 was issued from the 'Colombo South' Division but there is no such division in the Colombo District and accordingly it was a fake birth certificate.
A fake identity and two fake passports using a fake birth certificate..
She had obtained a fake identity card by presenting those fake birth certificates. The fake identity card number 658534399 V was obtained on December 22, 2004. The residence address stated is No. 7/9 Sri Nakala Cross Road, Erikkamulla, Keselwatta, Panadura. As soon as a Sri Lankan obtains citizenship in another country, his or her Sri Lankan citizenship would be immediately revoked. Accordingly, if dual citizenship is obtained, the persons have to re-register with the Department of Registration within six months from the date of obtaining dual citizenship. Then the old national identity card is cancelled and a new identity card with a new number is issued. However, Cannabis Diana has not informed the Department of Registration of Persons that she has obtained dual citizenship and received a new identity card. Accordingly, she now has an invalid identity card. That too is a fake.
In addition, she has obtained an ordinary Sri Lankan passport and diplomatic passport using the above fake birth and fake identity cards. She has obtained a diplomatic passport stating that she was the Chairperson of the Ranminithenna Tele Village during the period of good governance.
A British citizen is now illegally living in Sri Lanka...
Diana Gamage holds a British passport as a British citizen. Her British passport number is 521398876. She arrived in Sri Lanka from the UK on October 10, 2004 and has applied for a tourist Visa and Residence Visa from the Sri Lankan Department of Immigration and Emigration from time to time. The last time a residence visa was obtained was from 27 August 2014 to 16 July 2015. She has not obtained a visa since then. It has been pointed out above that she does not even have legal dual citizenship in Sri Lanka. That is, Cannabis Diana has been in Sri Lanka illegally since August 16, 2015, without citizenship or a visa.
Serious offences under the Penal Code and the Religious and Emigration Act Accordingly, the CID has informed the court that Cannabis Dayan has seriously committee an offence under Section 175 of the Penal Code and Sections 45 (1) (a) and (d) of the Religious and Emigration Act. The CID has asked the court time to obtain reports from the British Embassy on her British citizenship.
Don't let the cannabis Diana to enjoy public money...
Such a fake woman has deceived the entire parliament and is spreading rumours that cannabis should be legalized in the country and that pubs should be kept open till dawn. Cannabis Diana is not only following Geetha Kumarasinghe but end up in prison. However, we should not allow her to enjoy the public money under parliamentary membership. Miserable political leaders like Sajith Premadasa who brought such a fake woman like her to Parliament who acts penetrating the public will within the dog's anus have also committed a grave mistake. The public must take the lead against the squandering of public money on this cannabis woman named 'Diana'.
Chandrapradeep
Translated by Robinhood
Related News
Diana Gomage was a dual citizen when she is sworn in..! Geetha's fate for her too ..! Here is the evidence with Diana's history !!
---------------------------
by (2021-04-29 12:38:47)
We are unable to continue LeN without your kind donation.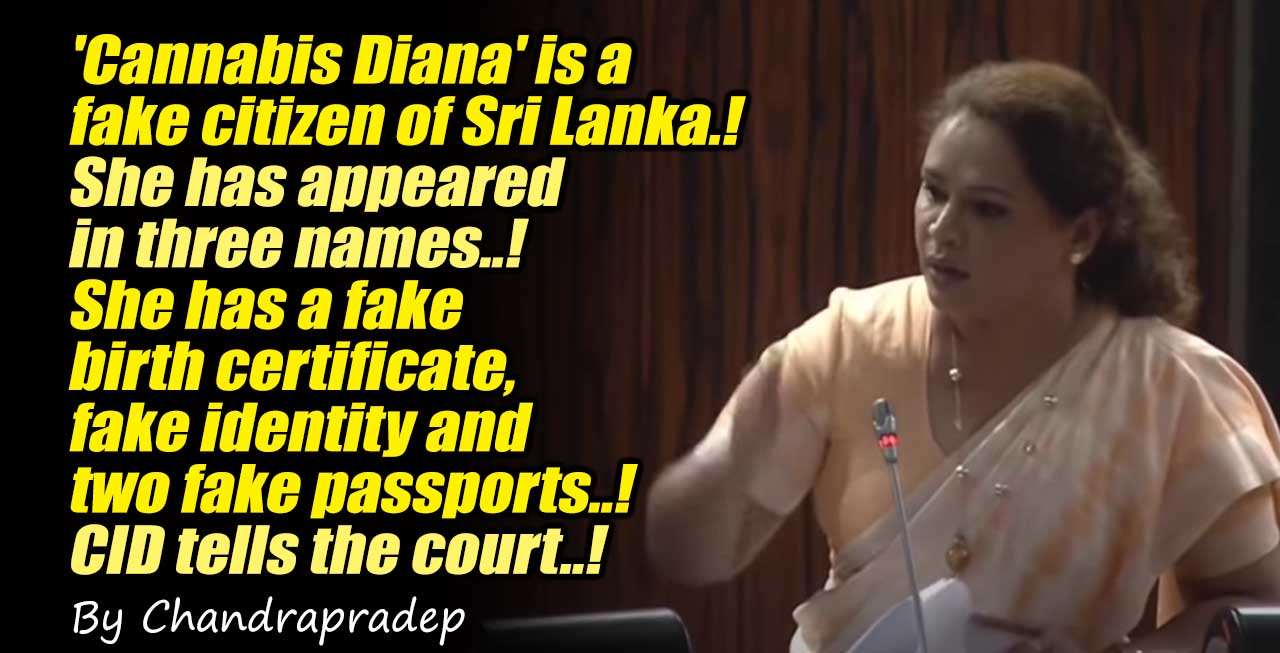 Leave a Reply