Nandalal Weerasingha - the local Nero who fiddled while the country burns..!
-S. Piyawardhana's article translated by Ananda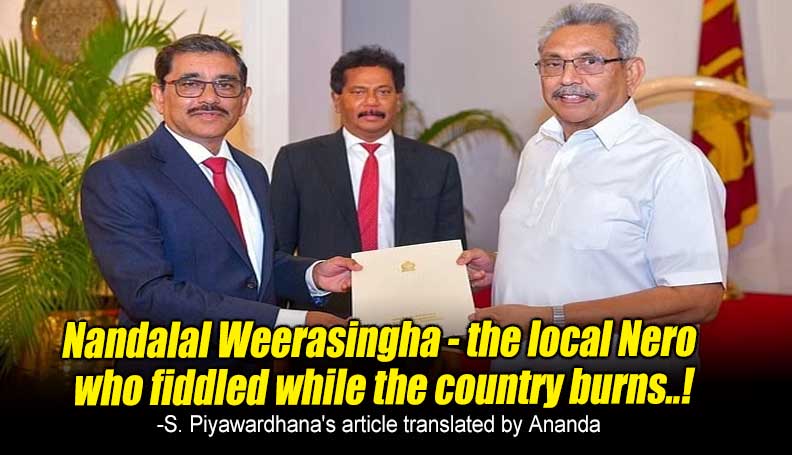 (Lanka-e-News -12.July.2023, 10.00PM) The current Central Bank Governor Nandalal Weerasingha is the Governor appointed by Gotabaya Rajapaksha, the deposed former president of Sri Lanka.
Nandalal recently had a long media discussion with Amal Jayasingha of AFP News Service.
Nandalal Weerasinghe, as he has admitted in that discussion, is a person who does not care about the people of the country where he was born.
Now he is showing his brute mentality by placing the entire burden of restructuring the domestic debt on the Employees Provident Fund, the pension fund of the country's working class.
I saw this crisis coming…
"I saw this crisis coming," he tells Amal Jayasinghe. Further, he says that he had serious concerns about the central bank policies at that time.
Placing all the blames on Gotabaya Rajapaksa, Nandalal Weerasinghe now says that he told the former about the impending destruction three years ago.
He says that he foretold that, due to the so-called "modern financial theory" and "local solution'' of the previous administration of the Central Bank of Sri Lanka, there will be a great disaster in the future. However, in the last three years, he has not said that in any of his public statements.
The traitor who left the house knowing well that it is on fire…
He says that he stood aside to warn the Central Bank about the dangerous path it was taking! This is like a story of a traitor who saw that the house where his relatives lived was going to burn and left without avoiding it.
He took early retirement in September 2021 and went to Australia without telling the people of this country a word about the impending catastrophe. At that time, he was also the head of the Monetary Policy Committee of the Central Bank and the Senior Deputy Governor of the Central Bank.
A man of such high responsibility never uttered a word about the approaching calamity he saw, at least after his retirement.
I didn't dare to say...!
He now says he was silenced by the fearful culture and rules and regulations, hence he didn't dare to talk about it.
Such a man is now the Governor of the Central Bank of Sri Lanka!
Nandalal Weerasinghe is now criticizing the Central Bank's six-month road map prepared under Gotabhaya Rajapaksa as if he had not been the Deputy Governor at that time.
He says that the above-said road map was completely unrealistic with false assumptions and false expectations and it contributed to the disintegration of the country. He was second in command at the Central Bank of Sri Lanka when that road map was made.
He says that excessive money printing, suppressing interest rates, bad exchange rate policy, and long-term fixation at one rate, have reduced our reserves. He says these things in July 2023!
He was playing golf all five days in Brisbane, Australia…
Nandalal Weerasinghe, who is said to have known that Sri Lanka was heading for disaster, forgot all about it and took his pension and went to Australia and was spending time with his children in Brisbane, playing golf five days a week. It is said by none other than himself.
He now boasts that what happened between May and July last year was exactly what he feared and expected.
While he was living a comfortable retirement, Gotabaya Rajapaksa, who was once abandoned by him, appealed to him to come back. What a surprise!
With the country suffering from an unprecedented foreign exchange shortage and street protests by people angry over economic mismanagement, Gotabaya turned to Weerasingha to save the day.
Another important thing from this economic traitor…
In other words, he agreed to that request only if Mahinda Siriwardena was given as a finance secretary that he could work with.
That is to work independently. The entire country could see Mahinda Siriwardana's independence by surrendering to Ranil Rajapaksa who ordered not to fund the local government election!
Now Nandalal Weerasinghe and Ranil Rajapaksa are together, and already stealing from working people's retirement funds, under the guise of domestic debt restructuring. Those billions of unpaid debts by stinking rouge businessmen are not even being touched.
It is needless to say that they are trying to do one more white-collar crime.
- The article "රට බංකොලොත් වන බව දැන දැනත් ඒ ගැන කතා නොකර ඕස්ට්‍රේලියාවට ගොස් ගොල්ෆ් ක්‍රීඩා කළ හැටි නන්දලාල් වීරසිංහ කියයි...!", written by S. Piyawardhana, and published on the Lanka-e-News website on 11 July 2023 was translated by,
- Ananda
---------------------------
by (2023-07-12 16:34:13)
We are unable to continue LeN without your kind donation.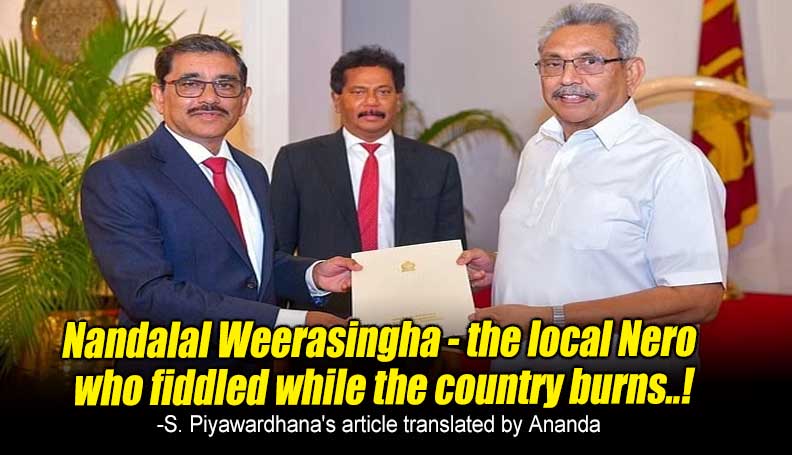 Leave a Reply