A most corrupt appointed to the Bribery and Corruption..! Oh.. Gotabaya's law abiding country; Whither Sri Lanka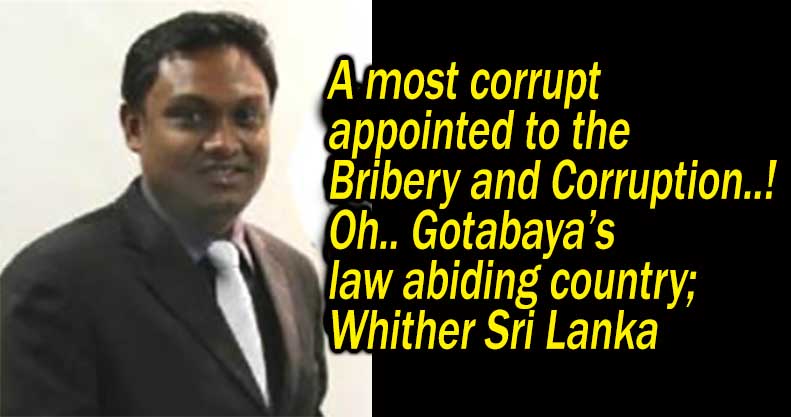 (Lanka-e-News- 26.Jan.2020, 5.20PM) Kanishka Wijerathne who was appointed as the new director general of the Bribery and Corruption is a Rajapaksa fanatic who is a pro Rajapaksa associate famous for his sordid judgments. He is a relative to the Rajapaksa family.
Before appointing Kanishka, President Gotabaya has personally called the former Director General Sarath Jayamanne to resign. That was the reason for his recent resignation. Nandasena had proposed to appoint him as a judge, but Sarath Jayamanne has not agreed, and went to his former Attorney General's Department and took up the Additional Solicitor Generals post.
Later he appeared for the abduction of the 11 students' case on behalf of the attorney generals department. Sarath Jayamanne is a talented lawyer for criminal cases.
However, Kanishka Wijeratne, who was appointed as the new Director General, is a corrupt judge who violated the law in broad day light to protect the elephant thief Thilina Gamage when he was serving as the Gangodawila Magistrate.
As a judge he deliberately accepted fake documents as legal. He granted bail for non-bailable cases by hearing the cases until 7 pm. He scoffed the judge's bench by releasing the accused and allowed him to pay the bail money the next day. Due to that the bar association complained five serious charges to the judicial services commission against him. He was also accused of violating the oath of office when he was sworn in as a prosecutor.
When he was appointed to the Judicial Service Commission in the decade of the Rajapaksas' vandalism and urged the judges to give the Rajapaksas the necessary verdicts. During official foreign tours he undermined the country's reputation ad slept with prostitutes. The Judicial Service Commission has received numerous complaints regarding all these acts.
If such a corrupt person is appointed as the director general to the bribery and corruption, there is no way a law abiding country could be created as expected by the hopes of 6.9 million people. From such appointments we cannot create a law abiding country and Nandasena Gotabaya would never create a law abiding country.
Kanishka Wijerathne's character
Here are some of the previous news reported by Lanka e News on Kanishka Wijeratne. Reading them will help you understand this appointment.
⋆It is incredible but true! Elephant rogue judge Thilina only fulfils bail conditions next day (video)
-Shame ! Kanishka his bosom pal overturns sacrosanct justice – prostitutes his official position..!
⋆Herein is Thilina's fake document used by Kanishka to make a mockery of justice and deceive citizens..!
⋆Travesty of justice as Gangodawila magistrate Kanishka tramples laws..! – Grants bail to bosom pal
⋆Elephant rogue Thilina's law breaking: 3 Ministers, President's, Coordinating Sec. , ex CJ and Mayor behind this egregious lawlessness !
⋆Tomorrow (08) is the massive public protest against court action that committed contempt on law abiding citizens !
-Defense secretary also contributed to conspiracy to rescue elephant rogue!
⋆BASL in writing requests immediate investigation against erring Gangodawila judge Kanishka !
---------------------------
by (2020-01-26 11:54:22)
We are unable to continue LeN without your kind donation.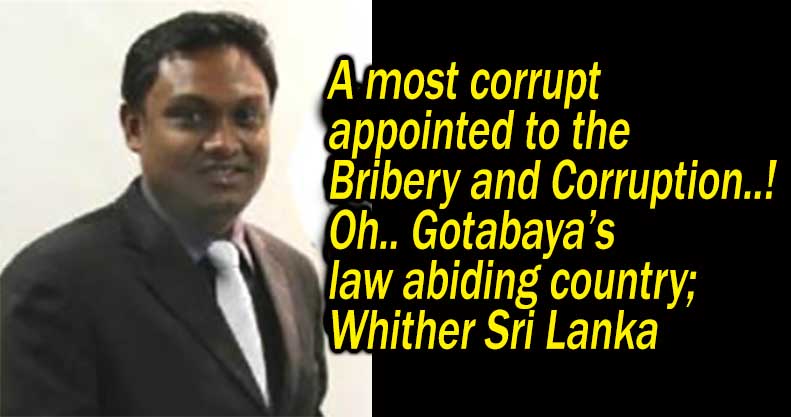 Leave a Reply