Sri Lanka's Response to Covid-19 (Status Statement - 5)
By The Alliance of Independent Professionals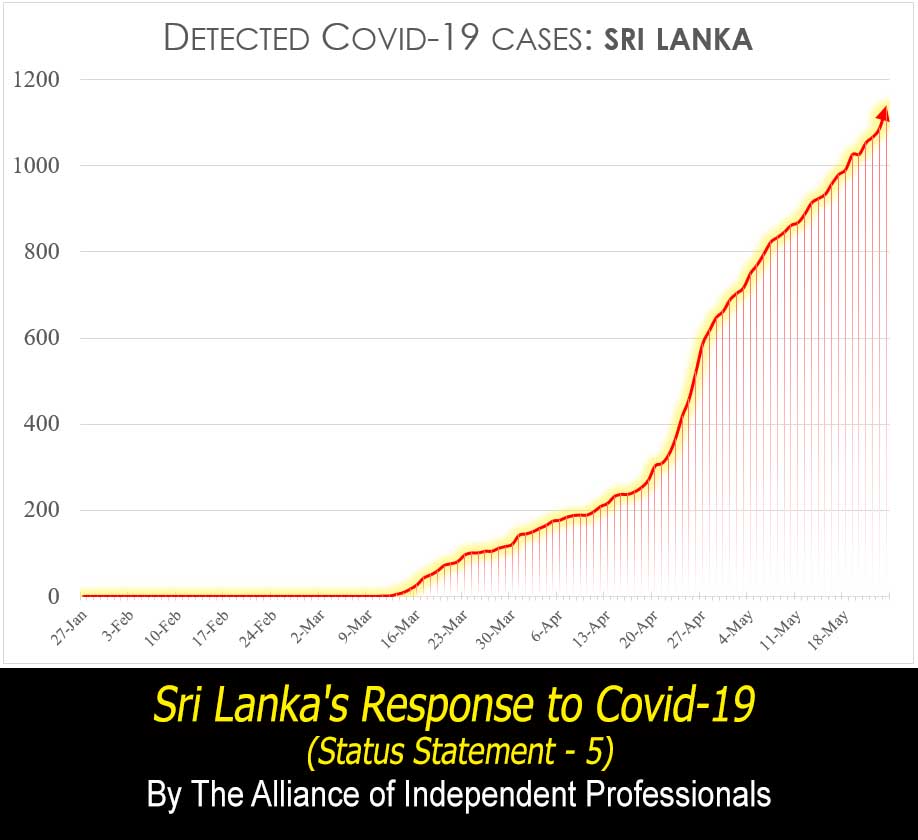 (Lanka-e-News -28.May.2020, 11.30PM)
1. Official Figures of the COVID patients - Gross Underestimation..
According to the government, the number of detected patients as at 24th May was 1,141. This is gross and deliberate underreporting. Health Service officials confirmed to AIP that the Navy cluster alone is 814 (including their family and close contacts) and the other military clusters have at least 28 patients. Prior to release, official released figures are first revised down and approved by the Task Force led by the Army Commander. Provincial medical officers and public health inspectors have privately raised objections to the figures disclosed on the grounds that deliberate underreporting will hamper efforts to combat the virus and safely reopen the country. An AIP member familiar with the internal statistics revealed that the actual number of detected patients stood at 1,702 as at 24th May. At least two clusters are known to be active at present.
Some Task Force members and Government Information Department officers have privately confessed to journalists that the released figures do not count nearly 40% of positive test results from what they call "mild-COVID patients" (ඌන ආසාදිතයන්), even though no such category is recognised by WHO or any other country. Task Force officials and some journalists have been casually warned not to report any figures that are not officially released, as they could face arrest by doing so.
A grave sign that the pandemic is far more widespread than acknowledged is the sudden spike in cases of an autoimmune condition resembling Kawasaki Disease among children in Sri Lanka. This is a spike that has been observed elsewhere in the world as a rare complication experienced by a small percentage of children who have been infected with Covid-19. National health services worldwide have concluded that the condition is not Kawasaki Disease, but an extremely similar condition called "Multi-system inflammatory syndrome in children" or MIS-C. Sri Lankan health experts refuse to acknowledge the prevalence of MIS-C in Sri Lanka and insist that patients displaying these symptoms are suffering from Kawasaki, while claiming without tests or evidence that the sudden spike is completely unrelated to Covid-19.
Several doctors at Castle Street and Lady Ridgeway hospitals in Colombo and the Karapitiya Teaching Hospital in Galle have sought to urgently test children displaying Kawasaki-like symptoms for Covid-19 antibodies, as is done elsewhere in the world to distinguish MIS-C from Kawasaki, but they have been denied permission by health and military authorities. MIS-C is an extremely rare but serious complication that affects a small fraction of children who contract Covid-19.
Children make up roughly 2% of the Covid-19 patient pool, so acknowledging even a small number of MIS-C cases in Sri Lanka would statistically demonstrate that there are several undetected clusters of Covid-19 with thousands of undiagnosed patients. The government is actively suppressing any such indication in order to make the case that it is safe to hold a general election.
The government remains resistant to ramping up PCR testing among the population. While daily tests as reported are now close to 2,000, these tests largely comprise repeated testing of government Ministers, senior military officers and their respective family members and security and domestic staff. Health authorities regularly clash with military officers in charge of authorising tests, as requests to test potential patients are frequently deprioritised in favour of repeatedly testing these politically powerful constituencies. There are repeated incidents of conducting tests on the same group of people.
2. Cremations under COVID 19 Protocol..
Hospital authorities confirm the cremation of over 126 bodies between 1st April to 30th April, following the protocol introduced for suspected COVID-related fatalities. There were another 51 cremations between 1st May to 20th May following the same protocol. The absence of post-mortem examinations is a serious issue that has not been raised by the Attorney General's Department or legal professionals. Even during the war and other previous mass casualty events, no government sought to bypass the post-mortem procedures, which are set out in Chapter XXX of the Code of Criminal Procedure Act.
Even routine autopsies have been forbidden in these cases, in violation of the guidelines used by government pathologists. It is essential to note that despite Sri Lanka acknowledging only 9 Covid-19 deaths island wide, 177 bodies have been incinerated in this manner without any documented cause of death or Covid-19 testing. A section of senior Judicial Medical Officers are alarmed by the legal consequences from such disposal of bodies, especially of their own potential criminal exposure in the future. They are frightened to object publicly for fear of reprisal.
The issue became serious with the deaths of two Tamil labourers at a quarantine centre in the Mulaitive Airforce Base on 2nd April. The two, George Martin and Manikkam Thangavali, were daily paid manual workers, physically fit and in their 80s and whey they were virtually abducted during a "cordon and search operation" by the military. They were taken to Mulaitive without permitting any communications with their respective families.
Several people at this quarantine centre showed symptoms of COVID 19 but they were not tested for over a week, despite pleas from Public Health Inspectors. It was after the sudden deaths of Martin and Thangavali that others in the facility were tested. While the government announced that neither of the two suffered from Covid-19, there is no chain of custody to establish that the samples tested were indeed from the two deceased persons, as health officials were not permitted to participate in the process.
The death of a woman from Polpithigama suffering from COVID19 was reported on 4th May at the Homagama Hospital. Officials attempted to record the cause of death as kidney disease, and sharply reprimanded doctors who had already entered the cause of death as Covid-19 on the patient's Bed Head Ticket. The death of a military soldier who died at the Dambulla Bus Stand was declared as a fatality from epilepsy, even though no autopsy or Covid-19 test was performed. The remains of the soldier were cremated.
3. Sri Lankan Returnees and Foreign Service..
The Government suffered internal backlash from its policy decision not to repatriate gulf workers. Ruling MPs were concerned that this would impact their vote base at the pending general elections. Therefore, the Ministry of Foreign Affairs was directed to specifically repatriate certain individuals identified by these ruling party politicians through a list finalised at the Presidential Secretariat. While Sri Lankan Overseas Missions were asked to put together lists of Sri Lankans wishing to return, the Missions have been cut out of the repatriation process.
Thousands of Sri Lankans are approaching SLPP politicians and offering cash and election services in exchange for having their loved ones brought back to Sri Lanka. The final list is to be approved by Gamini Senarath and Lalith Weeratunga. Admiral Jayantha Colombage, Additional Secretary to the President and former navy commander, is supervising the Foreign Ministry repatriation operation.
The President has ordered that hotels owned by one of his closest allies, business tycoon Dilith Jayaweera, be used to accommodate the affluent returnees at a daily rate of Rs.15,000 per room, or Rs. 210,000 for the mandatory two-day period. The rooms are not cleaned during individual guest stays, nor is the linen changed. The hotels have a skeleton staff, with cleaning and other services performed by the military and health officials, resulting in tremendous profit margins for Jayaweera.
Approximately 10% of the number of students known to be studying in England, Canada, Australia, Bangladesh, USA, India, Nepal and Pakistan have been repatriated. All the military personnel who were undergoing training abroad have been repatriated. Over 14,000 Sri Lankans had registered their desire to return, but most students in Canada, Australia and New Zealand have reversed their decision and will remain in those countries. Many have dropped out due to the exorbitant rates charged for travel.
For example, Rs.216,000 one-way from Melbourne to Colombo, and Rs. 260,000 one-way from London to Colombo. Over 80 families in the UK, Australia, India, and Europe complained that they were forced to purchase tickets at higher fares from travel agents that were hand-selected by the Presidential Secretariat. Sri Lankan consular officers informed the returnees and their families that unless tickets are purchased from these hand-picked travel agents, their names will not be in the list prepared by the Presidential Secretariat.
Now acting as 'de facto' Secretary of the Foreign Ministry, Admiral Colombage is in the process of finalising the lists of diplomatic appointments for Sri Lankan missions abroad. In addition to military personnel, three fresh lists of home-based employees have been prepared. All home-based officers, drivers and clerks and other employees currently serving abroad will be recalled.
The President's office is keen to reshuffle mission heads and reduce the number of career diplomats heading Sri Lankan missions to 30%. The remaining 70% will be made up of former military officers and political loyalists. Career diplomats of all ranks will largely be relegated to Deputy Head of Mission posts or more junior appointments. The President's cousin Udayanga Weeratunga has informally joined the President's foreign policy team. Weeratunga is on bail for money laundering and embezzling $7 million in government funds in 2006.
4. Stimulus Package & Post COVID Economic Recovery Planning..
Sri Lanka is one of the few countries that has been unable to provide economic stimulus during the Covid-19 crisis. In South Asia alone, India, Bangladesh and Pakistan have spent 1%, 2.5% and 2% of their respective GDPs to mitigate unemployment and bolster their economies. The Rs. 5,000 cash hand out promised to each family by the government is the only effort at a similar approach introduced by Sri Lanka, amounting to at most 0.1% of Sri Lanka's GDP. The distribution of these funds has been rife with contradictions and indications of serious corruption and electioneering.
The program was initially announced on 2nd April, as a relief measure for 4 million Sri Lankans. At the Cabinet press briefing on 7th May, the government said that 7.4 million Sri Lankans had received this assistance for the month of April. For the month of May, the Cabinet Spokesman said last week that 5.1 million families had received the allowance, a 2.3 million difference. At a press conference on 17th April, National Elders Secretariat Director General Saman Udawatta said Rs. 5,000 payments had been made to 3.1 million elderly Sri Lankans aged 70 and over. According to official Census Department figures, there are only 1.03 million citizens in this age group. The implication is that two-thirds of these funds, a sum of at least Rs. 10.35 billion, have been embezzled.
A further Rs. 50 Billion in debt relief was offered to small and medium businesses by the Central Bank through commercial bank branches. Although this process began over a month ago, many banks are wary to lend under the scheme as the Central Bank has also prohibited the charging of interest, late payment fees and other revenue streams that banks are reliant on to maintain their solvency, especially at a time of reduced transactional activity.
On 2nd May, the Secretary to the President, Finance Ministry Secretary and representatives from the Central Bank and Prime Minister's Office had a teleconference with their Chinese counterparts to discuss several proposals from China. Finance Ministry officials tell AIP that one of the main agenda items was a pitch for Sri Lanka to join some other countries in the Belt and Road Initiative in a move to dislodge the US dollar as the national trading and reserve currency, and replace it with the Chinese Renminbi. In exchange for Sri Lankan support, China offered both debt relief and credit facilities to the government. The two sides agreed to explore the technical details of how to implement such a proposal and to defer any public announcement until after the Covid-19 crisis has passed.
In early May, the former Central Bank Governor and governing party parliamentary candidate Ajith Nivard Cabral addressed several key government figures on how to frame public messaging about the macroeconomic downfall during the Covid-19 crisis. He suggested that the article published in The Economist warning that Sri Lanka was in dire economic peril was a politically motivated attack engineered by the American deep state.
He urged the government to lean towards China, stressing that all countries will suffer and that only "friendly economies led by China" will rebound with double-digit growth by early 2021. Regarding the lack of a concrete Post pandemic recovery plan, the group agreed to commission a team of experts to make such plan by the end of May. A decision was also made not to consult the Attorney General for legal advice, and instead to retain senior SLPP lawyers Mahohara de Silva and Sanjeeva Jayawardana, two eminent counsel with strong allegiance to the President.
Cabral also nominated himself to head the proposed government-backed Equity Fund to assist post-COVID recovery and seeding the fund from the treasury and up to 20% of the reserves in the Employees Provident Fund (EPF).
At the direction of the President's Office, the Central Bank printed money for the third time in 2020, injecting Rs. 8 billion into the financial system. Several Monetary Board members have raised concerns about sudden spikes in treasury bill stocks that have been detected shortly before the settlement day of each auction, a strong indication of insider trading.
After several years of efforts, in October 2019, the Financial Action Task Force (FATF) removed Sri Lanka from its "Grey List" of jurisdictions that were at high risk for entertaining money laundering and terrorist financing. However, the government recently begun a program inviting open investments of foreign currency with zero scrutiny of the source or ultimate destination of funds, in an attempt to boost foreign currency reserves. The program was implemented by the Central Bank despite being in direct violation of the Prevention of Money Laundering Act and the Financial Transactions Reporting Act, which require banks to take due diligence steps regarding the sources and destinations of funds in customer accounts.
Despite being a failure and drawing no measurable investment into the country, the launch of a government sponsored investment program in Sri Lanka that is explicitly forbidding any anti-money laundering or counter-terrorist financing safeguards has caused FATF officers to privately contact the Central Bank's Financial Intelligence Unit to seek an explanation of the program. The Central Bank has been advised by the President's Office to disregard the FATF queries, as they are confident that the group will be ineffective in the post-pandemic world order.
5. Physical distancing – flouted..
The physical distancing measures stipulated by health authorities are openly flouted by government politicians, senior military officers and prominent extremist Buddhist monks. The President has visited several major Buddhist Temples including Kiriwehera and Anuradhapura accompanied by hundreds of followers and security personnel. Prior to the visits, advance security parties of over 1,000 soldiers and police officers inspect each location and its surroundings without following any physical distancing practices.
Military personnel are still routinely transported in heavily congested vehicles and without personal protective equipment, despite warnings against this practice from health officials. Most prominent Buddhist Temples including Gangaramaya in Colombo, the Kelaniya Temple, and Anuradhapura are regularly visited by politicians with their families and security details, even during curfew hours.
In one of the most flagrant violations that received no media attention, Army Commander and Covid-19 Task Force Head, General Shavendra Silva, was photographed on 19th May shaking hands in a crowded room at a government religious function, while wearing a mask. Gatherings of this nature by other political parties and minority groups are strictly prohibited.
The Military parade to commemorate the 2009 victory over LTTE did not follow any social distancing rules. Over 3,000 defence personnel participated in the events on 19th May in different stages, and two soldiers who were tested prior to the event were diagnosed with COVID 19. A new patient cluster has emerged in the Army with at least six soldiers testing positive in the last few days.
6. Politicisation and Idolisation of Intelligence Services..
For the first time in the history of the intelligence services, the President directed that the State Intelligence Service (SIS) engage with the media in an open self-promotion campaign. On 2nd May, SIS Assistant Director Parakrama De Silva appeared on State television channel Ruphavahini for a 90 minute program to promote the SIS' role in combating Covid-19. He falsely stated that it was the intelligence services that mapped out the original infection clusters, a job that was performed by the Epidemiology Unit of the Health Ministry. Just a day prior to the interview, De Silva made a presentation to SLPP politicians to give them an update about the Easter Attack investigations and the response of the intelligence on COVID 19.
Inside the SIS, a new unit has been set up for conducting surveillance on judges, opposition politicians and professionals critical of the government. Even the spouses and immediate family members of several Supreme Court judges and three magistrates are being monitored around the clock, in collaboration with the Judicial Security Division (JSD) of the police. Due to a shortfall of politically driven officers in the SIS, some of the surveillance activities are done by retired SIS intelligence officers nominated by former IGP Chandra Fernando.
7. Stifling of Free Speech with Chinese Assistance..
The government has ramped up its efforts to use the pandemic as an excuse to clamp down on free speech. Arbitrary arrests and detentions in violation of the Constitution, have reached a level not seen since the height of the civil war. The actions of the police and military have not been subjected to any serious judicial scrutiny or sanctioned by any law or emergency regulations. In the few cases where attorneys have vigorously contested the legality of the curfew, their clients have been enlarged on bail.
The government has used the police and military, particularly the CID and intelligence services, to identify and silence vulnerable individuals critical of the government. Several people who criticised the government on social media have been arrested using Section 6 of the Computer Crimes Act, which requires trial in the High Court and makes it difficult to obtain bail.
Most of these government critics in remand have not had access to legal counsel. AIP has learnt that there are 42 such arrests and detentions as at 5th May. Some of the known cases follow:
• Two people arrested for exposing in Facebook posts that a group of impoverished Tamil estate labourers were being held in Modara and denied meals or water
• A Peradeniya University student was arrested for allegedly claiming on his Facebook account that the hospital attached to the Kotalawala Defense University had been reserved as a coronavirus quarantine centre for VIPs.
• Police raided the boarding house of another university student in Maharagama for using his Facebook account to criticise the appointment of Basil Rajapaksa, who is on trial for money laundering and embezzling government funds, as the head of the Presidential Task Force on economic relief measures. The student and one of his friends were arrested.
• A 41-year old ballroom dancing instructor was arrested on 8th April for suggesting on Facebook that President Gotabaya Rajapaksa might be "infected with the coronavirus".
• Police in Trincomalee arrested a young man for criticising his local divisional secretariat for its handling of Covid-19 relief measures.
While the arrest of government critics escalates, the police have ignored cases that serve the government's own agenda. For example, police have refused to take action against navy officers on trial for murder who have published death threats on social media aimed at the lawyer appearing for the families of murder victims, despite repeated complaints. Police have also failed to arrest a single person for spreading false and malicious posts degrading and condemning minority communities for spreading Covid-19.
Dilith Jayaweera, a media mogul and business tycoon who built his fortune on Gotabaya Rajapaksa's patronage from 2005 – 2015 threatened to sue a Twitter user who posted a quip about Jayaweera's self-confessed habit of taking drugs to relax. The legal threat was issued by Valoremjuris Attorneys, a firm jointly owned by Jayaweera and Suganthi Kadirgamar. The threat was successful in silencing the critic, who immediately posted an apology in which she thanked Jayaweera for threatening legal action instead of pursuing "vigilante justice" by harming her physically. She has since abandoned her Twitter account.
Beginning on 25th April, the Chinese embassy has begun reaching out to a number of Sri Lankan journalists as part of a government-sponsored effort to open a regional bureau of the Chinese state Xinhua news agency in Colombo. Media Ministry sources confirms that Admiral Jayanath Colambage has informally accepted a Chinese offer to open a Xinhua bureau in Sri Lanka in exchange for Chinese support of government efforts to spy on independent Sri Lankan journalists who are critical of either the Chinese or Sri Lankan governments.
Colambage is working with Xinhua's Asia Pacific Vice President Chen Yao, with whom he has a longstanding relationship from his private sector career at the Pathfinder Foundation. Last year, it was revealed through audio recordings that Gotabaya Rajapaksa's hand-picked Chief of National Intelligence, Kapila Hendawitharana, was secretly working with Chinese intelligence to undermine US-Sri Lankan relations, and that the Chinese were paying for his family's university education. Hendawitharana has confirmed the authenticity of the recordings.
8. Arrest of Attorney Hejaaz Hizbullah and Extortion of Muslim Businessmen..
On 14th April, police arrested Hejaaz Hizbullah, prominent lawyer, under the Prevention of Terrorism Act. He has been denied access to counsel and has not been produced before a court as required by law. His wife was given 15 minutes to speak with him at the CID but was specifically prevented from discussing the case she had filed in court to get him released. Hizbullah and his wife were strictly instructed only to speak in Sinhala and in the presence of a policeman who kept an audio recording of the entire discussion.
Officers of the CID informed an AIP member that military intelligence are interfering directly in the investigations, and that they have forbidden the police from allowing Hizbullah access to lawyers or from producing him in court. The arrest itself was spurred by an order from a senior intelligence official, and the CID has found no evidence linking Hizbullah to the Easter attacks.
The current President, Deputy President and Secretary of the Bar Association of Sri Lanka (BASL) are close allies of President Rajapaksa, and have resisted all efforts by bar members to object to the unlawful arrest of one of their own, or to even summon a general meeting of the bar to discuss the issue. When the Bar Association issued a timid statement on the matter, BASL Secretary Rajeev Amarasuriya broke with decades of tradition by refusing to even sign the statement. BASL President Kalinga Indatissa hosted a seminar last year, that best illustrates the various ways in which Hisbullah's detention is patently illegal.
The habeus corpus case filed by Hizbullah's family was listed for support before the Court of Appeal on 30th April. Two days earlier, a news website operated by the State Intelligence Service published a story alleging a conspiracy between Court of Appeal judges and senior Muslim lawyers to secure Hizbullah's release. This news website was not popular, but this article was widely circulated among the judiciary by pro SLPP lawyers in a successful effort to intimidate the court. The case was not taken up on 30th April, and it is now indefinitely postponed. In response to a request made by over 150 lawyers to intervene into the matter, President Rajapaksa's lawyer Manohara de Silva collected signatures from a larger number of Sinhalese lawyers insisting that the Bar Association not assist Hisbullah.
The President's fundraisers have capitalized on the fear in the Muslim business community to raise funds allegedly for the parliamentary elections. Most notoriously, Northwestern Province Governor A.J.M. Muzammil has contacted several Muslim businessmen and informed them that the President is aware that they worked against him by funding Sajith Premadasa at the presidential elections.
Muzammil warned these businessmen that unless they gave him cash contributions, ranging from Rs. 2 million to Rs. 40 million, for the SLPP parliamentary elections campaign, their family members may be arrested and charged with involvement in the Easter attacks, as happened to attorney Hizbullah. Muzammil's warning echoes the threat made by the President's attorney and parliamentary candidate M.U.M. Ali Sabry to Muslim voters in October 2019. Most of those contacted agreed to pay what they call protection money ("மிரட்டி பணம் பறித்தல்") and handed over large sums of cash to Muzammil at a boutique hotel on Alexandra Road in Wellawatte.
9. Move to replace Chairman of the Election Commission and fix a date for Election..
Election Commission Chairman Mahinda Deshapriya and member Ratnajeevan Hoole, while disagreeing on many issues and contradicting each other in public, have both spoken critically of the prospect of democracy being replaced by a military-run government. Senior military and intelligence officers have sought to compromise both EC members and provoke their resignations so that the president could replace them with retired military officers. So far, neither Deshapriya nor Hoole have given in to pressure to resign. For this purpose, selected Ministers and Buddhist monks are given wide media slots to ridicule the Mr Mahinda Deshapriya and Hoole. The President has directed the IGP to build a case to arrest Hoole and his daughter for violating social distancing rules.
The President's legal advisers have suggested bypassing the Constitutional Council entirely in making acting appointments to the EC and other independent commissions, or to allow the commissions to go defunct as was done during the presidency of Mahinda Rajapaksa, allowing the executive to seize de facto control of their functions.
10. Halting Criminal Investigations and Persecuting Critics..
The President has ordered the Acting IGP to halt all criminal investigations against government politicians, military officers or their family members, and to accelerate the process of finding charges through which to jail former ministers such as Mangala Samaraweera, Rishard Bathurdeen, Rajitha Senaratne and Champika Ranawaka. The IGP summoned Bribery Division Head, SP Padmini, and demanded to know the state of an investigation against Minister Rohitha Abeygunawardena alias Raththaran.
Padmini, a professional and decent officer, declined to allow interference in the investigation, pointing out to the IGP that unlike normal police officers she was prohibited by the secrecy provisions of the Bribery Act from discussing her cases with anyone outside the Bribery Commission. The IGP then tried to transfer her out of the Bribery Division to Nugegoda but this transfer was reversed by the National Police Commission.
The IGP also summoned SP Guruge, the Director of the Special Investigations Unit (SIU) and asked him to exonerate Minister Mahindananda Aluthgamage of money laundering charges filed against him by the SIU, and to file criminal charges against former CID Director Shani Abeysekara. He also asked him to assist presidential ally and media mogul Tiran Alles to seek acquittal in a case filed against him after an SIU investigation into his embezzling of public funds.
After refusing to interfere with the work of his officers, Guruge was transferred to Police Headquarters and replaced by SSP Laksiri Geethal. In September 2017, Geethal was removed from the CID for fabricating a report in which he falsely claimed no crime was committed in the 2012 Welikada prison massacres. After Geethal's departure, a fresh investigation was conducted, resulting in charges being filed by the Attorney General before a trial-at-bar. One of the accused, Emil Ranjan Lamahewa, is the brother of ASP Merril Ranjan Lamahewa, who was brought into the CID in December 2019 on the orders of the President. ASP Lamahewa is supervising the officers who are to give evidence against his brother before the trial-at-bar.
The IGP and Defence Secretary also removed the new CID Director, SSP W. Thilakaratne, for his failure to secure the arrests of former Ministers Samaraweera and Bathurdeen, or former CID Director Shani Abeysekara. The new CID Director, SSP Prasanna Alwis is an officer who is the subject of six ongoing investigations at the CID.
In November 2019, then ASP Prasanna Alwis was named the 4th Suspect in the Mount Lavinia Magistrates Court inquiry into the 2009 murder of Lasantha Wickrematunge. The magistrate ordered the CID to arrest Alwis and produce him before court for suppressing evidence against 17 suspects in 2010 when he was the officer in charge of the Terrorist Investigation Division (TID). Instead of arresting Alwis, the Acting IGP has given him a double promotion in January 2020 to the rank of SSP. He has now been placed in charge of the elite sleuths who investigated his crimes.
By The Alliance of Independent Professionals
(The authors and members of the organisation remains anonymous due to possible reprisal by the present government and military. The Alliance of Independent Professionals consists of 22 Sri Lankan professionals and academics in both the public and private sector.)
Related news:
* Assessing Sri Lanka's response to COVID-19 (Status Statement - 1)
* Sri Lanka's Response to Covid-19 (Status Statement - 2)
* Sri Lanka's Response to Covid-19 (Status Statement - 3)
* Sri Lanka's Response to Covid-19 (Status Statement - 4)
---------------------------
by (2020-05-28 19:29:45)
We are unable to continue LeN without your kind donation.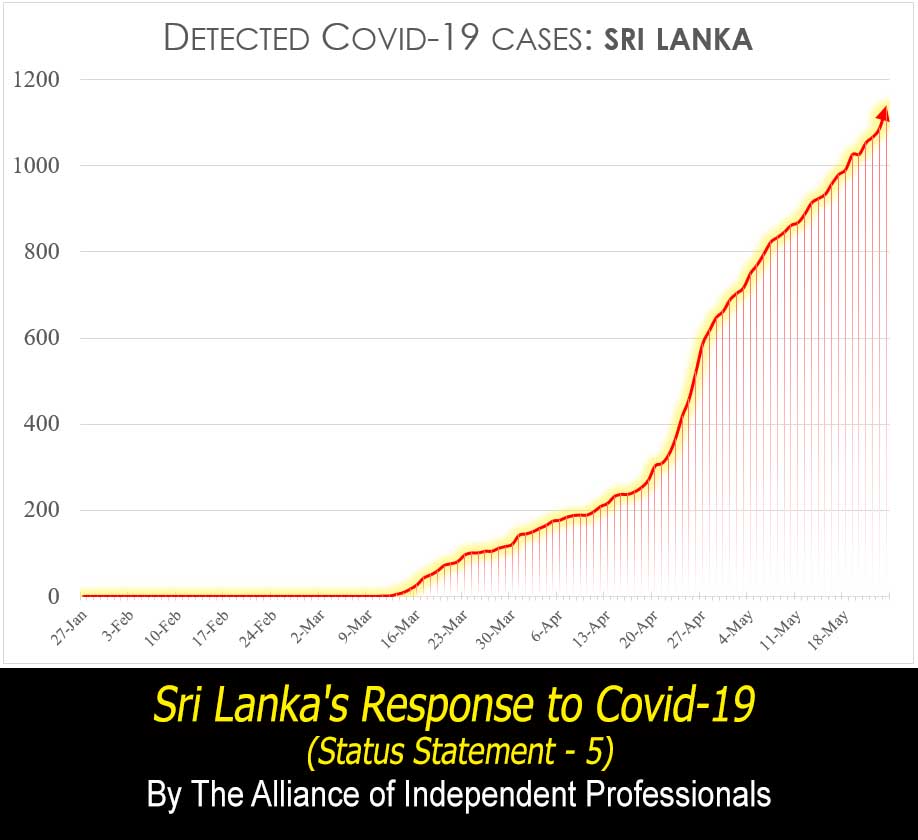 Leave a Reply