Gagan portrays exposures against him as betrayal of state secrets and punishes two innocent officers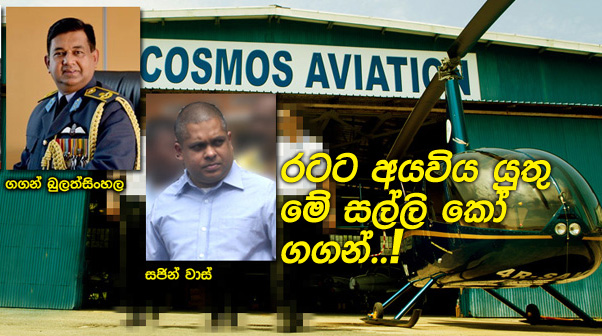 (Lanka-e-News- 18.May.2016, 8.00AM) Following the exposure of Air force commander Gagan Bulathsinghala by Lanka e news on the 8 th of May that during his 9 months since he took office he had gone on 8 foreign junkets , two innocent officers of the Air force had been hauled up before the military court based on false charges of passing information to Lanka news. Gagan who put through illicit deals conjointly with the notorious Sajin Vaas Gunawardena of the Rajapakse blue brigand deprived the country of many millions of rupees of revenue by hiring helicopters on the sly most perfidiously to Cairns Co. India ought to have been put behind bars for his traitorous activities . Instead of that he was appointed as the air force commander without any screening or scrutiny into his antecedence which , to say the least is most putrid. The outcome : within 9 months of his appointment he did 8 foreign junkets along with Muslim wheeler dealers to transact illicit deals.
These two penalized innocent officers who had never ever spoken to Lanka e news any day had been charged that via their phones they have read the Lanka e news face book page. Incidentally, Gagan has banned Lanka e news being accessed via the internet of the Air Force.. This is not for anything but because his traitorous , perfidious and wheeler dealer activities are being exposed by Lanka e news and those are coming to light.
Gagan the fraudster and traitor who is raving mad with power is trying to portray these exposures of his as betrayal of State secrets.
The two officers who have been victimized sans valid grounds are : Flight Lieutenant Buddhika Rawatte and Squadron leader Niluk Dalpathado. One of them has been transferred to Vavuniya Iranamadu camp while the other has been transferred to Trincomalee .. Both of them had been hauled up before the military court on a frame up that they are revealing state secrets by passing information to Lanka e news,.
Lanka e news at no stage revealed state information . In its last exposure it disclosed , the Air Force commander, an officer of the government who is responsible to the people and out of whose funds he is paid a salary is going on junkets ostensibly to purchase planes . But in fact he is taking along with him Muslim wheeler dealers to transact illicit and corrupt deals . It was also revealed by us this traitorous bloke is travelling to countries like Nepal , Australia and Bangla Desh under the pretext of purchasing planes from those countries at State expense , from which countries SL has never purchased planes. Gagan who does not know the difference between a plane and tomato because he is trying to purchase planes like tomatoes after feeling and squeezing , perhaps also does not know the difference between the candid exposure of the corrupt activities of a government servant no matter his rank by us , and the revelation of a state secret. Revealing the treacherous and perfidious activities of a government officer irrespective of his position is certainly not betraying state secrets., it is on the contrary a patriotic act in the best interests of the nation.
Truly speaking it is Gagan as Air force commander who revealed information (which may be confidential ) some weeks ago to a journalist Rasika Jayakody of the Observer newspaper

Lanka e news is hurling epithets such as 'traitor', and 'the corrupt' at Gagan because we are armed with evidence., and not for nothing. Lanka e news on 31 st May 2015 reported on the multi million fraud committed by Gagan teamed up with Sajin Vaas ,under the caption ' A multi million rupee fraud within Air Force ! Here is the evidence…' In that crime , Gagan who was directly responsible is undoubtedly a traitor. Hence . he cannot expect us who espouse the cause of truth frankly, fearlessly and forthrightly to describe him as an innocent infant and who is still being taught to suckle though he is grown up .- no, not for all the world.!
If it is in any other country where the laws are duly enforced , Gagan should by now be behind bars.. Believe it or not , though Sajin Vaas undertook to pay Rs. 80 million to the Air force out of those collections , until this moment of writing this report , Gagan as air force commander has not taken any action to recover that amount. We do not know how many more millions in this deal are kept hidden . However we certainly know the relevant file ,on Gagan's instructions is being kept hidden in the Air Force ,administration (finance) .
We do not know how many more Air Force officers Gagan will summon to the military court after this publication . But if Gagan continues with his balu weda ( base conduct) unrelentingly , it would become necessary for us to expose not only his corruption now , but also what unspeakable base and disgraceful activities he indulged in during his school days and during his period of marriage , with full details including names and addresses supported by copious evidence . In that event , we can all see who will be hauled up in the military court.
It is a pity the whole country is made to pay for the grave sin of appointing a traitor like Gagan Bulathsinghala to the post of commander .
Connected reports ..
1.Gagan's record breaking feat..! 8 junkets in 9 months..! Enrique- love- sick daughter and families too in them
2. Multi billion fraud at Air force: Here is evidence: Why president silent and culprit going to be made Air force chief ?
---------------------------
by (2016-05-18 03:06:40)
We are unable to continue LeN without your kind donation.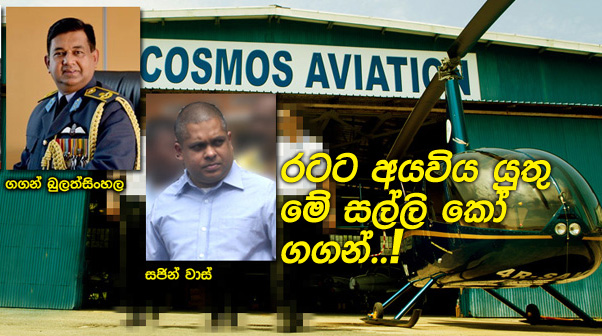 Leave a Reply