Incarcerated Weerawansa complains against jail being kept locked ; thinks he has checked into a hotel..! -Blunders and bungles trying to speak sans lawyer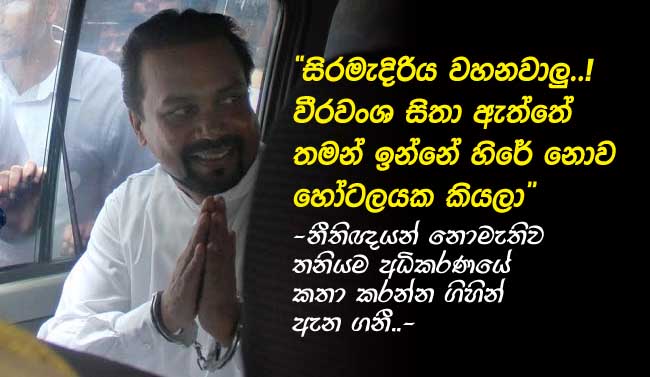 (Lanka-e-News -07.March.2017, 10.45PM) Ex minister Wimal Werawansa the notorious fraudster of the corrupt Rajapakse regime, who occasioned a colossal loss of Rs. 90 million to the State by misusing as many as 40 vehicles of the State was remanded again until the 20 th by Fort magistrate cum additional district judge Ms. Lanka Jayaratne who disregarded his one hour ten minutes long special statement in court requesting bail. Interestingly , this is the grade nine qualified Weerawansa who sought to get bail in court without even a lawyer representing him after obtaining permission from court. Weerawansa who is best noted for most stupid speeches in parliament perhaps assumed he could even fool the judge like how he fools the voters with his spittoon of a mouth.
Weerawansa who is already in remand custody over his gigantic fraud of illegally distributing state vehicles among his kith and kin , cronies and henchmen was re remanded nevertheless.

Believe it or not , Weerawansa has given official vehicles even to his younger sister who was cooking meals in the kitchen.Weerawansa who is possessed of an overriding trait of indulging in claptraps and long vacuous speeches tried to say in court he was not guilty , and that there were others who are involved with him, during which attempted defense he wasted more than an hour of the precious time of the court.
He went on to explain that 11 of the 40 vehicles were given to Aashru Marasinghe who was the chairman of the State engineering Corporation at that time and six more vehicles were given to Lasantha Alagiyawanna. He argued most idiotically, and questioned ,how is that they had been left out , and only he had been made a suspect? The thrust of his defense was along these utterly insensible lines.
If Weerawansa's contention is to be accepted , then others too who received vehicles from Wimal Weerawansa , that is Ridhma Vimukthi Weerawansa the youngest son of his elder sister Sumanawathi Weerawansa and her eldest son Lalith Pushpakumara ; Bombuwala Ananda Asoka Kumara the husband of Thanuja Nishanthige the elder sister of Weerawansa's wife ; Nilani Weerawansa the younger sister of Werawansa , and her husband Palleguru Gamage Ananda Priyadharshana also ought to be in remand custody. This is because culprit Weerawansa has granted official vehicles without any hindrance to all of them . It is a pity brainless Weerawansa who is as crooked as is brainless should remain in a roofless house for much longer time to realize that he is solely responsible as the minister at that time ,and not those under him for issuing orders to distribute state vehicles as though those belonged to his dowry property .
Another foolish argument advanced by this grade nine dis(qualified) moron was , he only followed what his predecessor minister Rajitha Seneratne did. This clearly demonstrates during the corrupt criminal Rajapakse regime , it is buffaloes like Werawansa who could not understand that it is the laws of the country and not what others did should be followed who held ministerial portfolios, and paraded as great 'patriots' .
The judge who was listening to the time wasting stupid statement of Weerawansa finally said , his request would be considered on the 20 th.
Moronic ex minister Weerawansa related another intriguing story in court : The cell where he is detained and other cells are kept locked from 5.30 in the evening until 6.00 or 6.30 the following morning , and he is provided with two devices from the prison to be used for his urination and defecation during the night , otherwise he has to wait until dawn to attend to those urges. Owing to this situation , he does not take his dinner , and drinks only little water , he pointed out to court.
Unfortunately , the judge failed to remind the culprit that he is incarcerated because he has committed a crime and warn , a prison is not a holiday home for culprits to be provided with comforts .
The magistrate in reply said , she has no powers to give orders in that connection . She therefore instructed the suspect to make the complaint in writing or verbally to the Commissioner General of prison.
Connected reports …
Crooked cardboard patriot Weerawansa remanded..! Has allotted official vehicles even to cook at home -Rs. 91.6 million loss to country..! full report..
Weerawansa was remanded because of MR ! B report reveals -story in detail …
Weerawansa the crooked patriot re remanded ! His accomplice was sentenced earlier too over swindling Rs. 2.2 million of war heroes' funds !
---------------------------
by (2017-03-08 02:31:55)
We are unable to continue LeN without your kind donation.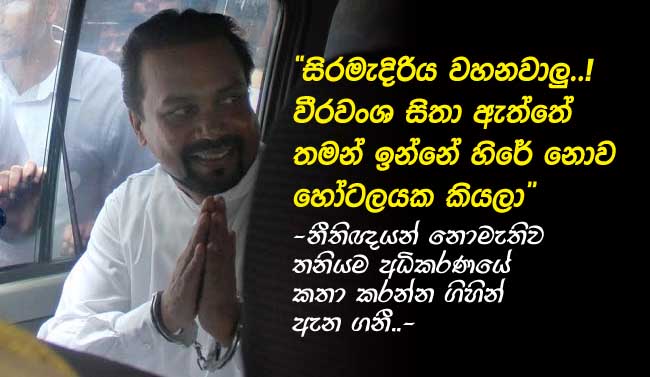 Leave a Reply