Transfer of High rung police officers - first move to suppress IGP and Narcotics high ups implicated Pilyandala murders : Sagala stooping or sleeping ?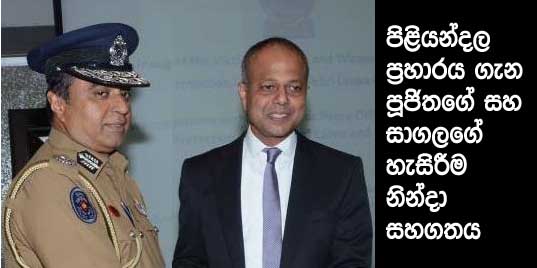 (Lanka-e-News - 03.June.2017, 11.30AM) The chief of the anti Narcotics division DIG Kamal Silva who should be arrested and questioned in connection with the shooting incident at Piliyandala in which an officer of the Narcotics division was murdered , two other officers including IP Rangajeewa of the same division sustained serious injuries, and an innocent civilian child died, has been instead given a transfer. 8 more DIG's and three senior DIG's too have been transferred .
Kamal Silva was transferred to the crimes and vehicles division . It is obvious this is in fact to further suppress the Piliyandala shooting incident .
Lanka e news from the very inception reported that the Piliyandala shooting incident happened with the knowledge and consent of the anti narcotics bureau police high ups and the IGP. Unbelievably , even after Sagala Ratnayake the minister in charge of the police gave orders to the IGP to hand over the investigation to the STF chief and furnish a report within 3 days to the minister , until today the IGP has not carried out that order.
The IGP neither did he entrust the investigation to the STF chief, nor did he at least hand over the investigation to the CID. From the beginning the anti narcotics bureau conducted the probe , and thereafter the organized crimes division which is a close ally of the IGP conducted the investigation. Now Kamal Silva has been transferred to the crimes division within the organized crimes division as its chief.
If this minister has any sense of shame ( how can he have any shame when he is born only to stoop) , when the IGP under him disobeys , either he should have sacked the IGP or he should have resigned . On the contrary what this ever stooping spineless minister did was , while accepting the lame excuse of the IGP that the latter's subordinates did not give him a report , remained silently like a beaten dog.

The Piliyandala shooting incident which claimed the life of a police officer, and critically injured two others is a serious crime with grave portents threatening the entire country . Hence that should be seriously probed into by the government , yet the response shown by the minister in charge and the law enforcing chief in this connection are most repulsive , repugnant and reprehensible .
It is well to recall Lanka e news reported four days prior to the shooting incident that Nasar the informant who took the anti narcotics division officers to the scene is not above suspicion and is a notorious drug dealer . Besides he is a bosom pal of Kamal Silva as well as IP Wijesekera who is an extremely close friend of Kamal Silva.
We also exposed on the same day that Nasar was invited by Kamal Silva and released after questioning , and by now Nasar has been dispatched abroad.
Today we reveal more shocking details …
On the day of the shooting incident , IP Wijesekera (Kamal's sidekick) a bosom pal of Nasar did not report for work. Wijesekera in fact did not return to work until Nassar was secretly sent out of the country . He came back to work some weeks later only after dispatching Nasar out of the country . Kamal Silva and IGP are not unaware of this.
If they are not behind these plans and plot , why was Nasar who should be arrested , only questioned and released ? The most ridiculous part of this enacted drama is , arrest of a boatman on the grounds that Nasar fled the country by that boat. In that case , is it not DIG Kamal Silva who should be first arrested for releasing Nasar after questioning ?

Though this crime is being sought to be dismissed as one committed by the underworld criminals , it is the considered opinion of Lanka e news and the weapon specialists this was carried out by an individual who is well trained in weaponry for a long time , and who knows to use the T56 weapon like a fork and spoon. Among the underworld criminals , there are no such experts with such training. It is the view of the specialists that this is the job of a hired assassin from the forces. However the sights of IGP and Sagala are fixed on a different direction.

Although Sagala is unable to fathom it is the chief of the anti narcotics division Kamal Silva , his henchman IP Wijesekera and IGP Poojitha who should be fully accountable for this melodrama (enacted) , any other two legged donkey would easily understand this .
Among the transfers effected on the 2 nd , is Sasi Medawatha alias S.C. Medawatha DIG who has been transferred as the chief in charge of the anti narcotics division. In any case , a Director has still not been appointed to the anti narcotics division.
The former Director was Kamal Silva. The latter earlier , even after his promotion to DIG post , continued as DIG anti narcotics division as well as its acting Director . In the history of the Police department , such appointment was unprecedented.
Now , though a new DIG has been appointed , a Director has not been appointed to that division. SSP Siyambalapitiya is only performing duties as acting Director.
Based on Poojitha's recommendations , the following transfers were approved by the National Police Commission
1.Senior DIG Jagath Abeysirigunawardena –
From Senior DIG , Council service to North Central province and Wayambe province as senior DIG
2.Senior DIG R.W. Wijegunawardena – from Wayambe province to the Council service of senior DIGs
3.Senior DIG K.E.R.L. Fernando – from special protection district to Northern province as senior DIG.
4.DIG P. Munasinghe – from Sabaragamuwa to special protection district as DIG
5.DIG R.L. Kodituwakku – from the IGP's staff division to Sabragamuwa as DIG
6.DIG S.C. Medawatha – from DIG recruitment and training to Anti Narcotics division as DIG
7.DIG P.P.S.M. Dharmaratne – from Jaffna district to DIG recruitment and training as DIG
8.DIG W.K. Jayalath – from Galle district to Matara and Tangalle as DIG
9.DIG Priyantha Jayakody – from Crimes and crime intelligence to IGP's staff division as DIG
10.DIG K.P.Fernando – from transport to Jaffna district as DIG
11.DIG I.H.K.W. Silva (Kamal Silva) from anti narcotics division to crimes and vehicles division as DIG
12.DIG A.H.M.W.C.K.Alahakoon from Matara and Tangalle districts to Galle as DIG
By a staff member of Lanka e news inside information division
Connected reports ..
IGP koloma (eccentric) is now a 'pain in the neck' –govt. instructs Poojitha to resign honorably; he has dispatched prime suspect in Narcotics murder out of country !
Gunning down Narcotics Rangajeewa: result of a conspiracy of the Police top brass ? -Poojitha disobeys Sagala's orders and suppresses investigations
---------------------------
by (2017-06-03 06:15:41)
We are unable to continue LeN without your kind donation.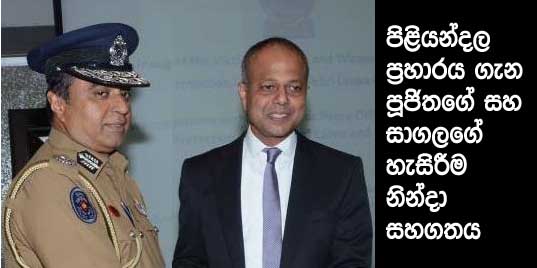 Leave a Reply