Irony of ironies ! While president blocks cyber space in SL , India invites P.M. for 'Cyber space to all ' inauguration ceremony !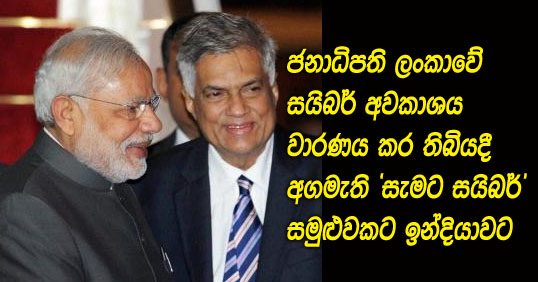 (Lanka-e-News - 21.Nov.2017, 11.45PM) While Sirisena illegally banned the viewing of popular Lanka e news website within Sri Lanka which made a major contribution to elevate the same president to the presidential throne , and is which news website has over 2 million viewers , as though by a strange quirk of fate and to the dismay of those who are lawless , India has invited prime minister Ranil Wickremesinghe to attend the Cyber space conference entitled ' A Protective and perfect Cyber space for sustainable development'. That is the P.M. has to face this conference under most embarrassing circumstances owing to president Sirisena's illegal action.
The P.M. left the country today (21) to attend this conference.
It is no doubt the entire SL nation must be eagerly waiting to learn what is the answer the P.M. is going to give if he is asked by the Indian media , how could you attend this conference which aims at cyber space to all while your country's president has obstructed the cyber space for the people of SL?
P.M. Ranil Wickremesinghe has been invited to attend the inauguration ceremony of the 5 th World cyber space on 23 rd November, which will be chaired by the Indian P.M.. The theme of the conference this year is ' Cyber for all: ' Protective and perfect Cyber space for sustainable development'
In addition, SL Prime minister will be holding bilateral discussions in New Delhi with Indian P.M. Sri Narendra Modi . The SL Prime minister is also scheduled to meet with Indian president Sri Ram Nath Govind.
Professor Maithri Wickremesinghe , Minister of law and order and Southern development Sagala Ratnayake , Secretary to P.M. Saman Ekanayake , Additional secretary Saman Athaudahetti , and special assistant Ms. Sandra Perera will be accompanying the P.M. on this visit.
For further reading
Dissident website 'blocked' in Sri Lanka -AFP
E-News shut down should be stopped – Free Media Movement
Banning Lanka e news is tantamount to good governance govt. stripping itself nude ! Lanka Teachers union
On the blocking of Lanka E News website in Sri Lanka - Centre for Policy Alternatives (CPA)
Blockage of LeN: Censorship is a regressive condition in the modern world -IMA
Nobody has right to ban Lanka e News ; we totally oppose as Convener of trade unions- Saman Ratnapriya !

---------------------------
by (2017-11-22 00:23:24)
We are unable to continue LeN without your kind donation.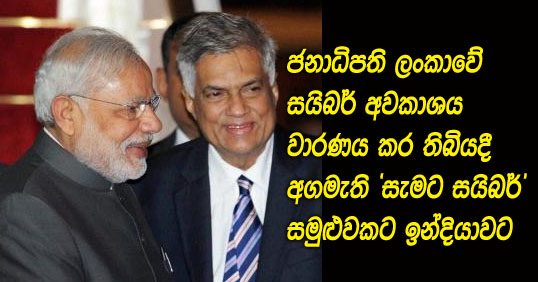 Leave a Reply