Secrets revealed due to eunuch service extension given to "Fair and Lovely" army commander..! Gota's wonderful assurance to Kamal Gune..! National security is in danger..!
-By LeN defense correspondent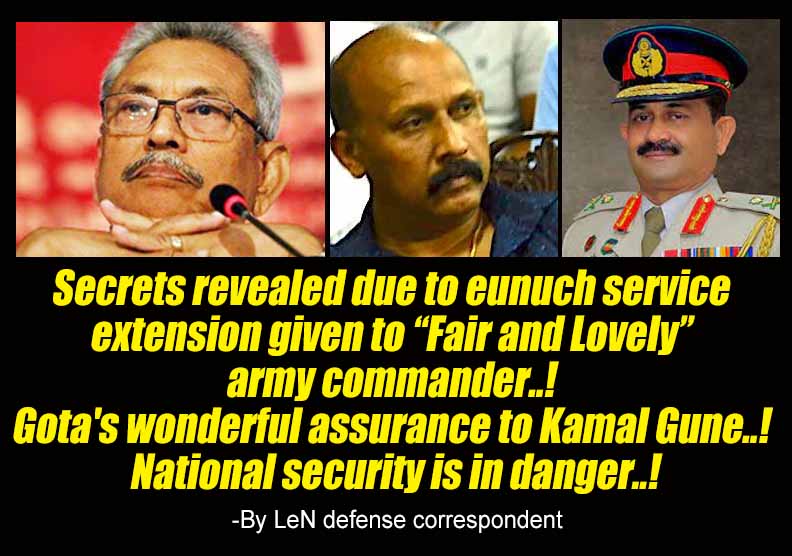 (Lanka-e-News - 24.Dec.2022, 2.00 am) Presidentman Ranil Rajapaksa, who was elected by one hundred and thirty-four votes, has given a one-year service extension to the "fair and lovely" Vikum Liyanage, who appears as the current Army Commander. The related document issued by the Army Secretary at the Army Headquarters as 'Restricted' to the Army is given here.
A eunuch service extension…
This service extension of Vikum Liyanage is an impotent service extension obtained by going after Ranil Rajapaksa's relatives and school friends, and bowing down, pleading, and saying sorrow. We can also publish the list of names of those who were involved in this regard if anyone has questions about it.
Along with Vikum Liyanage's extension of service, Defense Secretary Kamal Gunaratne has also managed to command the army for another year. We say this because it is an open secret that the entire army knows that Vikum Liyanage is not an army commander who can take independent decisions but a puppet acting as Kamal Gunarathna's secretary.
A recent wonderful incident that confirms that fact is as follows…
Major General Chanaka Meththananda of the Panagoda Army Camp partied by robbing the food of the soldiers. According to a tip received about it, the thieves were caught along with the goods during a raid and investigation by the army police. Lanka E News revealed it under the title, "පනාගොඩ කඳවුරේ පජාත ගැහිල්ල..! අණදෙන නිලධාරියා දැලේ..! දූෂිත මේජර් ජෙනරාල් මෙ(හු)ත්තානන්ද නිදැල්ලේ..!"
In this regard, Meththananda asked Kamal Gunaratne's number one sneak and another notorious corruptor Major General Nishantha Manage, also known as 'Serpent', to save himself somehow. Manage has already blackmailed Kamal Gunarathna in various ways. After Kamal Gunarathna came to know about this incident, he ordered the "Fair and Lovely" army commander to not file charges against Meththananda and to not get even a statement from him.
Vikum Liyanage, who acts as Kamal Gunarathna's secretary and not as an army commander, replied, "yes sir" and ordered the army police accordingly. The army police have now made arrangements to blame the junior officers for all wrongdoings done by Meththananda.
Kamal Gunarathna kept one of his incompetent henchmen in the post of army commander and such is the destruction he caused to the army. We will reveal more information about it.
The story Gota told to a retired Major General about Kamal Gunarathna…
Meanwhile, former Presidentman Gotabaya Rajapaksa, who fled leaving not only his position but also his undies, has recently told a retired Major General who is close to him that he trusted Kamal Gunarathna but he deceived him greatly and that Kamal Gunaratne is just an inflated character who cannot do anything. Gotabaya has given examples, too.
On that day on March 30, when there was a demonstration near the Nugegoda Jubilee Post, Gotabaya called Kamal Gunarathna and asked him if there is a demonstration near his house and what it is. Kamal Gunarathna replied, "Sir, it is a protest of ten or fifteen people, don't worry, they will go away in a little while." But after that, when the crowd increased and stones were pelted, the situation became serious to the point where the army was called. Gotabaya told the retired Major General that he and his wife had to hide in a backside house, then disguised and fled away because of Kamal Gunarathna's stupidity.
What is this..? It's a small thing..! Later it is pathetic…
Speaking further, Gotabaya said that at the time when the agitation started near the presidential secretariat in Galle Face, he asked Kamal, "What is this?" Then he replied, "It is a minor thing," but after four days, Gota could not even come to the office. Later, when Gotabaya questioned this matter, Kamal Gunarathna was dumb.
Gotabaya told the above-mentioned retired Major General that, as the Defense Secretary, Kamal Gunarathna was extremely unsuccessful in obtaining intelligence information and making conclusions, although the State Intelligence Unit, which is the main intelligence unit of national security, was under Kamal Gunarathna.
Gotabaya has said that what is the use of a Defense Secretary who cannot provide security to the Presidentman and Prime Minister of the country and that he has also warned Ranil Wickramasingha about this.
"I cannot sit at the same table with someone who has given money to terrorists"
According to Lanka e News Security Information Service, Ranil as the new Presidentman has also invited another retired army chief to replace Kamal Gunarathna.
The retired army chief was abroad at that time. He, who was a straightforward officer of the number one, said, "Sir, I have no problem with you, but I cannot sit at the same table with someone who has given money to terrorists while we are risking our lives to wage war." So, he has mentioned none other than Ranil's Public Security Minister Tiran Alas.
Meanwhile, Minister Prasanna Ranatunga, who is very loyal to Gota, and a group of others have filed a case in the Court of Appeal against Kamal Gunarathna, Shavendra Silva, and Vikum Liyanage. It seems that Gota knew about it when filing a case against Kamal Gunarathna, who is said to be friendly to Gota, but did not take any steps to prevent it.
Kamal Gune and Tiran - a threat to national security…
Not only Defense Secretary Kamal Gunarathna, who cannot provide security for the Presidentman, but also the treasonous Public Security Minister Tiran Alas, who does not know anything about national security, is a serious threat to Sri Lanka's national security. The country's leading businessmen are killed in cemeteries, three unidentified corpses are found each day, unidentified corpses are piled up on the beach of the Galle Face, and people including small children are disappearing every day because there is no national security in the country. If a foreign investor is coming to such a country, his brain should be examined.
- By LeN defense correspondent
---------------------------
by (2022-12-23 20:34:23)
We are unable to continue LeN without your kind donation.
Leave a Reply