Sirisena's anti narcotics campaign is a subterfuge, helped drug kingpins to escape, raided inspector punished, true story behind Sirisena's deception..!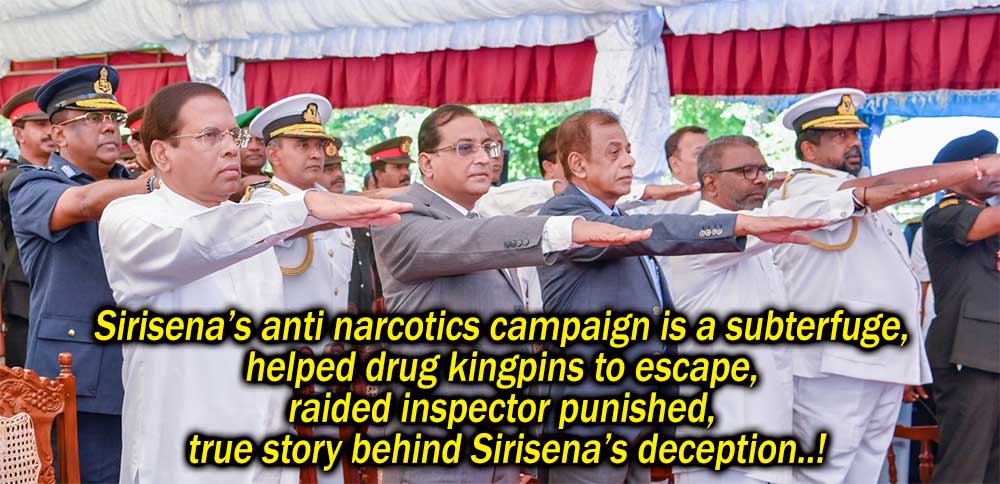 (Lanka e News - 20.April.2019, 1.30AM) Lanka e News has able to expose President Sirisenas blatant lie about his anti narcotics campaign and leading the country free of drugs, when he organized a swearing in ceremony during the Sinhala Awurudda, wasting millions of public money by advertising that he demolished one ton of drugs.
Hemasiri Fernando and Wele Suda...
The person shown second from the left is the current defense Secretary Hemasiri Fernando who is a culprit fixed a deal with drug kingpin Wele Suda and did an offering in the Kataragama temple following the success of the deal. Although Lanka e news published the photograph of the culprit with the proof before, president Sirisena ignored all those and appointed him as the defense secretary. The public of Sri Lanka should question this culprit, as how we can build a country without alcohol and drugs when the defense secretary does an offering to the Kataragama temple with the notorious drug kingpin Wele Suda. (Lanka e news exposed this proof before which can be read https://www.lankaenews.com/news/1725/en)
Sirisena's false anti narcotics drama…
Now we are going to expose about an implausible drama of Sirisena who helped to escape a drug kingpin who got caught with 57kg of drugs and sending the police officer who caught the drugs on permanent vacation also by taking the pistol which was given to him for protection.
Although one ton of drugs were seized and destructed there is no shortage, demand and no increase of drug prices in the market. Despite a pinch of heroin was used by a drug addict for a day and following the removal and destruction of one ton of drugs from the market, normally there should be a demand and a price hike. We should be able to see drug addicts lying here and there in search of drugs and we have seen as such before. However following all the campaigns, large publicity and destruction there is no shortage of drugs in Sri Lanka. Can this happen?
Transit drugs and drugs within the country…
One can comprehend the reality about the above incident of helping to escape a drug kingpin and sending the police officer who caught the kingpin on permanent vacation.
President Sirisena's outcry about apprehending drugs is not the drugs sold within the country but the transit drugs sent to other countries via Sri Lanka. Kingpins who are selling drugs within the country are functioning safely by paying the required ransoms and those drugs are also safe. The same kingpins give information about the transit drugs to the narcotics.
The latter that punished the police officer who did the raiding, helped the drug trafficker who got caught with 57kg to escape is also a drug trafficker
The higher echelon of the drug kingpins reside as elite class. They do other businesses and show the society they make money by those businesses. For example an owner of an electronic media in Sri Lanka is covering the illegal money he earns through drug trafficking by money made through his electronic media. He spends millions of rupees and brings down celebrities from India for concerts which no other electronic media in Sri Lanka does and nobody questions as to how he does those. It is extremely difficult for the Narcotics officers to catch the elite class drug kingpins because they cannot be caught with drugs in hand. If not caught with drugs, it would be extremely difficult to prove them as drug traffickers, before the law.
Mohamed Siyam and Datho Mujahideen..
In 2003 police narcotics were able to hunt and trap a wealthy businessmen named Mohamed Siyam and his wife at a house in Ward Place Colombo 7. Later when searching the house the narcotics were able to find another 23kg of heroin. Now Siyam and his wife were convicted for death sentence (Sirisena can hang them but he doesn't do) Following Siyams arrest his business was taken over by his brother in law Mohamed Mujahideen. He was a wealthy businessman in Malasia and has obtained the Datho award from the Malaysian government due to his close ties with the former prime minister of Malasia. This Datho Mujahideen had very close ties with Gotabaya Rajapaksa of Sri Lanka. Datho Mujahideen produced two films in Sri Lanka named "Selvam" and "Paravarthana". During the Selvam movie inauguration Gotabaya Rajapaksa invited Datho as the chief guest.
Najimudeen Sabry and inspector X...
The 57Kg of heroin referred before was seized when it was with the possession of Najimudeen Sabry who was the brother in law of Datho Mujahideen. Najimudeen Sabry is a drug kingpin wanted by the narcotics from the time when police inspector Douglas Nimal and his wife were murdered. Although raiding a drug dealer following a tip is easy, trapping a drug kingpin with drugs in possession is quite a long and difficult task resulted designed through a scientific approach. Trapping high echelons of drug racketeers with drugs in possession is a difficult task. However a police inspector attached to the police narcotics was able to trap and arrest Najimudeen Sabry at Katugasthota Kandy with 57kg of heroin in his possession. The modern scientific approach used to trap the racketeer was not used by any police or narcotics officers before. Although the drug kingpin was caught there were many people who were jealous of this inspector within the narcotics. From now on we refer to this inspector as inspector X. That was the largest haul of heroin captured in Sri Lanka at that time. Najimudeeen Sabry was produced to the courts and remanded.
Helping Najimudeen to escape...
After few months later Sabry was produced to the courts and released on bail through a conspiracy. In Sri Lanka when a person gets caught with grams of heroin the latter is given a death penalty. How a drug kingpin who got caught with 57kg of heroin was released on bail?
Normally when a drug racketeer is produced to the courts from the remand, the police officer who gave leadership to the raid too would be called before the courts. But when Najimudeen Sabry was produced before the courts inspector X was never informed. Even the officers at the attorney generals department too were not aware that Najimudeen Sabry was produced to the courts and released on bail. However now the drug racketeer Najimudeen Sabry who was caught with 57kg of heroin has fled the country. The culprit who helped Najimudeen to flee is the deputy DIG of police anti narcotics Kamal Silva. He was one of the person who was envious against inspector X's performance in anti drugs and his modern scientific approach of trapping drug racketeers.
Lanka e news was the first media to disclose the connection between Kamal Silva and the drug racketeers. In July 2017 we reported how Kamal Silva opened a four story hotel in Elakanda. Any person can search how a government servant Kamal Silva can become an owner of a four story hotel? (exposed news can be read from https://www.lankaenews.com/news/1969/en )
Taking revenge from inspector X who arrested the drug Kingpin...
Not only the police the courts too are responsible for helping Najimudeen Sabry to get bail. Readers can decide the power of money in drugs mafia. However Kamal Silva not only helped Sabry but started to take revenge from inspector X. He send inspector X on permanent vacation by charging false allegations. He took over the personal pistol given to him for security. That is definitely a conspiracy paving of makinf inspector X vulnerable for the drug mafia to kill him.
The reward money given to the drug raiding team for seizing 57kg of drugs worth 750 million is 25 million rupees. At least a sum of rupees 10 million should be given to inspector X. However inspector X was given even a cent but instead punished. Is there a country in the world which punishes police officers who catch drug kingpins? Now that honest inspector has to go before the courts to complain against the injustice happened to him.
This is not the first time that Kamal Silva has betrayed the narcotics police officers to the drugs mafia. It was Kamal Silva who helped the suspect who shot his colleague Rangajeewa, another police officer and which killed a child at the Piliyandala shooting incident to flee.
Helping Nawas to escape...
Rangajeewa and his team went to the Piliyandala raid though a tip given by an informer named Nawas. Although Nawas for an informer he too was caught with drugs. However Kamal and Rangajeewa helped him to release from the courts by giving technical reasons of the drugs he had and later he became an informer. Rangajeewa took part in the Piliyandala shoot out for an ambush of the drugs mafia. The information of the raiding team, what vehicle, time of the raid was all given to the ambush team by the same Nawas. The Mirihana police who did the investigation identified Nawas as a double agent and requested the narcotics to hand over Nawas for further inquiry. During that time when Rangajeewa was in the hospital, Kamal Silva called Nawas to the narcotics, had a secret chat and left Nawas at his house with police security jeep and with a police sub inspector. That was the last Nawas was seen. When the Mirihana police surrounded Nawas's house Nawas has already fled the country. The sub inspector who went with Nawas is a witness for this conspiracy. Although there is an investigation conducted for this under IGP Pujitha, due to the close connection between Kamal Silva and Pujitha law will not be enforced.
Helping Thilan to escape...
There is another proof against Kamal Silva who helped another drug racketeer to escape. That is helping Thilan an associate of Duminda Silva (Kudu dumiya) to flee. Thilan is the number one associate of Duminda Silva. Thilan always fled from police for his special efficiency of driving at any roads. When Duminda Silva was shot, it was Thilan who drove the vehicle fast to the hospital. However later Thilan got caught to the terrorist investigation department (TID) with one kg of heroin. TID handed over Thilan to the police narcotics. Thilan who was hospitalized due to a sickness later fled the hospital and left the country. That conspiracy too was conspired by DIG Kamal Silva.
However, Najimedeen, Nawas and Thilan who escaped with the help of courts and police did their drugs business within the country. They are not involved with drugs mafia conducted outside Sri Lanka or transit drugs. Therefore despite catching one ton of transit drugs there is no shortage of drugs in Sri Lanka and the racket is continuing as usual.
Sirisena's hanging execution and the credit of his bank account...
It is due to the above facts that Lanka e news report that president Sirisena's anti drug campaign is a false one. Recently president Maithripala started a team comprising of three senior DIG's to prevent drugs mafia. Together with DIG Latheef, president Sirisena included the notorious DIG Kamal Silva to that team. With this unsuitable appointment it is clear that president Sirisena has no honest intention to prevent drugs within the country.
The outcry of Sirisena, he is going to execute the drug traffickers by hanging too is a false one. Before doing that it would be credible to investigate and prosecute who helped Najimudeen, Nawas and Thilan to escape and who send police inspector X on permanent leave. If Sirisena does this we can comprehend Sirisena's outcry is an honest one. If not Sirisena's outcry is only to grab millions of extortion from drug racketeers and crediting his bank account. Despite destruction of tons of drugs before the camera there is no shortage and an increase of price.
It is important to note that the two UNP ministers who possessed the law and order ministry for a considerable time and the IGP Pujitha jayasundara too cannot escape from the accountability of those allegations above.
By Special correspondent from Lanka e news internal service
Translated by Robinhood
---------------------------
by (2019-04-19 20:14:12)
We are unable to continue LeN without your kind donation.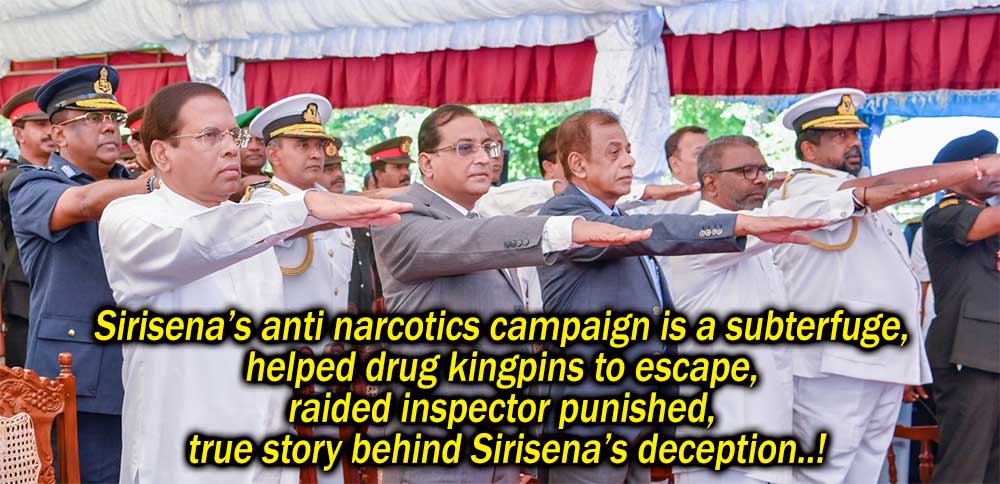 Leave a Reply