Maithri -Maharaja 'mahajara greed' plunges country into doom and gloom -Rusian Rosoborono agency is a blacklisted Co.!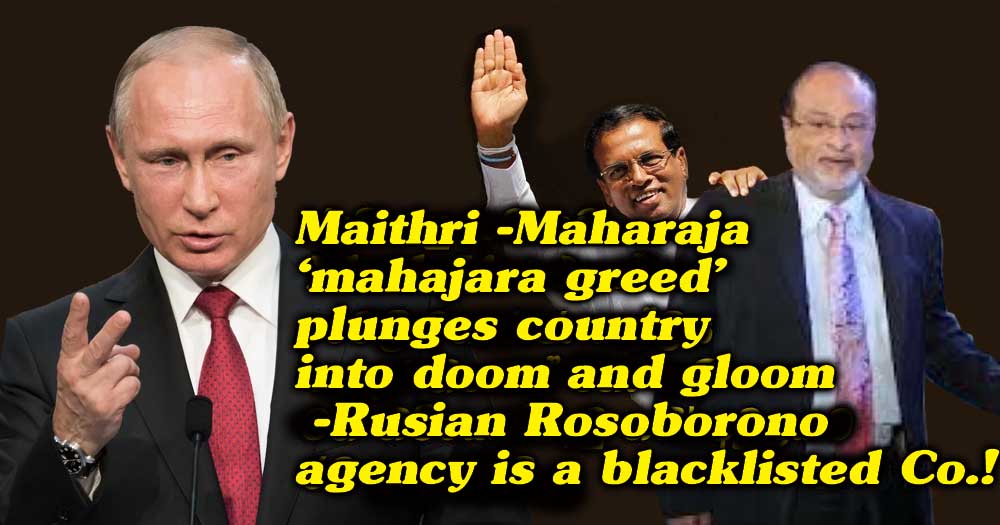 (Lanka-e-News - 20.Dec.2017, 8.00AM) Maithri- Maharaja 'mahajara' (dirt and dross) team which is governed by selfishness and self -centeredness subordinating national interests, and lured by filthy lucre, by attempting to purchase a ship Gepard 5.1 OPV (Offshore patrol vessel ) along with redundant war equipments from Russia at a cost of Rs. 24 billion, has driven the country into an unprecedented economic abyss. Owing to this deal, a ban on Sri Lanka's tea export has been imposed and SL's GSP plus concessions are likely to be lost. In addition , there are threats of bans on other Sri Lankan exports. The main reason for this monumental disaster is : The Russian weapon agency 'Rosoborono export' with which Maithri – Maharaja team has struck the mahajara deal is black- listed by the US government and other countries which have entered into a treaty .
Rosoborono export Co. was blacklisted and a ban on dealings with it was introduced in August 2017 because it violated the 'Nuclear weapons treaty' which is a grave offence. This proscription is equivalent to the ban now imposed by the UN on North Korea and Iran.
The US government had already blacklisted 8 companies including Rosoborono export , and the covering approval of the UN has been sought .
Although the decision of the UN security council is not known at the time of writing this article, the resolutions tabled by the US government and other countries bound by the treaty are generally adopted by the Council without a debate.

Last week , the chief of Rosoborono export Co., Alexander Alexandrovich Mikheech arrived in SL to conclude the Gepard ship and weapons deal . However when the payment of 10 % of the total value was about to to be made , the Central bank of SL objected and pointed out Rosoborono Co. is blacklisted. Consequently that 10 % payment amounting to Rs. 2.4 billion was halted. In any event , if that payment of 10 % is not made before 31 st December this deal will founder on the rocks to the deep disappointment of Maithri- Maharaja group for obvious reasons.

It is under these circumstances Russia proscribed the import of Tea and plantation products from SL , in order to exert pressures on SL.

Though a special correspondent of ours on the 18 th morning told Lanka e news that it was the asbestos sheets prohibition introduced by Maithri-Maharaja team that was responsible for the tea import ban by Russia, the other closest reason is the current suspension of the Russian warship deal , and the tea import ban is to somehow steer this deal through before 31 st December.
No matter what , this deal orchestrated by the short sighted Maithri-Maharaja team had plunged the country into deep despair. If the warship deal is not concluded with the blacklisted Rosoborono export Co. the country will have to face the tea import ban . On the other hand if the deal is concluded the country will have to face sanctions imposed by the US and many European countries. It is therefore crystal clear the Maithri – Maharaja 'mahajara' racket has only driven the country into a predicament which can only be explained by the analogy 'if you are on the road you will die , and if you go home your spouse will die.' That is, the country is trapped between the devil and the deep blue sea.
It is significant to note , it is while America has gifted one OPV vessel , India another and Japan two OPA vessels - that is four vessel in all after the good governance government came to power , the Maithri – Maharaja mahajara team prompted and prodded by their inescapable age old sinister habit of collecting illicit commissions went ahead with the purchase of the Russian warship that will drown the country in a sea of debt amounting to Rs. 24 billion . Mind you their eagerness for filthy lucre was so inordinate, they sought to push this sordid deal through despite the SL Navy putting its foot down and vehemently opposing it, and even after this writer repeatedly citing valid grounds in the reports exposing the racket .
Finally , because the stark truths were revealed in the best interests of the country and to the detriment of Maithri-Maharaja team after illicit commissions at any cost, Lanka e news was banned within SL on 8 th October thereby depriving the legion of its viewers from accessing the site and denying their right to truthful information. To accomplish this ban Maithri used Hemantha Warnakulasuriya who crept into the Telecom Regulatory Commission as a Director through him and promoted by Maharaja .It is this 'rat ' after stealthily creeping into the TRC who ordered the Internet service providers to block Lanka e news while the chairman and the Director General of TRC were out of the country.
The writer of this article recently warned in his report it is the UNP by remaining silent amidst these glaring rackets of Maithri- Maharaja rapacious team , that will have to pay for the sins of Maithri- Maharaja perfidies. Lanka e news in this connection reported that UNP deputy minister of defense Ruwan Jayawardena has fallen prey to the deceitful ploys of Nimal Cook , a director of Maharajas.

Lanka e news revealed details regarding this ploy (mentioned above) under the caption ''US dollars million Mega illicit deal not second to Gota's MiG deal –Kili Maharaja moving heaven and earth to push through !! -Tender procedure ignored ; Ruwan Wijewardena's name too dragged in'' on 15 th March 2017.

'...Ms. Anushi Gunawardena who was the sidekick of Nimal Cook for some time , is now not only a close friend of Ruwan Wjewardena but also works as his assistant in the defense ministry. Maharaja who is clever at tricks and treacheries making Ruwan Wijewardena an accomplice in this deal is unsurprising. '
It is an incontrovertible fact that the Maithri- Maharaja team's sordid and myopic deal which has plunged the country into deep despair - driven into a morass from which there is no escape , and can only be compared with a dire situation ' if you stay on the road you will die , and if you go home your spouse will die.'
Therefore , it is imperative the parties and organizations which are remaining silent , and opposing the racket team during the day but uniting during the night , come forward honestly and overtly at least at this belated stage to agitate and open their mouths against the Maithri –Maharaja warship racket.
By Chandra Pradeep
Connected report.
* ''US dollars million Mega illicit deal not second to Gota's MiG deal –Kili Maharaja moving heaven and earth to push through !! -Tender procedure ignored ; Ruwan Wijewardena's name too dragged in''
* President's gaze on illicit commission blinded him : Faces retributive justice after ousting Sinniah !
* Gota's MiG racket eclipsed by multi million dollar deal of Maharaja and son in law of president !
* President's babyish pretences petering out ! Navy Commander Sinniah 's service terminated in a month !-3 Admirals opposed the war ship deal, yet unheeded!
* Astrologers predict President will descend into 'dog mark' category in 4 months! - Therefore seeks to push through sordid warship deal before that !
* Cabinet ratifies millions of Rs sordid warship deal that will line the pockets of Kili Maharaja and president's s-i-l !
---------------------------
by (2017-12-20 02:41:56)
We are unable to continue LeN without your kind donation.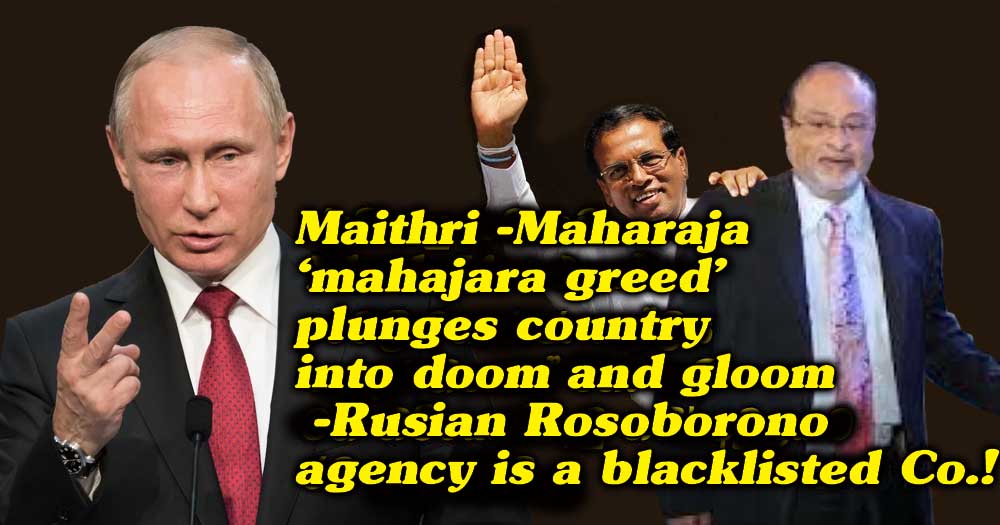 Leave a Reply